TRICARE Vision Insurance Coverage
TRICARE vision coverage rates among the best vision insurance policies in the United States. It provides coverage for people who wore a uniform in any of the armed services and also for their dependents. LASIK surgery and vision therapy are about the only two major procedures that TRICARE does not cover.
What Is TRICARE Vision Insurance?
TRICARE Vision Insurance covers vision services given to active and retired uniformed service members. Overall, its insurance plans rate with the most comprehensive and competitive of any in the United States, and those who are eligible for TRICARE coverage can enjoy enriching benefits for life.
Plans and Benefits
TRICARE plans are broken up into categories of service members:
Those on active duty (and their family members)
Those who are retired (and their family members)
Those who are in the National Guard or reserved units (and their family members)
Active-Duty Service Members and Family Members
Plans include TRICARE Prime, Remote, Prime Remote Overseas, and Prime Overseas. In addition, their families can use the following plans: TRICARE Select, Select Overseas and U.S. Family Health Plan
Retired Service Members and Family Members
These are the plans that cover eye exams for retirees every two years using TRICARE Prime, U.S. Family Health Plan or TRICARE Young Adult.
Guard/Reserve Members and Families Members
Service members (and their covered family members) in the National Guard or reserved members can use the TRICARE Reserve Select plan.
Cost
The Federal Employees Dental and Vision Insurance Program (FEDVIP) vision coverage monthly rates range between $6-$15 for self and $20-$32 for self and multiple children.
Active Duty Members, Active Guard and Reserve, Dependents, Retirees and Their Dependents Veterans
TRICARE provides vision benefits based on your type of coverage and beneficiary status.
Active-duty members and active guard and reserves members: Receive annual free eye tests and military-issued glasses and sunglasses.
Dependents of active members: Dependents with TRICARE Prime can have an eye exam at any authorized site or military treatment facility every two years. Glasses are only available for certain severe medical conditions. Those using TRICARE Select are not eligible for vision benefits unless related to other major health issues. Depending on the vision plan, dependents on FEDVIP qualify for eye tests and free or discounted contact lenses or glasses once a year.
Retirees and dependents: TRICARE Prime members earn an eye exam every two years. They can also request glasses from the Navy when there are no military treatment facilities. Those enrolled on FEDVIP can receive an eye test and free or discounted contact lenses or glasses each year.
Veterans: Veterans with VA disability getting compensation are eligible for free eye exams and glasses. Other veterans who qualify are those in Purple Heart getting a VA pension.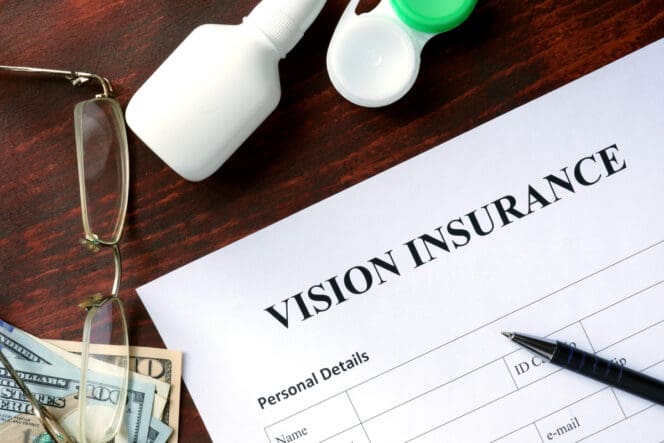 What Is Typically Covered?
Coverage typically includes routine exams and other services depending on your beneficiary status, coverage, and age. Family members get one free eye exam every year.
Children between the ages of 3 and 6 get one Well-Child eye exam every two years to screen for amblyopia and strabismus.
A referral from your primary care manager earns you extra appointments and eye exams.
What Is Typically Not Covered?
In addition, TRICARE does not cover services and supplies provided by unauthorized providers or related to non-covered treatment or conditions, including:
LASIK surgery
Vision therapy
What Is FEDVIP Vision Coverage?
FEDVIP is an optional enrollee-pay-all dental and vision insurance program offered to retirees and active-duty family members.
Who Accepts TRICARE Insurance?
Dependents can visit the military healthcare facility optometrist. You can even visit your local optical shop that conducts eye tests or order glasses.
However, the best way to minimize out-of-pocket costs is by visiting in-network providers. You will not need a referral to book an appointment. You can find providers by searching the directories maintained by the regional Managed Care Support Contractors.
TRICARE Coverage for Eye Exams
TRICARE coverage for eye exams depends on your age and plan. Before getting an eye exam, you will need a referral or pre-authorization. In general, TRICARE covers eye exams:
Once every year for active-duty family members
As required for active-duty members to maintain fitness for duty
Every two years for all other TRICARE prime beneficiaries
Once a year for diabetic patients in TRICARE Prime
TRICARE Coverage for Glasses and Contacts
After examining your eyes, the doctor may give you an eye prescription for glasses or contacts if you require them. TRICARE only covers glasses or contacts for beneficiaries for conditions such as infantile glaucoma.
However, if you're a National Guard member, retiree, or an ADSM, TRICARE will cover the cost of glasses or sunglasses needed for vision correction. TRICARE does not cover repair, cleaning or adjustments for glasses.
TRICARE Coverage for Eye Surgery and LASIK
TRICARE covers necessary eye surgeries and treatments, but you must acquire authorization and a referral. TRICARE does not typically cover LASIK unless it is medically necessary.
FAQs
Is vision covered by TRICARE?
TRICARE provides limited vision benefits depending on your type of coverage. Medically necessary vision benefits are available under all TRICARE plans.
What is TRICARE vision insurance called?
Federal Employees Dental and Dental and Vision Insurance Program (FEDVIP).
Does TRICARE cover glasses?
Yes, TRICARE covers the cost of glasses for National Guard members, retirees, ADSM and Reserves — but only under some plans. It also covers glasses to treat certain conditions affecting dependents.
References
LASIK surgery. (April 2022). TRICARE.

Eye Exams for Active Duty Family Members. (August 2021). TRICARE.

Eye Exams for Retirees, Their Families, and All Others. (September 2020). TRICARE.

Exclusions. (June 2020). TRICARE.

Eye Exams. (September 2019). TRICARE.

Eye Exams for Guard/Reserve Members and Their Families. (October 2015). TRICARE.

Vision benefits. Military.com.

What Does TRICARE Vision Cover? Military.com
Last Updated June 8, 2022
Note: This page should not serve as a substitute for professional medical advice from a doctor or specialist. Please review our about page for more information.