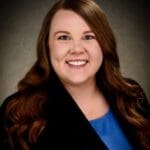 Reviewed by
Dr. Carli Bunn - Optometrist at Eye Care Associates
Screens are everywhere in the modern world. But spending too much time looking at screens can be harmful to your children's eyes, bodies and minds.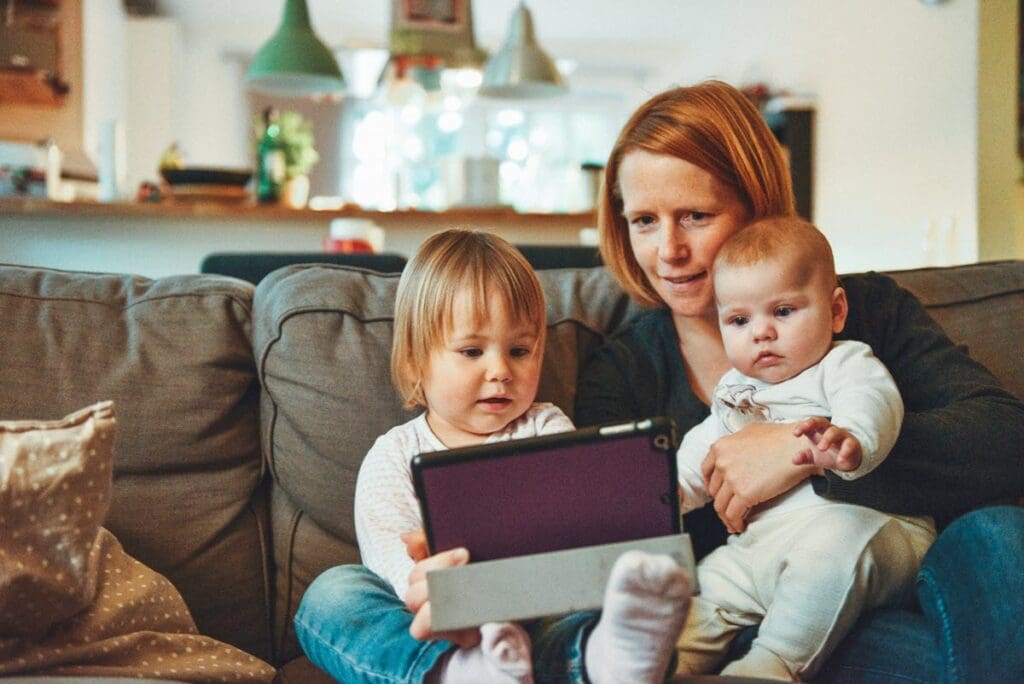 Setting limits regarding screen time can protect your child's health and help them live a balanced, happy life. There are many tools to limit what types of content your child can access and for how long. Teaching your child how to interact appropriately with digital media will also help them stay safe while living a modern life.
Problems Screens Can Cause
Too much screen time can cause the following eye-related symptoms in children:
Fatigue
Blurred vision
Headaches
Dry eyes
Eye discomfort
It can also affect children's physical and mental health in the following ways:
Reduced socialization
Poor self-esteem
Lack of physical activity
Weight management problems
Mood problems
Increased risk of high blood pressure, high cholesterol, diabetes, and other chronic health problems
Shortened attention span
Screen addiction
How to Develop Screen Time Rules
Limiting your child's screen time will improve many aspects of their life. To put boundaries on screen time:
Pre-screen any media your child will view. Some media are not suitable for children, even with limited exposure.
Look for interactive screen time options. Screen time that is spent doing something active, such as creating digital art, practicing basic coding, or playing an educational game, is less harmful than screen time watching videos or television programs.
Use parental controls to limit the types of content your child can access as well as how long they can use those electronic devices.
Supervise your child as much as possible while they are online.
Discuss with your child the media they use. Ask them questions about what they are seeing and offer an outside perspective to help them fully explore the subject matter.
Suggested Screen Time Limits by Age
The American Academy of Pediatrics recommends the following amounts of screen time for children of different ages:
| | |
| --- | --- |
| Age | Recommended Screen Time |
| Under 18 months | None, except for video calls with an adult present |
| 18 to 24 months | Only educational content under adult supervision |
| 2 to 5 years | One hour of non-educational screen time on weekdays and up to three hours on weekends |
| Over 6 years | Limit specific screen-based activities, such as video games, instead of overall screen time. Encourage an activity that does not involve screen time. |
Enforcing Screen Time
There are many tools available to help parents enforce screen time limits and content restrictions for their children.
Smartphones
Apple's iOS devices come with a built-in Screen Time application you can use to restrict access to age-inappropriate content, set time limits for specific apps, and schedule blackout times during which no apps can be accessed. You can also review how much time your child has been on their device over the past seven days, including which apps they used and for how long.
To use it:
Tap the Settings button on your home screen.
Tap the Screen Time menu option.
This feature can be secured with a Screen Time passcode so that your child cannot change the settings without your permission.
Although Android phones do not have built-in parental controls, Google Family Link is a free app that provides similar functionality. It is also available on Apple devices running iOS11 or higher.
This app allows parent accounts to remotely lock their children's devices, set time limits for each app, and schedule a "bedtime" for child devices to ensure the device cannot be used past that time. It also allows you to view data on your child's app activity, including daily, weekly, and monthly reports.
To install it:
Open the Settings menu on your child's device.
Select "Google," and then "Parental controls."
Press the "Get started" button.
Select "Child or teen," then press "Next."
Select your child's Google account or create one for them, then press "Next."
Sign in with your own account, then follow the steps listed on-screen.
Game Consoles
Nintendo offers a free parental control app for the Switch that allows you to set play time limits and restrict when the console can be used. You can also use it to review which games your child has been playing and for how long.
To use it, you will need to pair your smartphone to the Nintendo account you want to manage.
Open the app and sign into your Nintendo account. You will receive a six-digit registration code that you will need to enter on your Switch.
Pick up the Switch and open the System Settings menu from the home screen.
Select "Parental Controls" from the menu on the left.
Select "I have the app installed."
Enter the registration code you received on your mobile device.
Select "Register" to confirm.
You will then be able to set whatever time or content limits you see fit from the smartphone app.
Playstation's parental controls also allow you to set restrictions. They also allow you to restrict the use of chat and messaging features, Playstation VR, and the internet browser. To use these features, you will need your own Playstation Network (PSN) account as well as a separate account for each child. Then:
Sign into your PSN account using your web browser or Playstation console.
Navigate to "Account Management," then "Family Management."
Select "Add a Child."
Enter the child's name and birthday.
Follow the on-screen instructions to set time limits, content restrictions, and other parameters.
Xbox's parental controls perform most of the same functions. To use them:
Sign into your "Family Safety Account" on family.microsoft,com.
Click on the family member whose screen time you want to restrict.
Select Screen Time
Scroll down to "Xbox consoles" and select "Turn limits on."
Use the menu to schedule times when use is permitted or to allot a specific number of hours available for use each day.
TV
Many smart TVs have built-in parental control systems, but most only offer content restriction features without the ability to set limits for screen time.
Google products are the exception. Google TVs and Google Chromecast devices both offer children's profiles with the ability to limit screen time.
You will be prompted to set screen-time limits and other parameters during the profile set-up process when creating a children's profile. You can then change these parameters at any time using the account's "Settings" menu.
Computers
The process for setting up computer screen-time limitations depends on which operating system (OS) your child's computer is running on.
Microsoft's parental controls for Windows 10 and above are run using the same Microsoft Family Safety system Xbox devices use. To set them up:
Follow the instructions for Xbox controls listed above up to step 3.
Select "Windows 10 devices" and select "Turn limits on."
Schedule times for computer use as needed.
Apple's parental controls for MacOS Catalina and above also offer content blocking in addition to time limit features. To set them up:
Have your child sign into their user account on their Macintosh computer.
Click on the Apple menu, then select "System Preferences," then "Screen Time."
Set up downtime hours, screen time limits, content limits, and more according to your needs.
Click on the "Options" button in the lower-left corner.
Select "Use Screen Time Passcode" and secure the Screen Time menu so that only you can access it.
Tips to Reduce Children's Screen Time
There are some simple actions parents can take to reduce the amount of screen time their children get each day.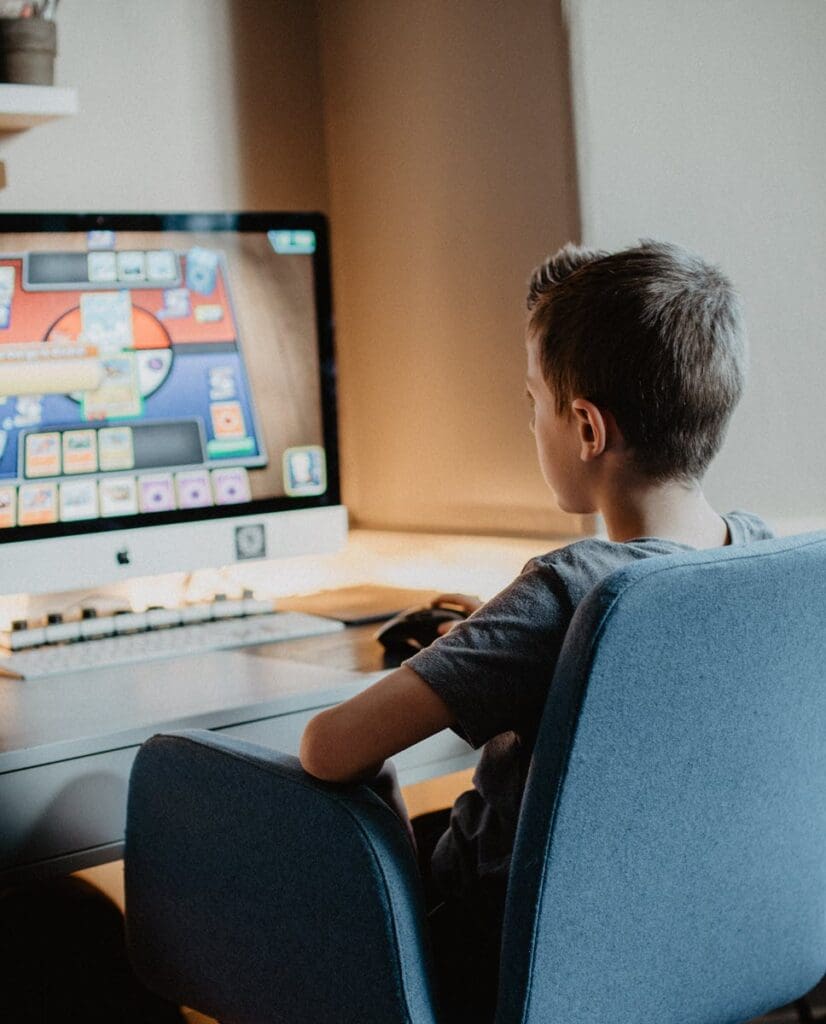 Practice good habits yourself. Children look to their parents to set an example. Let them see you reading books, going on walks, socializing with friends, enjoying hobbies, and generally spending time away from screens.
Turn the TV off during mealtimes. Instead, use that time to connect with your family.
Avoid exposing your children to screens for at least one hour before bedtime. This will reduce the likelihood of sleep issues caused by exposure to blue light.
Teach your child about the negative effects of screen time. Children who understand why they are being asked to follow certain rules are more likely to comply. Discuss screen time as a health issue and encourage them to make healthy choices with their free time.
Teaching and Encouraging Digital Literacy
Teaching your child digital literacy skills can help protect them against some of the consequences of high screen time. For example:
Show your children how to think critically about the digital content they consume. They should understand how to evaluate the trustworthiness of a source and how to compare, contrast, and combine information from multiple sources to get a range of perspectives on an issue. Once you have covered the fundamentals, help them practice this skill in real-world contexts with you by their side.
Show your children how to create digital media as well as consume it. Encouraging children to experiment with this technology reinforces the idea that media is created by people with many different motivations. It also gives them high-quality interactive ways to use their allotted screen time.
Explain the concept of a digital identity and how to manage it. Children may not have a full understanding of privacy or the fact that what they post and share online can be traced back to their real-world identity. Teach your child how to use the privacy settings on their social media accounts and any other relevant online locations.
When possible, teach digital and print-based skills at the same time. When your child is learning to read, show them what letters look like on a screen as well as on paper. Show them that they can use their devices to read e-books and show them how age-appropriate games will help them learn.
Teaching Good Behavior Online
It is important for children to learn how to be good online citizens as soon as they begin to spend significant amounts of time online. Teach your child to:
Follow the same rules online as they would in person. Your child should understand that your expectations for their behavior are the same in all settings.
Always keep private matters to yourself. Your child should never share their contact information or home address with anyone they do not know. Passwords should not be shared with anyone but you. Inappropriate images and hurtful comments should never be shared at all.
Stand up for others online and report misbehavior. Emphasize the importance of kindness and respect, even when other people do not exemplify these values. Empower your child to make positive changes in their online community.
Resist the temptation to be dishonest online. While it is often easier to cheat or steal online than it is in person, those actions are still wrong.
Always think twice before posting or sharing something. Children do not always consider the consequences of their actions while online. Teach your child how difficult it is to delete something that has been published online and that they should only post things they want everyone to see – including family and authority figures.
Places to Look for Help
Frequently Asked Questions
What are the recommended guidelines for screen time?
Recommended guidelines for screen time vary according to age. Pediatricians recommend no screen time for children under 18 months but do not set firm limits for children over 6. Consult the chart above for more detailed information.
What is a normal amount of screen time?
Children between the ages of 8 and 18 average 7.5 hours of screen time each day, not including time spent doing homework. However, this is significantly more screen time than recommended by experts.
References
Last Updated March 2, 2022
Note: This page should not serve as a substitute for professional medical advice from a doctor or specialist. Please review our about page for more information.