Complete Guide to Eyeglasses
Eyeglasses come in a wide range of sizes, shapes, and materials, serving both functional and fashionable purposes. With so many different types of frames and lenses available, picking a new pair of eyeglasses can feel overwhelming. In this complete guide to eyeglasses, we lay out the options for you.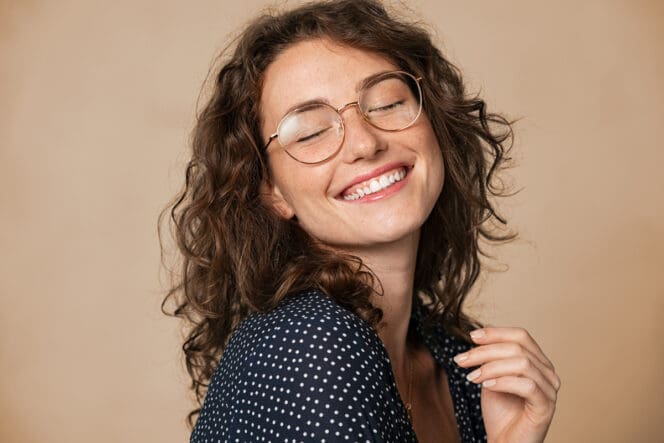 Prescription Eyeglasses
Most people get eyeglasses to correct their vision, whether they struggle with myopia (nearsightedness), hyperopia (farsightedness), or astigmatism.
After an eye exam, you'll receive a prescription from your doctor. You then take this prescription to be filled at an eyewear retailer, either brick and mortar or online.
There are several types of prescription glasses you can choose from.
Single Vision
This type features one power over the entire lens to correct one vision issue, such as farsightedness or nearsightedness.
Multifocal
This type features two or more power over the entire lens. Optometrists prescribe multifocal lenses to people who have multiple vision problems. For example, people with both myopia and presbyopia can use multifocal lenses to drive and read.

There are different types of multifocal lenses.
Bifocals correct for both up-close and distance vision. The bottom half of the lens corrects for reading and other up-close activities, whereas the top half corrects for driving and other distance activities.
Trifocals are like bifocals, but they have a third lens (intermediate) that allows you to see objects within an arm's length, such as a computer screen.
Progressive lenses work like bifocals and trifocals. They help with near, intermediate, and far vision, but they blend the prescription so there are no visible lines between near and far vision sections. Though many find they look better progressive lenses don't tend to function as well as trifocals or bifocals.
Non-Prescription Eyeglasses
Non-prescription glasses may be chosen for safety, protection, or fashion reasons.
Blue light glasses: These protect the eyes from blue light that is emitted from devices like computers, tablets, and smartphones.
Reading glasses: "Readers" can be purchased over the counter at drugstores and other shops to help you see things up close, such as books, menus, and phones. 
Sunglasses: These are essential to protect your eyes from the sun's ultraviolet (UV) rays. Understand the difference between polarized and non-polarized sunglasses.
Safety glasses: These protect your eyes from flying debris and other hazards when doing construction or other projects.
Computer glasses: These may help reduce eye fatigue and eye strain, allowing you to quickly focus between computer screens, whiteboards, and printed pages. Glasses can also help specifically with gaming.
Lens Material
The type of lenses in your glasses plays a significant role in your vision, comfort, and safety. Lenses come in a variety of materials that vary in function, weight, and cost.
Plastic lenses: These are durable, comfortable, and have more impact resistance. They are also compatible with most frames, making them a practical and affordable choice.
Polycarbonate lenses: These are a more impact-resistant material than standard plastic. They are also thinner and lighter weight, often making them more comfortable to wear. Additionally, they have a built-in UV protection that protects your eyes from UV rays.
High-index lenses: These have a high refractive index, which improves your vision quality.
Trivex lenses: These lenses are lighter, impact-resistant, and offer 100 percent UV protection.
Frame Material
The frames of your eyeglasses play the biggest role in how comfortable they feel on your face. Consider factors such flexibility, weight, and durability when considering frame options.
Metal Eyeglasses Frames
Metal frames are the most common and durable frames on the market. There are many types of metal frames.
Monel is a mixture of nickel alloy containing nickel, copper, and iron, and it is the most common frame material. However, it can cause an allergic reaction for people with sensitive skin.
Titanium frames are lightweight, making them a comfortable option. They are also durable and hypoallergenic, meaning people who are allergic to metal can wear them.
Beryllium is lightweight, strong, and less expensive than titanium. Beryllium frames are flexible, meaning your optician can easily adjust them to fit your needs. They also feature corrosion-resistant elements.
Stainless steel frames have chromium in them, which helps prevent corrosion of your eyeglasses. They are also less expensive compared to other frames.
Flexon frames are flexible. They can bend or twist and quickly return to their original shape. These frame materials are hypoallergenic, durable, lightweight, and corrosion-resistant.
Plastic Eyeglass Frames
Plastic frames are the most inexpensive on the market and come in various shapes, patterns, and colors.
Zylonite (Zyl) is lightweight, inexpensive, and comes in many colors. An optician can adjust Zyl frames to meet your needs.
Blended nylon frames are light and strong, making them a popular choice for sports.
Cellulose acetate propionate is lightweight and hypoallergenic.
Protective Coatings
Protective coatings can easily be added to lenses. They offer many benefits and are often worth the additional cost. They can enhance the durability, appearance, and performance of your eyeglasses.
Scratch-resistant coating: This protects your lenses from scratches and other blemishes, improving the longevity of your eyeglasses.
Anti-fog coating: This reduces the condensation that causes fogging, which limits your ability to see.
Anti-reflective (AR) coating: This coating reduces reflection on your lenses, improving your vision quality and also the aesthetic appearance of your glasses.
Ultraviolet (UV) protective coating: This helps to protect your eyes from UV sun rays. These rays can increase your risk of developing eye conditions, such as muscular degeneration and cataracts.
How to Choose the Right Glasses
Like any fashion item, eyeglasses are subjective. You have an array of choices, but there are a few things to consider that can help you to narrow down the options.
Face shape: This is one of the biggest factors to consider when choosing an eyeglasses frame. Is your face oval, round, heart-shaped, triangular, or diamond-shaped? For example, if your face is square-shaped, try round frames. Conversely, if you have a round face, try square frames.
Skin, hair, and eye color: These are essential factors when choosing frames. Choose frames that complement your skin, hair, and eye color. For instance, if your skin tone is warm, go for orange, peach, or coral colors. Select pink, jade, black, or blue colors if your skin tone is cool.
Lifestyle: Think about the activities you do most. If you are a sports person, try Flexon frames because they can easily bend and twist without breaking. If you wear glasses all day, prioritize lightweight frames since they will be more comfortable to wear all day.
How to Get a Prescription for Eyeglasses
Annual eye exams are vital to maintaining eye health and keeping your prescription current. Your eye doctor can check your vision, any prescription changes, and overall eye health during your annual eye exam.

After the exam, your eye doctor will provide you with your new prescription. You'll use this prescription to order glasses.
Paying for Glasses
If you wear eyeglasses, you know that they can get pretty expensive, depending on the type of frame and lenses you choose as well as any upgrades you add on to the lenses.
Check with your vision insurance provider to see if they offer eyeglasses coverage. Most plans offer some level of coverage toward a new pair of glasses every one to two years.
They may also provide discounts on protective coatings and other add-ons. Expect some out-of-pocket costs, such as copays.
If you don't have insurance, look for optical stores that offer discounts on glasses. Compare prices online before you buy glasses. Big-box retailers, such as Costco and Walmart, may offer some of the best deals on eyeglasses.
Top Eyeglass Brands
These are some of the most popular and well-known eyeglass brands:
Ray-Ban offers trendy and stylish eyeglasses. They have a wide variety of frames to choose from, and their glasses are high in quality.
Gucci is a famous brand for eyeglasses and sunglasses. They're known for their high-fashion styles.
Tom Ford offers a wide variety of stylish and sophisticated frames.
Oakley offers sporty and modern frames.
Burberry features classic and timeless frames.
Armani Exchange offers contemporary and fashion-forward frames.
There are countless other brands to choose from, as well as plenty of off-brand options. No matter your style, you are sure to find a great pair of eyeglasses at a price point that works for you.
Buying Eyeglasses Online
When shopping for glasses online, consider these factors before making your final choice:
Ratings: Many sites have review systems in place where customers review specific frames. This can give you a real idea of the durability, comfort, and quality of each product.
Customer review sites: Sources like Trustpilot and Better Business Bureau allow customers to leave reviews of their experience with the retailer. If you are uncertain about the reputation of a specific eyeglass site, check out these sources.
Price match guarantees: Some online retailers will price match if you find the same frames for less at another retailer.
Money-back guarantees: Eyeglasses are a personal purchase, and even if they look great, they might not work for your face. Make sure the retailer offers easy returns so you can find the pair that works for you.
Free or low shipping costs: If shipping fees eat up your budget, you'll have less to spend on frames. Many sites offer totally free shipping.
Wide selection: Online retailers in particular have large inventories. Make sure you choose a site that has plenty of options to browse.
Here are some of the top online retailers for glasses:
Tips for Eyeglass Care
Eyeglasses are an investment. Treat them with care, and they'll last for longer. Follow these tips to clean your eyeglasses and frames:
Use only liquids products designed to clean eyeglasses. Some other liquids like, general cleaning solutions, may destroy your frames or lens coating.
Always store your glasses properly to avoid damaging them. Keeping your glasses in their case prevents scratches on the frames and lenses.
Rinse your glasses with tap water before you wipe the lenses. Wiping glasses directly can cause particles to grind against the glass, causing scratches.
Use a lint-free cloth to dry or otherwise clean your lenses.
Eyeglasses vs. Contacts
Both eyeglasses and contact lenses correct refractive errors, such as these:
Astigmatism
Farsightedness
Nearsightedness
Presbyopia
Considerations for Glasses or Contacts
Both contacts and glasses require a prescription from an eye doctor, but contacts require a more comprehensive exam where contacts are fitted. If you wear contacts, an annual exam is recommended. In contrast, those who wear eyeglasses may only need an exam every two years.
If you wear glasses, you have plenty of options to choose from, including different types of lenses and frames. You can also opt for protective coatings on your lenses, such as UV protectant or anti-glare coating. Those who wear contact lenses wearers can choose from soft and hard lenses as well as daily or extended-wear contacts to improve vision.
Since contacts cover the entire field of vision, you may get better vision when you wear them. Glasses have a gap on the sides where your vision will remain uncorrected.
Glasses can be more difficult to manage during certain activities, particularly contact sports. While sports glasses are an option, contact lenses may be the better choice for athletes.
Since contacts reduce the amount of oxygen that can reach your eyes, glasses may work better for those who suffer from dry eyes.
Contacts have a higher risk of eye infection compared to glasses since they require touching your eyes to put them in and remove them.
Eyeglasses vs. LASIK
People who are looking for a more permanent way to correct their refractive errors often choose LASIK. With success rates in the 99 percent range, LASIK provides a long-term solution to people who no longer want to bother with eyeglasses.
Here are some things to consider when choosing between eyeglasses and LASIK:
Both glasses and LASIK correct refractive errors. LASIK changes the shape of your cornea, removing tissue to correct vision. Glasses obviously only correct your vision while you wear them, whereas LASIK is a more permanent solution.
While LASIK costs more upfront, you won't have to pay for new eyeglasses every few years. As a result, people often find LASIK a cheaper solution over the long term.
Compared to eyeglasses, LASIK offers people more freedom. You don't have to remember to wear and care for your glasses. You'll simply have your improved vision all the time. There is no daily maintenance with LASIK like there is with glasses and contacts.
References
Last Updated March 8, 2022
Note: This page should not serve as a substitute for professional medical advice from a doctor or specialist. Please review our about page for more information.