Anthem Blue View Vision: Plans, Benefits, and Costs
The Blue View Vision is the vision insurance coverage offered by Anthem, the second-largest health insurance provider in the United States. You can enroll in the vision benefits as a stand-alone policy or combine it with another health coverage. Here are the plans the company offers, including the costs.
Plans and Benefits
Blue View Vision plans may differ based on where you live. But the company has three levels of coverage, which include:
Blue View Vision
Blue View Vision Plus
Blue View Vision Advanced
The maximum benefit varies between $80 and $200, depending on the plan you select and whether you opt for an in-network or out-of-network provider. If you want glasses frames that cost more than your maximum benefit, you can still get them at a lower price.
Once you exhaust your annual benefits, Blue View Vision plans provide a 20 percent discount on the remaining balance. You can still get spare glasses by taking advantage of these discounts, which can range from 15 percent to 45 percent
Blue View Vision has an extensive network of eyeglasses retailers, including Target Optical, Lens Crafter, and Pearle Vision.
Costs
Blue View Vision coverage may come as a health maintenance organization (HMO) or preferred provider organization (PPO). If you choose HMO, your health care provider will be limited to those available in the network.
Fortunately, Anthem has about 44,000 eye doctors within its network. Plus, the HMO has the benefit of being cheaper.
With PPO, you have the freedom to choose a healthcare provider outside the network. However, you'll pay more out-of-pocket costs.
The prices for Anthem Vision plans range from $12 to $18 per month, depending on the services you want. But all plans include eye examinations once a year. If you pay for a more expensive option, you'll have a lower copay and receive a higher allowance when getting glasses and contacts.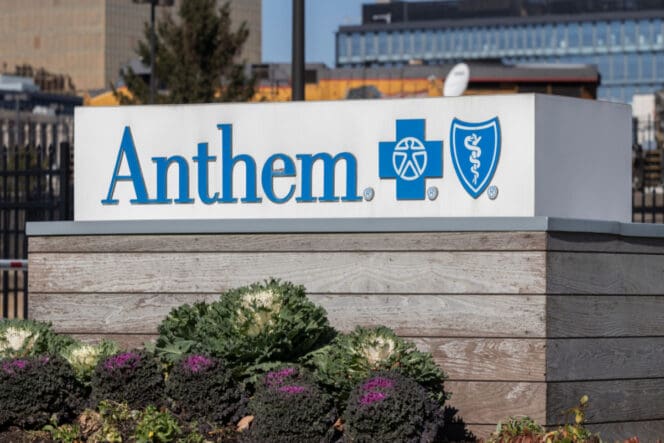 What is Covered?
Blue view vision covers most of the basic vision requirements, such as;
Eye exams every 12 months. If you go for an in-network doctor, you will pay a $10 or $20 copay. But for an out-of-network optometrist, you will pay $50.
Standard glasses with single, bifocal, or trifocal lenses every 12 months with a $10 or $20 copay. The plan will cover up to $130 of the cost for in-network doctors. But you'll get a 20 percent discount on the remaining amount.
New frames after every 12 to 24 months. The plan will pay an allowance of $130 to $200.
Conventional and disposable contact lenses after every 12 to 24 months. If you use an in-network provider, the maximum benefit is $130, with a 15 percent discount on the remaining balance. For an out-of-network provider, you get up to $115.
What is Not Covered?
Blue View Vision does not cover serious vision conditions like glaucoma, cataracts or vitrectomy. The plans also do not cover laser surgeries that do not involve the correction of refractive errors.
If you have a non-refractive condition like glaucoma, you may consider an alternative insurance policy. Consult your optometrist on alternative care.
Anthem Blue View Vision and LASIK Coverage
Laser in-situ keratomileusis (LASIK) is an eye surgery that helps to correct refractive errors. If the surgery is successful, your need for glasses to see clearly comes to an end. Therefore, it can be cheaper in the long term than glasses and contacts.
Blue View Vision includes coverage for correcting refractive errors. You have coverage for problems like farsightedness (presbyopia), nearsightedness (myopia) and astigmatism (hyperopia). The plan covers LASIK laser surgery, where you can save up to $800 through special offer discounts.
How to Enroll
If you want to become a member of Blue View Vision, visit the Vision Anthem Plans page. Enter your zip code and shop for plans available in your state. The company will present you with plans and prices applicable to your specific region.
Then, select the option that works for you and complete the application form. You can also buy vision coverage as a stand-alone policy or add it to your existing health or dental insurance.
Once you enroll, you will receive an ID card. When you visit an optometrist for eye care, you only need to present this ID card and the doctor will take care of the rest.
The best thing about Anthem Blue View Vision is that it is relatively cheap and has many in-network eye doctors. Also, it lets you integrate health, dental, and vision coverage into one bundle.
FAQs
Is Blue Vision the same as Davis Vision?
No, the two companies are legally independent. However, they work together as partners because their lines of business are interdependent. Davis Vision provides eyeglasses, and Blue Vision offers vision insurance coverage.
What is Blue View insight?
Blue view vision insight is a vision coverage that Anthem offers. This plan covers eye exams once a year, eyeglass lenses, eyeglass frames, lens enhancement, and contact lenses. It has one of the largest networks of optometrists, ophthalmologists, and opticians. Plus, it also includes out-of-network healthcare providers.
References
Largest health insurance companies in U.S. in 2021 by membership. (January 2022). Statista.

What is LASIK? (January 2021). U.S Food and Drug Administration.

Davis Vision Chosen as Routine Vision Partner. (June 2020). Highmark Western New York.

Blue View Vision. Roanoke College.
Last Updated June 8, 2022
Note: This page should not serve as a substitute for professional medical advice from a doctor or specialist. Please review our about page for more information.