Eye Doctors: Types, Specialties, and Who to See
Having sound eye health is important to prolonging quality vision. One not-so-secret way of maintaining the health of your eyes is to visit an eye doctor regularly so that all changes in your vision get documented.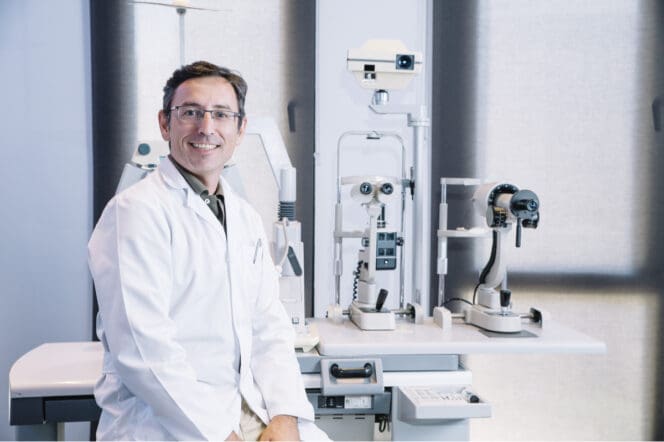 The work of all eye care practitioners is to provide comprehensive eye care to their patients.
Nevertheless, not all eye specialists qualify to treat and examine all eye issues. There are different types of eye doctors, so choosing the right one depends on the type of eye problem you have or eye services you need.
Four primary types of vision specialists are:
Ophthalmologist
Optometrist
Optician
Orthoptist
Each of these specialists have qualifications that enable them to deliver varying levels of eye care. And in the case of ophthalmologists and optometrists, there are specialists who treat specific eye conditions.
Ophthalmologist
Ophthalmologists treat eyes requiring medical or surgical interventions. They also work to prevent eye infections. These eye-care providers represent the most-trained of eye doctors, and they have advanced training in medical and surgical treatment. 
It takes approximately 12 years for someone to become an ophthalmologist, but they have their first taste of ophthalmology in medical school. They will then undergo fellowship training and get a practice license afterward.
The work of an ophthalmologist is to provide complete eye care. In addition to that, they can also provide the following services:
Eye surgeries
Diagnose and treat eye diseases
Carry out medical research
Identify medical conditions not related to the eyes
Ophthalmologists can also specialize in a particular field to treat more complex conditions, such as:
Issues with the cornea
Eye problems stemming from brain diseases
Plastic surgeons for the eyes
Conditions that affect children
Cornea Specialist
The cornea is the transparent protective layer that covers your eyes. It helps focus light entering your eye.
Cornea specialists diagnose and treat ailments that affect the cornea. They can also perform eye surgeries that involve the cornea. Cornea specialists also conduct corneal transplants and contact lens placement procedures.
Neuro-Ophthalmologist
Neuro-ophthalmologists deal with the management of any eye symptoms caused by brain diseases. Some of these symptoms are visual loss or difficulty in moving the eyes.
Neurologists or ophthalmologists can advance their training and become neuro-ophthalmologists. They treat diseases such as:
Optic neuritis (optic nerve disorder)
Double vision
Eyelid disorders
Oculoplastic Surgeons
The work of oculoplastic surgeons is to perform procedures on structures close to the eye. Ophthalmologists undergo further training in plastic surgery to become oculoplastic surgeons.
Their work is to correct medical conditions of the eye, such as droopy eyelids. They also correct cosmetic problems such as fallen eyebrows.
Pediatric Ophthalmologist
Pediatric ophthalmologists specialize in the treatment of eye diseases that affect young children. If your child has any refractive errors, you should visit a pediatric ophthalmologist. They can also identify any visual differences in the eyes of your child.
Optometrist
Doctors of Optometry are primary eye healthcare providers. They manage, treat and diagnose diseases of the eye.
Many people confuse optometrists with ophthalmologists, but optometrists are not medical doctors.
Optometrists study for four years in optometry school, after which they get an optometry degree. They also have to undergo one to two years of clinical training before practicing. 
The work of an optometrist typically revolves around diagnosis and examination of eyes. But they also have other roles related to eye care which include:
Counseling patients on things to do with eye care.
Providing visual aids and contact lenses to patients.
Examine patients' eyes before and after surgery.
Giving treatments such as vision therapy and rehabilitation.
Correcting eye disorders by doing minor surgeries.
Like ophthalmologists, optometrists can also advance their studies and specialize in one area. Some optometry specialties include:
Contact Lens Specialist
These specialists create and customize eye lenses. If you need lenses, you can visit a contact lens optometrist.
Low-Vision Specialist
As the name suggest, these physicians help people with low-vision disorders—conditions that are not correctable with glasses or lenses. Low-vision optometrists use technological advancements to provide care to such patients.
Sport-Vision Specialists
Sport-vision optometrists are specialists that work with athletes. They evaluate and enhance their visual performance. They train athletes and help them improve their eyesight using certain visual materials. If you want to enhance the following, you should visit a sports optometrist.
Depth perception
Peripheral Awareness
Following a moving object with your eyes
Eye-hand coordination
Optician
Opticians are eye technicians and not necessarily eye doctors. They are not qualified to give eye tests or prescribe treatment to patients. They, however, have special training on fitting eyeglasses and lenses to patients.
They go for a one- or two-year program before getting licensed, but not all states need an optician to have a practicing license. When your doctor prescribes visual aids, opticians are the ones who help you choose them. Other duties that opticians perform include:
Measure sizes of customers' faces and distance between eyes.
Repairing glasses frames that break down.
Educate people on the maintenance of eyewear.
Adjusting eyeglasses or contact lenses for a good fit.
Making records of customers' prescriptions.
Orthoptist
An orthoptist is an eye specialist who deals with eye movement disorders. They also examine and treat binocular vision problems. Ophthalmologists also consult with them before doing a surgery involving their specialty.
If you have the following disorders, then an orthoptist is the right doctor to visit:
Amblyopia or lazy eye
Genetic disorders of the eye
Strabismus (crossed eyes)
Other Eye Health Professionals
When treating patients, eye doctors get additional help from other health professionals. Some of the health care providers that work with eye doctors are:
Nurses: Ophthalmic nurses are specialists that provide care to eye patients. They help eye doctors during surgery and also help patients adapt to life after surgery.
Technicians: One example of technicians is ophthalmic photographers, who take pictures of patients' eyes and document their current status.
Ophthalmic medical assistants: They help ophthalmologists in providing patient care. They are responsible for organizing the medical history of patients.
Takeaway
Ophthalmologists, orthoptist, and optometrists form an essential group of eye doctors. They are the ones you see when you want your eyes checked.
Ophthalmologists can do complete eye treatment, including surgery. Optometrists are eye doctors who offer many treatment services. Opticians are not eye doctors but are responsible for helping patients choose visual aids that eye doctors prescribe.
References
Last Updated March 1, 2022
Note: This page should not serve as a substitute for professional medical advice from a doctor or specialist. Please review our about page for more information.