Vision Coverage Under Medicare
Routine vision care, such as annual exams and corrective eyewear, is not covered under original Medicare. Some supplemental Medicare plans, such as some Medicare Advantage plans, offer some degree of vision coverage.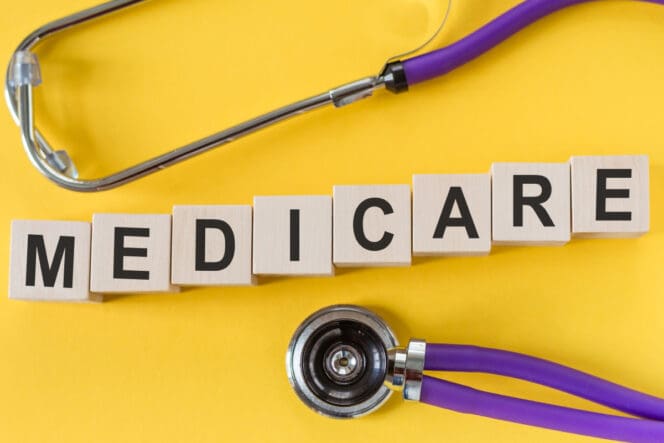 Medicare Plans & Vision Coverage
Medicare is a health insurance package designed to help people above the age of 65, and vision issues are more common in this age group.
Original Medicare includes Part A and Part B. Original Medicare does not offer standard vision coverage, such as coverage for routine eye exams, but it does offer limited vision coverage for some situations under Part B.
Medicare Part A
This is hospital insurance, which covers inpatient care, basically translating to care you will receive while at the hospital. Medicare Part A will also cover skilled nursing facility care and hospice care. It only manages limited care you can receive while at home.
Medicare Part A offers limited vision coverage for traumatic or emergency eye conditions that require hospital admissions. It does not cover routine eye exams or corrective lenses, like glasses or contact lenses.
Medicare Part B
This is known as medical insurance. Part B covers medical services and medical supplies that are needed to treat or manage existing medical conditions. This includes outpatient medical services, ambulance services, preventive services, and certain types of medical equipment.
Medicare Part B offers more coverage for some vision services than Part A. You will need to pay some amounts out of pocket, such as your coinsurance and annual deductible amounts. Part B still doesn't cover routine vision care, like annual eye exams, but it does cover diagnosis and preventative care for certain situations.
Medicare Part B will cover the following eye services:
Glaucoma screening: Part B will cover a glaucoma screening annually for high-risk individuals. This is important especially to people 65 and older, as glaucoma is more common in this population.
Glaucoma screening allows for early detection, diagnosis, and management of glaucoma, increasing the likelihood of preserving vision.
If you fit the following criteria, Medicare considers you at high risk for glaucoma:
Diabetic
Family history of glaucoma
Hispanic and 65+
Black and 50+
Cataract surgery: Medicare Part B covers cataract surgery, including the cost of the procedure and the artificial lens that replaces the clouded lens during surgery.

In addition, Part B will cover one pair of corrective lenses, such as eyeglasses or contact lenses, following cataract surgery.
Eye prosthesis: Medicare will cover an eye prosthesis related to certain eye conditions, like shrinkage resulting from trauma or genetic defects or following surgical removal of the eye. Part B will also cover polishing and resurfacing the vision prostheses at least twice a year.

If the eye prosthesis is lost, damaged, or stolen within the first five years, Medicare will cover the replacement cost.

Your doctor will need to deem the prosthesis medically necessary. As with other Part B services, you will be responsible for the 20% coinsurance amount.
Macular degeneration: Part B usually covers the diagnosis and treatment of macular degeneration, which is the primary cause of vision loss for those 50 and older.

Ocular photodynamic therapy is a treatment module that uses Verteporfin injections to slow the progression of macular degeneration. This treatment may be covered under Medicare Part B.
Medicare Advantage Plan
Also known as Medicare Plan C, this is a more comprehensive Medicare plan that combines the benefits in both Part A and Part B. The Medicare Advantage Plan is offered by private insurance.
The specifics of coverage vary from plan to plan, but most Medicare Part C plans cover routine eye exams and corrective eyewear, like glasses and contact lenses. Most plans cover one set of corrective lenses every one to two years.
All the benefits covered in Medicare Parts A and B are also covered in Medicare Part C.
You will still likely pay a copay or coinsurance amount for covered vision services with Advantage plans. You can shop for Medicare Part C plans here.
Medicare Part D
This plan essentially covers prescription drugs. Also referred to as the Medicare Prescription Drug Plan, this plan gives you access to vision care prescription drugs, including eye drops and any other corrective vision medication that is prescribed by your doctor.
How to Register for Medicare
Some people automatically get Medicare, while others must submit an application. If you apply for disability or Social Security benefits, this also submits your application for Medicare. You will automatically get Medicare Part A without paying any premium for the coverage.
If you live in the U.S., you will also automatically be signed up for Part B. If you live outside the U.S. or in Puerto Rico, you will need to submit a separate application for Part B.
You will receive your Medicare card in your mail three months before your Medicare coverage becomes active. Along with your card, you'll receive a detailed manual on how to use Medicare and what plan you stand to benefit from the most.
If you don't receive Social Security or disability benefits, you will need to actively sign up for Medicare coverage. Here's how:
Sign up via the Social Security website. They offer a step-by-step guide on the sign-up process.
Call the Society Security office during normal weekday business hours at 1-800-772-1213.
Mail the Social Security office a dated and signed letter, including your personal details and the date you want to actively join Medicare.
You generally have a seven-month period during which you can initially sign up for Medicare once you become eligible. This individual enrollment period (IEP) starts three months before you turn 65 and extends three months after your birthday month. A general enrollment period (GEP) takes place every year from January to March.
Once you enroll in any Medicare plan, ensure that you pay premiums on time and regularly to keep your Medicare plan active.
Choosing the Right Plan
Consider your vision needs and which plan will work best for you. If you are interested in routine vision coverage, including annual eye exams and corrective eyewear, you'll need a supplemental Medicare plan other than Original Medicare.
Private providers that offer Medicare Advantage plans can discuss the specifics of vision coverage with you. Have a list of your vision needs ready, so you can pinpoint which supplemental plan will meet your needs for the lowest price point. Remember to factor in copay and coinsurance amounts as well as premiums.
References
Last Updated July 20, 2023
Note: This page should not serve as a substitute for professional medical advice from a doctor or specialist. Please review our about page for more information.