Home / Vision Insurance Coverage
Understanding Vision Insurance Coverage & Out-of-Pocket Costs
Vision insurance can offset eye care costs, including the costs of annual eye exams and corrective eyewear.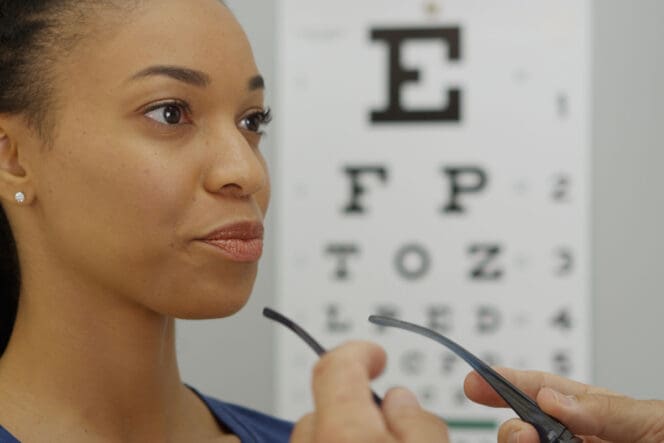 Most often, vision insurance covers a portion of costs, and patients pay the remainder out of pocket. Exact coverage will vary greatly depending on the particular provider and plan.
In addition, many vision insurance providers offer discount plans for certain elective procedures, such as LASIK.
How Vision Insurance Works
Vision insurance is a health insurance plan that helps pay for part or all your eye care costs, including eye exams, glasses, contacts, and more.
Vision insurance is often offered through employers, but you can also buy it on your own.
Out-of-pocket costs are the costs of care that you pay for yourself when you visit an eye doctor. These costs can include premiums, deductibles, and copays.
Vision Insurance vs. Health Insurance
Vision insurance is separate from health insurance, and in most cases, health insurance doesn't cover vision issues. Health insurance does cover issues related to eye disease and eye injuries, such as cataracts and trauma to the eye.
Vision insurance offers covers for routine eye exams as well as an allowance toward the annual cost of glasses or contacts. If you don't have vision insurance, you'll be paying full price for eye exams.
Vision insurance plans frequently offer discounts on other vision-related procedures, such as LASIK.
Benefits of Vision Insurance
With vision insurance, you'll enjoy the following:
Reduced costs: While you will have to pay monthly premiums, vision insurance can result in a net cost savings. Annual eye exams are generally covered in full, though a co-pay may apply. You'll also receive a set amount you can apply toward corrective lenses every year.
Better eye health: Vision insurance promotes good eye health since it encourages you to get annual eye exams. During these exams, your optometrist may notice changes inside your eyes, detecting early stages of diseases like cataracts, glaucoma, and macular degeneration.
Improved overall health: Doctors may be able to detect severe medical problems during eye exams as well, such as diabetes, Parkinson's, thyroid disease, some cancers, and high blood pressure. When these issues are detected in their early stages, treatment is more likely to be effective.
What Is Covered by Vision Insurance?
It's important to understand what your vision plan covers and what out-of-pocket costs you may incur. Here is what your vision insurance is likely to at least partially cover:
Eye exams
One pair of glasses every one to two years
Contact lenses, including a contact lens fitting
Some vision plans, such as VSP, offer special discounts on LASIK procedures at specific network providers. You'll generally need to use one of the contracted providers to receive the discount on LASIK or another laser eye surgery.
What Isn't Covered by Vision Insurance?
Vision plans generally do not cover medical eye care costs. For example, vision insurance will usually not cover treatment for dry eyes, allergies, eye infection, or eye diseases. Your standard health insurance will usually cover care for these issues.
Vision insurance is also unlikely to cover LASIK since it is considered a cosmetic procedure. Again, you can take advantage of any LASIK discounts that are offered.
Non-prescription glasses, such as blue light blocking and gaming glasses, are usually not covered by vision insurance.
Best Vision Insurance Plans in 2022
Here are some of the best vision insurance plans in 2022:
VSP: This is one of the most popular and affordable vision insurance providers in the U.S. With plans as low as $13 per month, VSP makes vision insurance more accessible for everyone.

VSP also has a wide network of providers, so it is easy to find a doctor who meets your needs. Most of their plans include an up to $150 frame allowance and fully covered lenses. Members enjoy additional savings, such as 30% off lens enhancements.
UnitedHealthcare: This provider offers two tiers of coverage for vision insurance: one for people who wear either glasses or contacts, and one for people who wear both. UnitedHealthcare has no waiting period, and you get vision services promptly.

They offer 35% off LASIK through QualSight LASIK. Plan participants can get LASIK at any of the more than 900 correction sites nationwide.
EyeMed: Plans start as low as $5 per month for discounts on glasses and contacts. EyeMed's more expensive plans offer more comprehensive vision coverage. Members can enjoy a 15% off coupon for LASIK at any of EyeMed's over 100,000 in-network providers.

Davis Vision: The majority (80%) of major eye care providers are part of the Davis Vision network. With three levels of plans, members can choose the extent of their coverage with premiums increasing with higher coverage levels.

Davis Vision also offers plan holders discounts on LASIK and other healthcare services. Their coverage costs vary from state to state, and you will pay more for out-of-network coverage.
Humana: Humana features many plans with contact lens allowances and no annual deductibles. You'll never pay more than $40 for an eye exam with Humana. Some of their plans offer a discount on services like LASIK or PRK.
Ultimately, the best vision insurance coverage for you comes down to your personal circumstances. It's worth your time to talk to an insurance broker to see what type of plan works best for you.
Vision Insurance Coverage FAQs
Does my health insurance cover vision issues?
While your health insurance will cover issues related to eye injuries and disease, it won't cover vision issues, such as annual eye exams, glasses, and contact lenses.
Will vision insurance pay for my glasses?
Most vision insurance plans include an annual allowance toward glasses frames and a pair of basic lenses is fully covered. There is usually a cap on the amount that can be applied toward frames. If you want to get premium lenses, you will likely have to pay the difference out of pocket.
Check the specifics of your plan to learn exactly what is covered for you.
References
Causes of Low Vision. (September 2021). American Academy of Ophthalmology.

Diabetic Eye Disease. (October 2021). American Academy of Ophthalmology.

Eye Exam and Vision Testing Basics. (January 2021). American Academy of Ophthalmology.

Recognizing and Treating Eye Injuries. (March 2021). American Academy of Ophthalmology.
Last Updated May 23, 2022
Note: This page should not serve as a substitute for professional medical advice from a doctor or specialist. Please review our about page for more information.