VSP Vision Care: Coverage & Plans
VSP is the largest provider of vision benefits in the United States. Their insurance plans cover routine eye care, such as annual eye exams, and they can help you save money on glasses, contact lenses, and eye exams.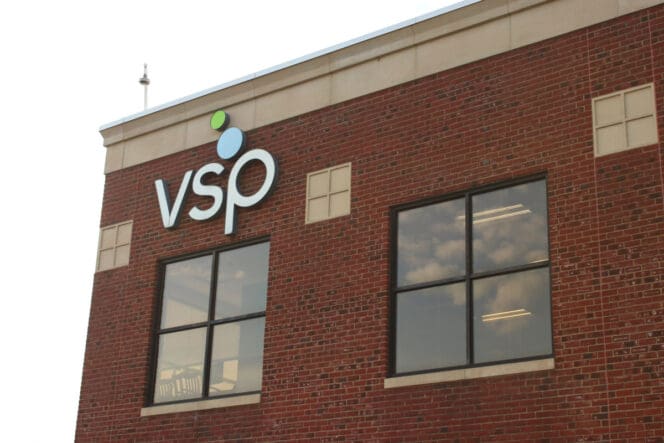 What Is VSP Insurance?
VSP provides access to high-quality, cost-effective vision care. VSP offers a variety of plans to choose from that can fit your needs and budget.
Individual coverage: These plans can cover unemployed and self-employed individuals, retirees, seniors, people who work part-time, and people changing jobs. Individual plans start as low as $13 per month. These plans include an annual comprehensive eye exam and discounts on glasses, contacts, and other vision services.
Employee coverage: These plans cover employees. You can enroll in these vision plans during open enrollment, when changing jobs, or after a qualifying life event. These plan options may offer more benefits, like laser eye surgery.
VSP insurance plans will generally cost between $13 and $76 per month, depending on your level of coverage.
What Does VSP Cover?
Here is what to expect with VSP coverage:
Eye exams: VSP plans include one annual eye exam. Your copay is the fixed amount you pay each time you visit an eye doctor. Once you pay this amount, VSP will pay the rest of the amount owed to the doctor. Most
Frame allowance: This is a set amount of money you can use to buy frames each year, often about $150. If you select frames that cost more than your frame allowance, you only pay the difference between your frame allowance and the final price.
Basic lenses: Standard lenses are often covered by VSP plans. If you want premium lenses or additional features, like anti-glare or scratch-resistant coating, you'll generally pay for these extras out of pocket.
LASIK: If you are an eligible VSP member, you can save on LASIK procedures if you are part of the VSP Laser VisionCare Program.
Medical issues: VSP provides you access to corrective eyewear and preventative exams. However, you'll use your standard health cover insurance to cover care for eye injuries and eye diseases.
VSP Savings Comparison
The amount of money you will save with VSP depends on your plan selection and the choices you make at the doctor's office. The chart below represents a typical example of the savings you could expect with VSP.
| | | | |
| --- | --- | --- | --- |
| | Without VSP Coverage | With VSP Coverage | You Save |
| Eye Exam | $181 | $10 | $161 |
| Single Vision Lenses | $98 | $25 | $73 |
| Frames | $150 | $25 | $125 |
| Polycarbonate Lens | $67 | $31 | $36 |
| Anti-Reflective Coating | $144 | $85 | $59 |
| Photochromic Adaptive Lenses | $115 | $70 | $45 |
| Total | $ 755 | $246 | $499 |
How to Sign Up for VSP
There are a few ways to sign up for VSP coverage. You can enroll in the following ways:
Through your employer: Check if your company offers VSP Vision Care. If so, you can enroll during open enrollment or when you have a qualifying life event.
As an individual: If your employer doesn't cover you, you can buy an individual plan from the VSP website. They have plans starting as low as $13 per month.
Through an insurance exchange or marketplace: Simply sign up directly at the enrollment site.
During open enrollment: If you're an eligible federal employee or annuitant, you can enroll for VSP Vision Care during Open Season.
How Vision Insurance Works
Once you choose VSP, you can easily use the plan to cover eligible services. Here's how to go about using your benefits:
Register with VSP. Once you've registered with VSP, you can pick the vision coverage plan that best fits your budget and needs.
Confirm your benefits. Make sure the plan you choose covers the services you need most. You can check your eligibility for eye exams, contact lenses, and glasses easily at VSP's site.
Find a doctor. Use VSP's tool to find an in-network doctor. You can find VSP doctors in your area easily by entering your address. Contact the doctor of your choice to schedule a comprehensive eye exam.
Get a prescription. As part of a comprehensive eye exam, the doctor will screen you for various eye issues, assess your overall eye health, and check your vision. If you need corrective lenses, you'll receive a prescription. You can get glasses or contact lenses elsewhere, or your eye doctor may carry some options.
Pay your copay. You'll pay any necessary copays at the time of your visit. The office will submit the claim to VSP to cover the rest.
While the specifics of your coverage will vary according to the particular plan you choose, most VSP plans will cover the following:
An annual eye exam
One set of corrective lenses annually
One set of frames each year
Discounts on LASIK and other services
What Major Retailers Accept VSP?
You can use VSP's Find an Eye Doctor tool to find VSP providers within your area. Most major retailers also accept VSP insurance, such as the following:
Walmart
Sam's Club
Target
Costco
BJ's Wholesale Club
What if I Break or Lose My Glasses?
VSP offers an Eyewear Protection Program that essentially acts as a one-year warranty on your glasses. If you're part of the VSP Premier Program, you can replace your broken or damaged frames for free within one year of your purchase date.
You'll receive a discount on the cost of lens replacement. For example, you can replace single vision lenses under this plan for only $40.
Is VSP a Good Vision Insurance Provider?
Yes, VSP is one of the most popular vision insurance providers in the country. Here are some of the benefits of working with VSP:
They offer a wide range of coverage and plans to choose from.
They feature discounts on glasses, contacts, and vision care services.
They are the largest national vision insurance provider.
They don't have waiting periods.
They offer affordable monthly premiums, starting at $13.
What Is Not Covered With VSP?
Certain add-on features for your glasses, such as anti-glare coating, scratch-resistant coating, or UV protection, may not be fully covered by VSP. Check the specifics of your plan to see exactly what is and isn't covered.
Again, coverage varies greatly according to the specific plan you choose. Check out the coverage levels available on their Plan Options page.
References
Eye Exam and Vision Testing Basics. (January 2021). American Academy of Ophthalmology (AAO).

Eyeglasses for Refractive Errors. (July 2019). National Eye Institute (NEI).

Find an Eye Doctor. Vision Plan (VSP).

Keep an Eye on Your Vision Health. (October 2020). Centers for Disease Control and Prevention (CDC).

No Matter Your Life Stage, VSP Has Options to Keep You Covered. Vision Plan (VSP).

VSP Benefits Are Easy to Use. Vision Plan (VSP).

VSP Individual Vision Plans FAQ: Vision Plan Coverage. Vision Plan (VSP).

What Providers Are Part of VSP Vision Network? (January 2022). Health Agents.

What Are My In-Network Vision Coverage Options? Vision Plan (VSP).
Last Updated May 23, 2022
Note: This page should not serve as a substitute for professional medical advice from a doctor or specialist. Please review our about page for more information.