Walmart Vision Center Review: Are They a Good Choice?
Walmart Vision Centers are physical locations that offer eye exams and the ability to order contacts, glasses, and some other eye care products. You can also order some of these things online.
The overall reception to their services is fair. We recommend researching them carefully before purchasing glasses or contacts, especially if alternate options are available.
Walmart Vision Center Overview
Walmart Vision Centers are Walmart's glasses and contact outlets, located in many but not all Walmart locations. You can visit these locations for eye exams and to buy frames and lenses from them in person or online.
Benefits of Walmart Vision Center
Walmart offers some of the cheapest frames available and the lowest lens prices comparable to other retailers.
A look at their available frames shows several options under $10. A reasonable variety of options under $30 are available as well for those unhappy with the limited extreme budget options.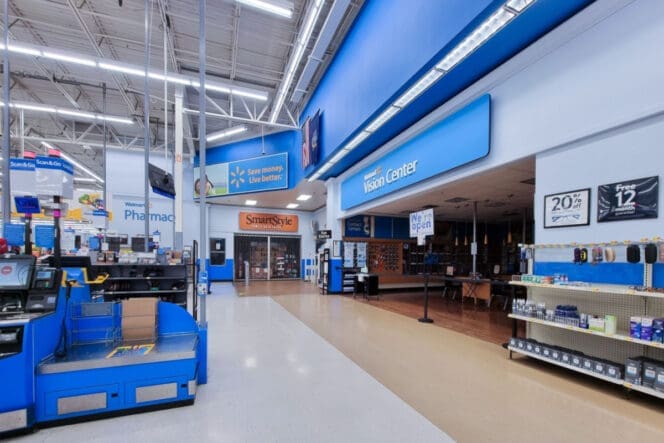 Downsides of Walmart Vision Center
Many of Walmart's budget frames have poor to middling reviews on their website. Some complaints include mentions of discoloration, scratches, and misleading pictures.
The website Walmart uses to sell their glasses and contacts is the same as its primary site, and it is limited in vision-center-specific features. It is not easy to navigate through options beyond selecting desired brands and your range of price points.
Overall, the design choices made on their website and the apparent inability to easily order prescription eyeglasses online make it appear that Walmart has mostly designed its vision centers with physical customers in mind.
Cost & Insurance
According to their website, Walmart offers replacement lenses in CR39 plastic for $99 and polycarbonate for $149. Frames are available starting at around $10, coming with demo/non-prescriptive lenses for free.
Walmart accepts coverage from most major vision providers.
Visitors to a physical Walmart Vision Center can get interpreter services provided at no cost. Walmart offers this service in a fairly wide variety of languages, covering most major languages spoken in the United States.
How Do Walmart Vision Center's Costs Compare to Competitors?
The cost of glasses from Walmart Vision Centers is comparable in price to competitors, with a good number of budget frames available.
Shipping Times & Cost
Walmart offers free shipping on contact and glasses orders, including to U.S. territories. Shipping time is estimated at 5 to 7 days for contacts. There is no information directly on their website about glasses shipping times, but multiple sources online claim it is comparable to contacts.
For $11.95, customers can get expedited shipping, which reduces the expected shipping time for contacts to 3 to 4 days.
Ordering Process
Walmart allows contacts and frames to be purchased online. It seems there is no fast way to order prescription eyeglasses. They require that you visit a physical location or speak with a representative over the phone.
Ordering contacts is more straightforward. The process looks like this:
Choose a contact option.
Click "Order Contacts."
Enter your prescription information.
Add the item to your cart.
Click "Start Order."
Enter your shipping and contact information.
Enter the appropriate patient and doctor names next to prescription products.
Enter your payment information.
Complete your order.
Reviews & Reception
Walmart Vision Center services are relatively poorly reviewed online, with many of their cheaper frames receiving bad reviews on their own website. Common complaints appear to be poor customer service, frequent errors, and poor-quality products.
Alternatives to Consider
Because of a fair amount of bad reviews, Walmart Vision Center raises red flags for some. Alternative options include the following:
Zenni Optical, a company known for highly competitive pricing as an online eyewear retailer
Warby Parker, a company often held up as a gold standard in terms of customer service
Walmart Vision Center FAQs
Is Walmart Vision Center legitimate?
Walmart is a large corporation, so you can rest assured that its Vision Center is legitimate. Customers can expect the company to provide the eyewear products ordered and honor their right to a refund if they experience any issues. However, the company has also had numerous complaints about the quality of both the services it provides and the products people receive.
Does Walmart Vision Center offer good deals?
Walmart offers some of the cheapest frame options available, but we are reluctant to denote them as "good deals" at this time. Many are reviewed poorly, as is the company's overall level of service as an eyewear provider.
References
How to Place an Order. Walmart.

Interpreting Services Available. Walmart.

Replacement Lens Express Vision Centers. Walmart.

Shipping and Delivery. Walmart.

Shop Prescription Eyewear. Walmart.

Vision Centers. Walmart.

Wal-Mart Vision Center. Consumer Affairs.
Last Updated August 9, 2022
Note: This page should not serve as a substitute for professional medical advice from a doctor or specialist. Please review our about page for more information.