Cost of Prescription Glasses
You must have an updated prescription from an eye doctor before you can buy new glasses.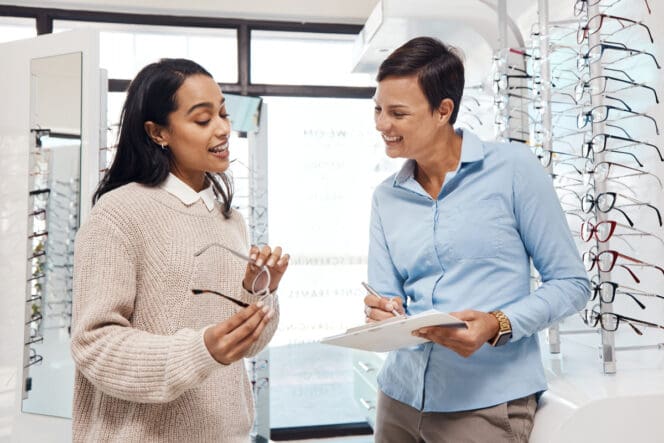 The cost of prescription glasses depends on where you choose to buy your glasses, your insurance coverage and the frames, lenses and add-ons you select.
Prices can range from $100 to $1,000 or more.
Getting New Prescription Glasses
According to a study conducted by the American Academy of Ophthalmology, more than half the U.S. population will have myopia or hyperopia by 2050. This means many more people will require corrective vision measures such as eyeglasses.
Americans already have more options for purchasing glasses than ever before, especially with a growing market of online retailers.
As always, price points vary by retailer. Out-the-door costs also change based on your vision insurance coverage, if applicable.
Here are some of the costs you can expect to pay when buying prescription glasses or sunglasses.
Average Cost of Prescription Glasses
A number of factors affect the price of your prescription glasses. That is why the cost of buying corrective eyewear ranges from $50 to $1,000 or more. The average cost of glasses is listed at $187 but Americans with vision insurance plans or Medicare coverage typically spend more. (Also, retailers run specials and sales all the time, often encouraging a two-for-one purchase that usually costs more than the price of one pair of glasses.)
Insurance is the biggest factor in determining the final cost of your glasses. If your insurance covers prescription glasses, then it's a matter of how much coverage you have for the various elements of your order:
Frames (discount, designer, in-between)
Lenses (single lens, bi-focals, tri-focals, progressive)
Add-ons such as anti-glare, scratch-resistance, transitions
Many insurance policies cover either a percentage of the frame cost or else provide a dollar amount for frame coverage ($50, $100, $150 or more).
Process of Getting Prescription Glasses
While the information above sheds light on the actual price of prescription eyeglasses, there are other various costs during the process. If you are considering getting glasses, then you will need to know about the entire process and how much you are likely to pay.
Here are the key steps to getting classes and their accompanying prices.
Eye Doctor Appointment
You cannot get prescription eyewear without being prescribed by an ophthalmologist or optometrist. Once again, the cost of getting an eye exam from a specialist could widely vary. The cost of seeing a specialist will cost you between $30 and $200. That price varies based on insurance coverage.
The Prescription
Most of the time you will complete your eye exam and leave your doctor's office with an updated prescription in hand. Odds are that the eye doctor also sells glasses, and the office staff will encourage you to look around and pick out frames that are lining the walls around the office.
Your prescription and your personal preferences could limit your options. If you prefer progressive lenses, for example, you will want to steer away from frames that are too narrow from top to bottom. Progressive lenses work best when they have enough room for each of the three vision channels to open up.
If you are OK picking out the best corrective lenses without regard to personal taste, then most of the selection is open to you.
Shopping Around
Unless you need new glasses immediately to drive or function, you do not have to pick out glasses immediately after your eye exam. In fact, if you can wait a few days (or even weeks) and are diligent about looking for potential eyeglass bargains, you are likely to find one that works for you.
If you do not see an advertisement on TV or in the newspaper for frames, lenses or whole-eyeglass packages that are on sale, simply pop into two or three eyeglass locations near you. Places like Target, WalMart, Costco, Lenscrafters, PearlVision, VisionWorks, Eyeglass World, America's Best, et al., constantly run sales.
Several online-only stores exist as well. Zenni, Warby Parker, Eyeglassdirect and others can by much less expensive, but the process of ordering is sometimes cumbersome and not always as exacting.
Where to Buy Prescription Glasses
Today, there are countless outlets where you can purchase a pair of prescription glasses. These include;
1. The eye doctor's office –Traditionally, the only places you could find prescription glasses were at your optometrist or ophthalmologist's office. Today, you can still get a pair of corrective eyeglasses from your optician.
2. Retail vision stores – These are your modern one-stop shops for most eyewear needs. Here you can get a wide selection of frames and glasses, and most stores deliver speedy and convenient services.
3. Vision centers – Stores like Target and Walmart now have optical centers that offer a relatively wide selection and at reasonable prices too. You can now get your glasses on your next shopping trip.
4. Online – While relatively new, online platforms have totally taken over the eyewear industry. From the comfort of your seat, you can order any color, style, material, shape, and size of prescription eyeglasses. This is perhaps the most convenient and cost-effective way of getting your eyeglasses.
Ultimately, prescription glasses can help you deal with vision deterioration and complications like myopia, hyperopia, and astigmatism. If you think you might need corrective eyewear, you should reach out to a qualified professional and get the process started. Fortunately, as seen above, you have numerous options when it comes to eyeglasses and where to get them.
Factors that Affect the Cost of Prescription Glasses
Once you get your new prescription and start to shop around, you will discover the various pricing structures retailers have and which ones best apply your insurance your glasses purchase.
Beyond the retailer you prefer, the other key factors that impact the price of your glasses are:
Insurance coverage
Frames
Lenses
Add-ons
Insurance
If you have comprehensive insurance cover, the overall cost of glasses will be lower than when you do not have insurance. Most vision insurance provides coverage by item: frames, lenses, add-ons.
Copays will apply, as will coverage percentages or fixed dollar amounts. You may have to cover the cost of your glasses once the prices reaches a certain point.
Frames
There are numerous frames designs to help you get exactly what you're looking for. The style, material and size of the frame determines its price point.
Frames are highly customizable, and those with certain brand or store names may cost a bit more than generic ones.
Frames can cost as little as $39.99 and as much as $300 or more.
Lenses
The lens is the single most significant cost determinant. The simpler the lens type needed, the more affordable the glasses will be.
Single-vision lenses are the least expensive, followed by bifocals and trifocals. Progressive lenses cost more.
If you have a vision condition that requires a more complex lens, costs will be higher.
Add-Ons
Add-ons like photochromic lenses drive up the cost of glasses. So to extras like anti-glare and anti-scratch lenses, although more and more lenses have these features built into their base cost.
The more add-ons you pick, the more your out-the-door price will be.
Does Insurance Cover Prescription Glasses?
Vision insurance is a common term used to describe health and wellness policies and plans that partially or wholly cater to various vision treatments and aftercare services. These may include eye examinations and prescription eyewear options like glasses and contact lenses.
However, unlike most insurance plans that offer unlimited benefits, most vision insurance covers only offer discount plans. When purchasing vision insurance, ensure you understand what they cover and the associated costs and benefits.
References
Eyeglass & Contact Lens Store Buying Guide. (July 2021). Consumer Reports.

Eyeglasses and Contact lenses. (August 2019). University of Rochester, Medical Center.

Vision Coverage. (March 2018). Healthcare.gov.

Global Prevalence of Myopia and High Myopia and Temporal Trends from 2000 through 2050. (May 2016). American Academy of Ophthalmology.
Last Updated May 3, 2022
Note: This page should not serve as a substitute for professional medical advice from a doctor or specialist. Please review our about page for more information.