How to Choose the Best Sunglasses for the Snow
Sunglasses are an important piece of personal equipment when you are in a snow environment. They make vision better and easier on your eyes by fighting glare and elements in the outdoors.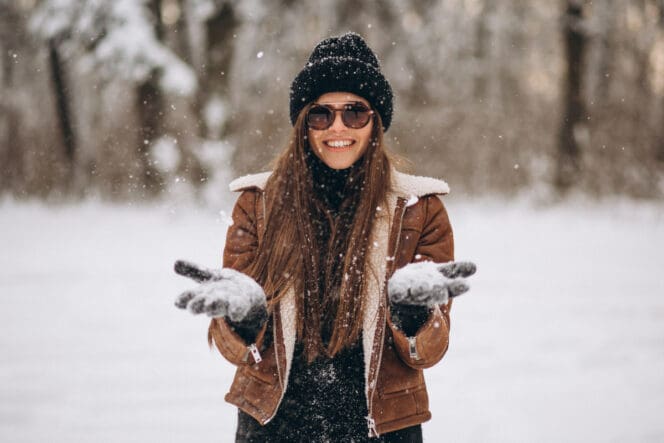 Learn tips to picking out the best sunglasses to wear in the snow.
Why Wear Sunglasses in the Snow
The easiest explanation for wearing sunglasses when surrounded by snow is protection. Any kind of glasses or goggles place a layer of glass or plastic in front of your eyes, shielding them from flying snow and debris if you are in an outdoor environment.
UV-rated lenses keep the sun's ultraviolet rays, which are harmful, from hurting your eyes. They also keep the glare at bay. Glare is also bad for the eyes.
By reducing glare and minimizing the UV rays, you will see better with sunglasses on.
Minimizes Exposure to UV Rays
Extended exposure to UV rays may cause Photokeratitis (snow blindness). It is a painful condition that leaves the cornea inflamed, temporarily blinding you for up to three days.
If you're spending a lot of time on the slopes, protect your eyes using sunglasses that offer 100% UVA, UVB, and UVC ray protection.
Protects Against Glare
Snow reflects roughly 80% of the sunlight. These can blind you unless you use dark sunglasses.
Low Humidity
Sunglasses can protect your eyes from the cold air blowing on your face. It causes moisture in the eyes to evaporate, leading to dry eyes.
Improve Vision
Sunglasses will reduce glare, minimize UV rays, and eliminate dry eyes, improving vision.
Best Sunglasses for the Snow
Under Armour UA Igniter 2.0 Polarized Sunglasses
The MultiflectionTM lens coating provides scratch and smudge resistance, while the three-point grip ensures a stable and comfortable fit.
Polarized lenses decrease glare, which is ideal for the brightest of snow. The Under Armour lenses block the UVA, UVB, and UVC rays completely.
Oakley Radar Ev Path 009208 sunglasses
These sunglasses can withstand extreme mass and velocity to ensure protection from weather conditions and environments. They have Prizm lenses to enhance color and contrast for clarity.
Torege TR002 Polarized sunglasses
It uses polycarbonate for both the frame and the lenses with a scratch-resistant coating. The lens has Torege's Lens Technology, which improves your vision's color and contrast. All lenses have a UV400 coating and provide 100% UVA and UVB protection.
Rivbos polarized sports sunglasses
These feature unbreakable polarized Switzerland TR90 material. RIVBOS created these lenses with 100% UV400 (UVA and UVB) protection, HD polarization and impact-resistant UV TAC lenses.
Oakley Jawbreaker Shield Prizm Snow Sunglasses
Although not polarized, they contain a 20 percent VLT, protecting the eyes from the harshest snow glare. It utilizes the switch-lock technology that lets you swap out lenses. It also contains Prizm lenses, which improve your vision's color and contrast.
What to Look for in Snow Sunglasses
When choosing the best snow sunglasses, you want something comfortable that stays in place and will block out extreme light. Here's how to go about it:
Go big: Larger frames will better shade your eyes from the sun's glare. Wrap-around sunglasses are particularly helpful in blocking out light from the sides and above.
Get a polarized lens: Polarized sunglasses are best because they filter out light coming into the eye at certain angles, effectively blocking out snow reflections and reducing glare.
Look for a UV protection label: UV rays can cause cataracts and other eye problems, so it's important to buy sunglasses that offer close to 100 percent UV protection.
Choose impact-resistant lenses: Although sunglasses don't need to meet the same safety standards as eyeglasses or goggles, they should still protect against impact injuries, as there's a risk of hitting trees or other obstacles.
Anti-fogging features: Choose goggles with double lenses to prevent condensation from forming.
Safety and comfort. Look for sunglasses with polycarbonate or other impact-resistant frame materials. Adjustable rubber earpieces and nose pieces will stay on better while jumping over bumps and are more comfortable than hard plastic ones.
References
Winter UV Eye Safety: Prevent Snow Blindness and Other Conditions. (June 2021). American Academy of Ophthalmology.

What is Photokeratitis — Including Snow Blindness? (June 2021). American Academy of Ophthalmology.

Eye care doesn't take a holiday. (December 2019). American Optometric Association.

Sun exposure to the eyes: predicted UV protection effectiveness of different sunglasses. (October 2018). Journal of Exposure Science & Environmental Epidemiology.
Last Updated May 3, 2022
Note: This page should not serve as a substitute for professional medical advice from a doctor or specialist. Please review our about page for more information.