Frameless Eyeglasses: Why Consider Rimless Glasses
Rimless glasses come without any frame leaving their lenses exposed. They are best for people looking for a minimalist design and offer a wider field of view. They are also lightweight and comfortable, among other benefits. The rimless glasses come in different styles suiting varying facial features and preferences. For the best shopping experience, you should buy eyeglasses online. You will also save costs thanks to lower prices.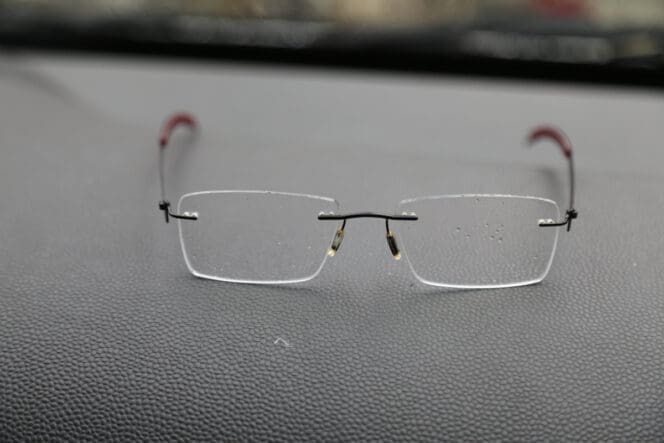 What Are Rimless Eyeglasses?
Rimless glasses are a type of eyewear without a frame. The only supporting structures are the nose bridge, the temple arms and the nose bridge.
All sides of the lenses are exposed, a quality that makes the eyeglasses almost invisible. Their minimalist style makes them popular and stylish.
Although many people believe rimless glasses are a recent design, they have been around since the 1820s when Johann Friedrich came up with a monocle for correcting the vision of one eye. Over the years, new styles and options have increased, and designer rimless eyeglasses with celebrity ambassadors have increased their demand and attention.
Who Can Wear Rimless Glasses?
While rimless glasses are an option for anyone who must wear glasses, certain people need them more. There are several reasons anyone may want rimless glasses. You are a candidate for rimless glasses if you have the following needs:
You do not want your glasses to overpower your facial features
You want discreet glasses.
You need lightweight glasses.
You want a wide field of view.
You want a fun style.
You want a professional look.
The price is right for your budget.
You want a pair for a special occasion.
Featuring Your Facial Features
If you have delicate features, then other eyeglass options could take attention away from them. On the other hand, Rimless glasses will expose most of your face, and you can show off your eye color, makeup, and the shape of your nose, among other features. You can also style your hair as you want without the bulkiness of frames getting in your way.
Discreet Glasses
Eyeglasses are not for everyone, and some people, especially those who start wearing them late in life, may feel the need for privacy. Rimless eyeglasses are not easily noticeable, and their subtleness adds to your privacy.
Lightweight Glasses
In several cases, full-frame glasses are quite heavy, making them uncomfortable on your face. If you struggle for a comfortable fit, you probably need rimless eyeglasses since they are lightweight and very comfortable with no frame pressing against you.
Wide field of view
Rimless glasses give you a wide field of view since no plastic, metal, or another material is blocking your peripheral vision. Frames limit how wide you can see, which affects your vision, especially when reading or riding.
Easy Styling
The minimalist approach of rimless glasses means they can go with any outfit. There are no colors or frame designs that dictate which clothes and looks you should use. They are also great if you want other jewelry to be the centerpiece for attention. It could be a nose ring, pendant, necklace, etc. The rimless design will not distract people's eyes from that decorative item.
Professional Look
Eyeglasses do live up to the stereotype of intelligence, but the bold colors and stylish frames can seem a touch too much. Thus, the rimless design allows you to maintain a professional look, and it is a favorite among executives.
Price Is Right
While the price of rimless glasses varies by brand and manufacturer, they are generally cheaper because they use less material and have fewer frill than full-framed or half-framed glasses.
Special Occasions
Some occasions like weddings and graduations may call for a rimless pair of glasses since they allow other aspects like headgear, gowns, your eyes, etc., to shine. The eyeglasses melt in the background, and it also helps avoid reflection and lighting issues when taking photographs.
Styles
There are different styles available for rimless glasses to suit different people. Some of the available styles include:
Round rimless glasses are best for those with well-defined jawlines or square and diamond face shapes.
Oval rimless glasses are excellent for those with defined angles but are longer than broad.
Rectangle rimless glasses are excellent for balancing soft curves and oval faces.
Square rimless glasses are excellent for round and heart shapes.
Where to Buy
The best option is to buy the glasses online. All you need is an up-to-date prescription. Online outlets offer you a wide variety of styles and options.
It is also convenient because you can do it anywhere and anytime. It also saves you time and often money, thanks to the offers and competitive pricing.
Alternatives to Rimless Glasses
If you are looking for something different, you are either back to full-rimmed glasses, which are great if you are prone to dropping your glasses or if you want a bold look.
You can also go for semi-rimless ones to benefit from both a minimalist design and durability and be light and have a bold look. Other options include wireframes and, in extreme cases, contact lenses.
References
The Hidden Psychology of Wearing Glasses. (June 2017). Pacific Standard.

Hindsight Is 20/20: Rimless Glasses. (May 2013). 20/20 Magazine.

The Glasses Stereotype Revisited. (November 2011). Swiss Journal of Psychology.

A Simpler View of Rimless Eyewear. (December 2006). Review of Ophthalmology.
Last Updated May 16, 2022
Note: This page should not serve as a substitute for professional medical advice from a doctor or specialist. Please review our about page for more information.