Toric contact lenses are the best ones to wear to correct astigmatism. A doctor must fit them to your eyes, and you can get them as single-use lenses or longer-lasting lenses.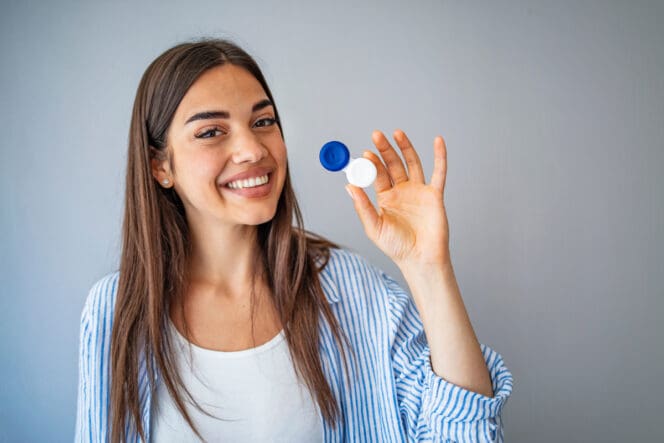 There are six specific brands of toric lenses that perform well for astigmatism.
Astigmatism and Contact Lenses
Astigmatism is a vision impairment that occurs because of an abnormal shape of the cornea or lens. These parts of your eye can't focus light precisely on the retina. Consequently, you experience blurry vision due to refractive errors.
When the problem stems from the uneven surface of the lens, it's called lenticular astigmatism. When it arises from the irregular shape of the cornea, it's called corneal astigmatism.
Astigmatism causes you to see distorted images, whether they're near or far. Fortunately, you can overcome the problem using eyeglasses or contact lenses.
Standard contact lenses, however, will not help. You need more high-end contact lenses called toric. These torus-shaped contact lenses can focus different focal lengths to the retina to provide a clear vision. A doctor must evaluate your eyes for them to fit correctly.
Best Contact Lenses for Astigmatism
Below is a list of the best contact lenses for astigmatism:
Acuvue Oasys 1-Day with Hydraluxe for Astigmatism
Acuvue Oasys for Astigmatism Hydraclear Plus
Bausch & Lomb ULTRA for Astigmatism
Proclear Toric
Acuvue Theravision with Ketotifen
Bausch + Lomb Ultra Multifocal for Astigmatism
Acuvue Oasys 1-Day with HydraLuxe for Astigmatism
These are single-use lenses. You must replace them daily, which removes any concerns about cleaning, contact lens solution and cases.
The use of a hydraluxe wetting agent ensures the lenses don't irritate. Tears wet the lens the same way they wet your eyes. Therefore, these are the best daily lenses for dry eyes.
In addition, Acuvue Oasys 1-day lenses provide UV protection to your eyes. You can choose to buy either a 30-day or a 90-day pack. A box of 30 lenses costs $41.59.
Acuvue Oasys for Astigmatism Hydraclear Plus
If you want lenses that last longer than a day, consider Acuvue Oasys for astigmatism hydraclear plus. These lenses last a week or two. They do not move from their position when you blink, making them ideal for an active person.
The hydraclear plus technology helps keep the lens wet. This attribute ensures you feel comfortable when wearing them. Moreover, you get high UV protection from these lenses. A box containing six lenses costs $47.99.
Bausch & Lomb ULTRA for Astigmatism
If you want longer-lasting lenses, you might like Bausch & Lomb ULTRA for Astigmatism. These lenses can go for a month without replacement.
They use moisture seal technology, which retains 95 percent of lens moisture. This technology helps prevent dry eyes arising from infrequent blinking when using a computer screen. Also, they have an optic align design that offers consistent, clear vision all day long.
Proclear Toric
This Proclear Toric lens requires replacement once a month. If you experience irritation and dry eyes from wearing a contact lens, the Proclear Toric may be a great choice for you.
The lens uses PC technology that binds water to the lens. This technology helps to keep the lens fresh all day.
Acuvue Theravision with Ketotifen
If you struggle with itchy eyes due to allergies, Acuvue Theravision with Ketotifen may be your solution. The built-in ketotifen is an established antihistamine. It provides continuous relief from itchy eyes for up to 12 hours.
In addition, this medication-releasing contact lens is free of preservatives. But you can't wear it for more than a day.
Bausch + Lomb Ultra Multifocal for Astigmatism
The Bausch + Lomb Ultra Multifocal for Astigmatism lenses are ideal for people with presbyopia (farsightedness) and astigmatism.
These lenses have three zones that help provide sharp vision from all distances. This three-zone design can be helpful, especially when driving at night. They also have moisture-seal technology that locks in moisture for 16 hours.
Alternatives to Contacts for Treating Astigmatism
People with mild cases of astigmatism may not need treatment. But for more severe cases, eyeglasses and contact lenses are the most common treatment methods. Your doctor can also recommend surgery.
The purpose of surgery is to change the shape of the cornea to allow it to focus light more accurately.
FAQs
Which contacts are best for astigmatism?
Different lenses target various issues such as allergies, replacement cycle, and comfort. Unless you have eye allergies, you might like Acuvue Oasys 1-Day with Hydraluxe for Astigmatism. These lenses are comfortable to wear. Since you can only use them for a single day, you get to eliminate the need to clean them.
Can I wear regular contacts with astigmatism?
You can't wear regular contact lenses with astigmatism. This condition requires toric lenses, which are more expensive. Standard lenses can't provide the same vision correction for astigmatism as toric lenses.
Are daily or monthly contacts better for astigmatism?
Both daily and monthly contact lenses can help with astigmatism. However, monthly contact lenses require constant cleaning. If you don't clean them, they might attract bacteria. On the other hand, daily lenses have no maintenance.
References
What Is Astigmatism? Symptoms, Causes, Diagnosis, Treatment. American Academy of Ophthalmology. February 2022.

What Is A Toric Contact Lens. Granite Pointe Eye Care. July 2020.

Astigmatism. National Eye Institute. June 2019.
Last Updated April 27, 2022
Note: This page should not serve as a substitute for professional medical advice from a doctor or specialist. Please review our about page for more information.