Daily contact lenses are a popular solution for vision correction. Most often, daily contact lenses refer to disposable lenses, which reduce the need for complex hygiene routines by eliminating storage between use.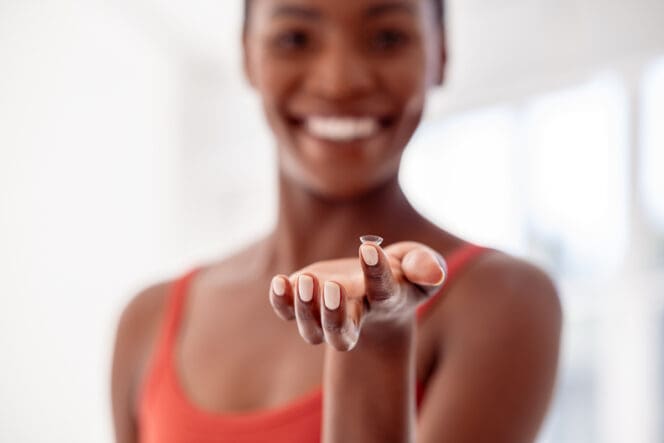 With daily disposable lenses, you wear them once and then throw them away at the end of the day.
Less commonly, daily lenses can refer to contacts that are only worn during the day (not at night) but for a longer period of time (a couple weeks to a month).
What Are Daily Disposable Contact Lenses?
The term daily contact lenses usually refers to contact lenses designed as single-use eyewear. These lenses get put in when a person wakes up and then taken out and disposed of before bed. Many people prefer these lenses as they reduce the amount of maintenance with contact lenses.
While basic hygiene practices remain important, daily disposable contact lenses don't require that you take them out, clean them, and carefully store them every night. Once they're removed from the eye, that usually means it is time to throw them away.
Who Is a Candidate?
Daily disposable contact lenses are a good eyewear option for people who want contacts but have hesitations about the hygiene and maintenance routine required. Many feel dailies are easier to use, as storage is not a concern.
Generally speaking, experts advise caution when considering contact lenses for children. They require significantly more attention and responsibility than glasses.
Unless a child can keep a fairly disciplined hygiene routine, you may wish to wait a few years before buying them contacts. Most often, parents wait until the teen years to get their kids contact lenses.
Can You Get All Contact Lens Types in Daily Disposable Lenses?
Most people can get their prescription filled with daily disposable lenses. These lenses can correct for astigmatism, nearsightedness, and farsightedness. They are also available in color enhancement options.
While daily disposable contact lenses come in many varieties, not every prescription can translate to a daily disposable option. Due to certain thickness limitations, the power of daily disposable lenses is more limited than with other types of lenses. Particularly strong prescriptions, as well as those requiring more unusual shapes, are not always possible in daily varieties.
For stronger prescriptions, a daily lens that comes in a monthly option might work better.
Dailies vs Other Types of Contact Lenses
Daily disposable contact lenses are especially thin, as durability is less of a concern when the intention is to wear a particular set of lenses for a short period of time. This means that the lens is also often less irritating to the eye, so you may find them easier to wear.
Due to their daily nature, you cycle out your lenses every day. With other lens options, you may use the same pair of lenses for weeks or months at a time.
Pros of Daily Disposable Lenses
Most of the most common reasons people like contact lenses overall apply to daily contact lenses. Like other lenses, they can provide vision correction without being noticeable. Once in place, they are unlikely to get in the way of most activities.
When available, many people consider daily disposable contact lenses the most convenient contact lens option. These are some of the most notable advantages:
An easier hygiene routine
Simpler storage requirements
Easily replaceable
This makes dailies a very popular option. The broad category of "disposable lenses" represents the biggest market share of contact lens purchases, although this also includes weekly and monthly reusable lenses.
Cons of Daily Disposable Lenses
Daily contact lenses also usually represent the most expensive contact lens option. While the cost is not prohibitive to many, a cheaper option that still provides the same or a comparable level of sight correction is almost always available.
Their disposable nature opens up some questions about environmental impact, although the current research on the matter is unclear. One problem is that data on wastewater is often unavailable, which can make certain calculations difficult.
Regardless, it is noteworthy that whatever the impact of this waste, other habits such as using plastic bags and water bottles, likely have a much greater impact.
Costs of Daily Disposable Contacts
Assuming you don't receive any discounts or insurance coverage, daily use contact lenses can cost $18 to $40 a month. Some brands and options tailored to more niche specifications can cost significantly more.
Actual costs depend on where you shop for your lenses, what you buy, and if any discounts might be available. These are some reputable online contact retailers:
Most major big-box stores and pharmacies also offer contact lens services. Generally, you'll save money if you buy larger quantities at once.
Keep in mind that your insurance may cover certain contact lens options, which can greatly reduce the total cost of your lenses. Check with your insurance provider first before purchasing contacts.
Best Daily Contact Lens Brands
While each person's metrics for their ideal contacts may vary, reading through reviews and tracking what options are popular on reputable sites can help identify some contact brands worth your attention.
Both Acuvue and Dailies are brands that remain well-received across multiple contact lens retailer sites. Biofinity and Proclear are also popular.
Combining your own research with these reviews and the opinions of your doctor can help you find a contact lens brand that meets your needs at an affordable cost.
Daily vs. Monthly Lenses
Monthly contact lenses are an alternative to daily contacts. Monthly lenses get stored in contact cleaning solution when taken out and used again every day until the month is up. Because companies design these lenses to last a month, they have better durability and increased thickness.
This increased thickness can make them more irritating to some people, but it also means they are less prone to tearing or other damage.
In some cases, if a user needs a strong prescription, monthly lenses may be a better option than daily lenses.
Daily vs. Daily Disposable Lenses
Again, the term daily lenses is sometimes used to refer to contacts that are simply worn during the day, meaning they are not intended to be worn overnight. However, most often, the term is used to describe daily disposable lenses that are thrown away every night after use.
Daily disposable lenses are only meant to be worn once. Conversely, general daily lenses may be worn for a couple weeks or months, depending on the specifics of the particular brand and type.
Daily Contact Lens FAQs
Are daily disposable contacts better than other options?
Daily disposable contact lenses are a convenient option that reduce the risk of complications when compared to other types of contacts. Dailies often offer people an easier experience as there are no cleaning and storage processes to consider. They simply just throw the lenses away at the end of the day.
Can I wear daily contacts for multiple days?
No, avoid wearing daily contacts for more than the single day their designers intended. The longer you wear any contact lens beyond its intended use time, the more you risk complications.
For example, the material may begin to break down. As it does, fragments might fall loose in your eye, or tears can develop that might scratch your eye. If you want to wear your contacts for multiple days in a row, avoid daily disposable lenses, and choose a lens type intended for longer wear.
When should I remove daily contact lenses?
Remove daily contact lenses before showering, bathing, or swimming. If your contacts get wet with anything besides contact solution, dispose of them early. You also need to remove your contacts before sleeping.
Can daily contact lenses be reused?
No, daily disposable contact lenses cannot be reused. They should only be worn once and then thrown away.
Can I nap in daily contact lenses?
As a general rule, no. You should remove your contacts before sleeping for any duration of time.
References
Last Updated April 5, 2022
Note: This page should not serve as a substitute for professional medical advice from a doctor or specialist. Please review our about page for more information.