Hubble contact lenses are an inexpensive vision option, but they come tinged by controversy. Hubble has been accused of deceptive and unsavory marketing and sales processes. In addition, the lenses are made from older materials that do breathe as well as newer products.
Warning: Despite offering inexpensive contact lenses, Hubble contacts was hit with $3.5 million in regulatory penalties and consumer relief by the U.S. government in January 2022. According to the Department of Justice and the Federal Trade Commission (FTC), the online lens seller was accused of deceptive sales and marketing practices — and other malpractices — in contravention of the Fairness to Contact Lens Consumers Act and the FTC's Contact Lens Rule.
What Are Hubble Contacts?
Hubble contacts are a brand of low-cost, daily-use eye lenses for people with vision problems. St. Shine Optical Co., a Taiwanese company, makes the lenses, which Hubble has sold online directly to consumers since 2016.
Key specifications for Hubble contacts are:
Base curve of 8.6 mm
Diameter of 14.2 mm
Lens material of methafilcon A
However, direct comparisons of Hubble contacts to those of other manufacturers and sellers is more difficult. Odspecs.com, which provides specifications of many contact lenses available in the U.S. market, has removed Hubble information from its site.
The lenses are FDA-approved, despite a protracted controversy about their design and the company's direct-to-consumer sales model.
What Makes Them Different?
Methafilcon A, the material that Hubble uses for its lenses, is the primary distinguishing factor for these lenses. It is also a cause for concern for some consumers.
The material that a contact lens is made of is what determines its breathability, or oxygen transmissibility (measured in Dk/t). For your eyes, breathability — more oxygen — equates to safety.
Hubble lenses have a Dk/t value of 18. Many brands have a value between 21 and 28, but several brands are much higher.
For example, some lotrafilcon A lenses have a 175 Dk/t, while lenses using balafilcon A can have a 130 Dk/t.
Hubble contacts have a 55 percent water content. Many silicone hydrogel contacts have a lower proportion of water. For instance:
Alcon's Air Optix Night & Day Aqua that uses lotrafilcon A has 24 percent water content.
Bausch + Lomb's PureVision 2 HD with a 130 Dk/t balafilcon A material has 36 percent water.
A breathable lens allows a healthy supply of oxygen into the eye, but older materials like methafilcon A can be weak, letting in less oxygen than lenses constructed with other materials. Newer contact lens materials like silicone hydrogel, which accounts for 62 percent of all soft lenses in the U.S., boast superior breathability.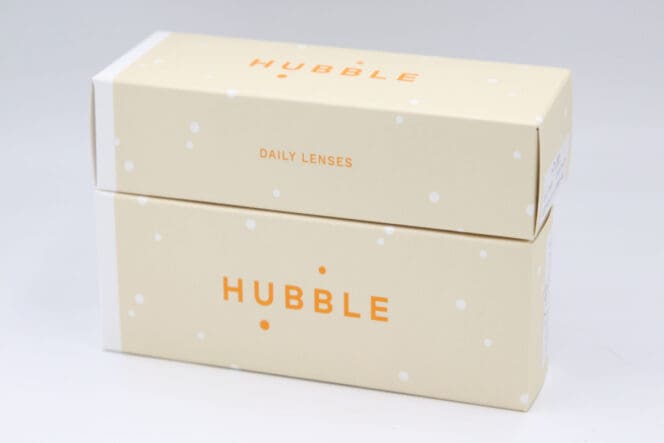 How the Process Works
If you wish to buy lenses from Hubble, you will need a prescription before you order online. Based on that prescription (or your vision correction specifications), you may sign up for your first 15 pairs of Hubble lenses on the direct-to-consumer e-commerce site.
You will not need to place a second order after the trial period. Hubble will automatically enroll you in a subscription plan to receive 60 lenses each month for a fee.
You can customize your subscription later to get more or fewer Hubble lenses per shipment. While Hubble says you can opt out at any time, some consumers claim that canceling their subscription with their online retailer.
Costs
The low-cost of the Hubble daily contacts is a key factor in the success of the vision company's direct-to-consumer model. Your first order on the platform, which you can use for about two weeks, is virtually free: you pay a $1 shipping fee.
From there, 30 pairs of Hubble contacts per month cost you $39. The shipping and handling rates increase from $1 to roughly $3.
Reviews
It's accurate to say that the many negative reviews that Hubble has received online have dented its reputation as a vision solution provider. With the company offering lenses of the same size (base curve of 8.6 mm and diameter of 14.2 mm), it's easy to see why, for each happy patient, one or more will complain about poor fit.
A similar theme emerges in complaints by professional organizations about Hubble selling the wrong prescription lenses to patients. One of the company's staunchest critics, the American Optometric Association (AOA), wrote to the FTC about doctor-reported side-effects of wearing the wrong Hubble contact prescription, including eye infection.
The company has middling consumer reviews:
Out of 7,516 reviews at TrustPilot, Hubble has 3.2 averaging rating (out of 5). About 47 percent of reviewers rate the company as "Excellent," while 29 percent left a "Poor" rating.
Based on 1,645 ratings at ConsumerAffairs, Hubble averages 3.9 out of 5.
Consumer complaints include:
Difficulty canceling a subscription (automatic subscription after trial)
Outdated lens material (methafilcon A)
Lens are difficult to place on the eyes
Alternatives
If you want to explore other brands of prescription contact lenses, here some of your online retailer options:
GlassesUSA: This e-commerce site offers contacts from multiple brands, including Acuvue Air Optix, and Biotrue. You get 25 percent off your first order and 50 percent off any contact lens upgrade.
Contact Lens King: The company specializes in contacts from different manufacturers and boasts an "A+" rating at BBB and "Excellent" at TrustPilot.
LensCrafters: With some of the offers at LensCrafters, you can save up to $100 or more off your annual supply of contacts. The online retailer accepts insurance payments for medically necessary prescriptions.
References
Hubble Contacts Review 2022: Good value or bad choice? (March 29, 2022). Innerbody Research.

Online Contact Lens Company Ordered to Pay $3.5 Million in Civil Penalties and Consumer Redress for Violating Federal Contact Lens Laws. (January 28, 2022). The U.S. Department of Justice.

Complaint for Civil Penalties, Permanent Injunction, Monetary Relief, and Other Relief. (January 25, 2022). The Federal Trade Commission (FTC).

American Optometric Association. (July 29, 2019). American Optometric Association.

Today's Contact Lens Materials and Designs. (August 15, 2017). Review of Optometry.

Odspecs. Odspecs.com.
Last Updated July 1, 2022
Note: This page should not serve as a substitute for professional medical advice from a doctor or specialist. Please review our about page for more information.