Contact lenses come in many types, which can make comparing costs complicated. When making comparisons on contact prices in 2022, break down contacts by type.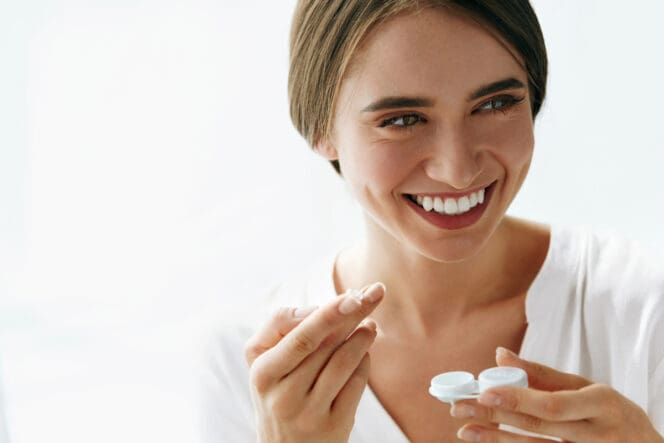 Remember that boxes often contain different numbers of lenses and different types of lenses stay in use for varying amounts of time. For accurate cost comparisons, note how long a given purchase would last you, not just the initial cost of the purchase.
Contact Lens Costs by Type
When assessing contact costs, the biggest determining factor is the type of contact.
What Affects the Cost of Contacts in 2022?
A number of factors impact the cost of contact lenses and medical goods in general.
The first factor is simply supply and demand. A higher supply generally reduces prices, and a higher demand generally raises prices. This is part of why niche lenses may cost more than expected.
Demand for these items is low, but so is the supply. Fewer companies produce them and those that do make fewer, as fewer consumers want to purchase those kinds of lenses. Because of this, consumers who need specialized lenses may not have many alternatives, so they often pay a marked-up price.
Manufacturing costs also factor into the final price. Every contact lens takes a certain amount of material, time, and labor to make and get into the hands of consumers. Items that take more time and effort to produce usually cost more.
In terms of how much a lens costs you as the consumer, rebates, discounts, and insurance represent potential ways to save on your out-of-pocket price. Some companies offer substantial discounts for bulk orders, so it's worth investigating this option.
Contact Lens Cost & Insurance
Most insurance plans with a vision component cover contact lenses to some degree. For example, Guardian Direct offers a $225 contacts allowance for their Achiever plan members and a $160 contacts allowance for Core plan members.
If you use contacts consistently, a vision plan will almost invariably result in savings over time. On their website, Acuvue notes that insurance providers average about $150 of yearly coverage for contact lenses or glasses.
Calculating the costs of your contact lenses with and without insurance can help you understand your savings and if a different plan might suit you better. Remember to factor in the premium cost of your plan in your calculations.
Costs of Contact Lenses vs. Glasses
Glasses cost significantly less than contacts, on average. The biggest determining factor is lifespan.
Unless damaged, glasses function indefinitely. This means a pair can last multiple years, although you may need new glasses if your prescription changes.
Glasses also require less maintenance. The cheapest contact lenses, such as monthly use lenses and RGP lenses, still require cleaning solution and a thorough hygiene routine. Although this may not represent a large cost, it still means more money spent over time.
Contact Lens Costs FAQs
What is the average cost of contacts in 2022?
The total varies greatly depending on the brand and type of contact. Most people should be able to get a year's supply of contacts for $100 to $250 per year. Contacts that are worn for a longer period of time, such as a month, tend to be less expensive than daily disposable lenses.
How much do contacts cost per month on average?
he monthly price of contacts can range from as low as $7 to as high as $40, depending on the brand and type of lens chosen. On average, daily disposable lenses cost $18 to $40 per month, whereas monthly lenses cost $7 to $15 per month.
Are daily disposable contacts more expensive?
enerally, yes. Since these lenses are only worn once and then thrown away at the end of the day, they tend to be more expensive. Lenses that are worn for weeks or months tend to cost less.
Are more expensive contacts better?
While it is true that not all contact lenses are of equal quality, price isn't based on quality alone. If choosing between two lens brands with good reviews and similar features, the cheaper option may do everything the more expensive option would. By focusing on features and consumer satisfaction, you can better identify when price is or isn't a sign of quality.
Do contacts cost more than glasses?
Generally, yes. A pair of glasses usually lasts much longer than contacts, which need to be frequently replaced. If you care for your glasses well and your prescription doesn't change, a pair of glasses can last you for years.
How can I save money on contacts?
If you have vision insurance, it's likely you have a yearly allotment you can put toward the cost of contacts. Look for specials and discounts available online. Many retailers offer discounts if you buy in bulk.
References
Last Updated April 6, 2022
Note: This page should not serve as a substitute for professional medical advice from a doctor or specialist. Please review our about page for more information.