Colored contact lenses are thin plastic lenses that make your eyes appear to be a different color than they naturally are. They fit over the pupil and iris of your eye.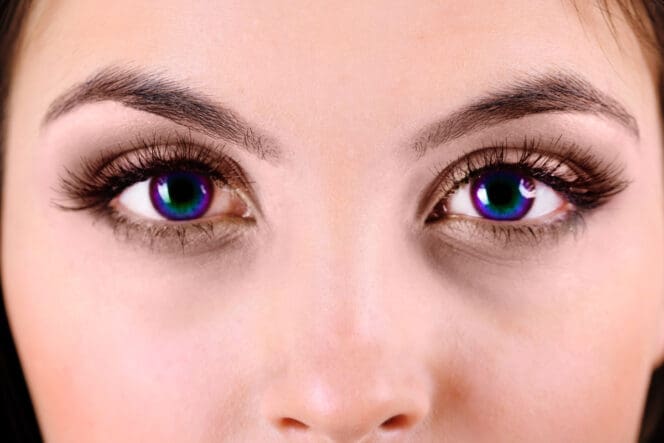 Colored contacts can also enhance your vision, just like standard prescription contacts.
You'll need a valid prescription to buy any form of colored contact lenses. If you buy colored contacts without a prescription, it could damage your eyes, exposing you to eye infections and other forms of eye damage.
Types of Colored Contacts
There are many different types of colored lenses:
Opaque-colored contacts: These cover up your iris completely. They are available in single or blended colors that can pick up on the natural colors of your iris. These contacts also come in different pupil sizes as well as various colors.
Enhancement tinted contacts: These contacts add a bit of color to your iris, making your eye color brighter. They essentially enhance your natural eye color.
Light enhancement tinted contacts: These options make your eyes look brighter in low light.
Theatrical contact lenses: These are designed to give a dramatic or special effect, such as cat-eye lenses or Halloween-themed lenses.
Are Colored Contacts Safe?
Colored contact lenses that are approved by the U.S. Food and Drug Association (FDA) are safe to use. However, you'll need a valid eye specialist prescription to purchase lenses in the U.S.
It is dangerous to purchase colored contact lenses at a costume shop or other outlet that isn't medically approved to sell them. Buying contact lenses without a prescription is illegal because of medical risks, such as eye injury and damage. Even if you have perfect vision and don't need vision correction from contacts, you still need a valid prescription to procure colored contacts.
You'll need to regularly clean and store your contacts as directed by your optometrist to avoid eye infections.
Do I Need a Prescription for Colored Contacts?
Yes, you'll need a prescription because the FDA classifies colored contact lenses as medical devices.
An optometrist will check your eyes to see if you are a good candidate for contact lenses. They'll conduct a standard contact lens fitting exam. Then, they will write a prescription based on your eye measurements. You can use this prescription to buy contacts from your eye doctor's office or an FDA-approved vendor.
Contacts that fit correctly lower your risks of getting an eye injury or otherwise damaging your eyes by wearing these contacts.
The Best Colored Contact Lenses
Whether you want full-color or color-enhanced contacts, there are plenty of options to choose from.
Colored contacts for dark eyes: If you have dark eyes, such as brown or black eyes, opaque-colored tints might be your best option. For a natural look, try a brown or hazel-colored lens. You can also opt for bold colors, such as violet or green.
Colored contacts for light eyes: Enhancement tints are an excellent option for light eyes. They define your iris edges and deepen your natural eye color. If your natural color is blue, you may choose green or gray for a change.
Custom-tinted contact lenses: These contacts provide you with an individualized look with color density. They can help to camouflage an eye injury or defect by mimicking a healthy eye appearance.
Here are some of the best colored contact lenses available:
What Are the Risks of Wearing Colored Contact Lens?
While colored contact lenses provide an easy and fun way to change your eye color, they come with some risks.
Infection: Colored contacts can increase your risk of infection because certain decorative lenses may be thicker and less flexible. This makes it harder for your eyes to breathe, increasing the likelihood of eye infections.

Signs of eye infections include the following:


Eye redness
Decreased vision
Eye pain
Watery eyes
Light sensitivity
Damage: Colored contacts can increase the risk of damage to your eyes if they don't fit properly. They are often thicker than regular contacts. Poorly fitting lenses can cause scratches on your cornea.
Vision loss: If damage occurs, vision loss is possible. If colored contacts press on your cornea, this can cause swelling and eventual damage.
Caring for Colored Contacts
According to the Centers for Disease Control and Prevention (CDC), you can keep your contacts and eyes in good condition by following some basic hygiene tips.
Wash your hands with soap and water before putting in your contacts.
Use a contact lens disinfecting solution to clean your lenses.
Only use fresh disinfecting solution to clean your lenses.
Replace your contact lens case every three months.
Follow instructions from your optometrist and the contact lens manufacturer when replacing your colored contact lenses.
Don't ever sleep in your colored lenses.
Colored Contact Lens Do's & Don'ts
Follow these tips to prevent eye infections when using colored contacts:
Do's:
Shop around for a reputable contact lens provider.
Get fitted by an eye doctor to ensure proper sizing.
Remove your colored contacts before swimming.
Store your contacts in a contact lens case when not wearing them.
Discard expired contact lenses as soon as possible.
Don'ts:
Don't buy colored contacts from a novelty store. Only buy them from a reputable retailer that requires a prescription.
Don't wear your contacts for more than 12 hours at a time. Your eyes need to rest.
Don't share your contact lenses with anyone. Sharing lenses may transmit harmful bacteria that can cause infections.
Don't wear your contacts if you have any eye irritation. Redness or irritation may be a sign of an eye infection or a severe eye problem.
Don't wear your contacts if they are damaged or torn. They may scratch your eye, causing damage to the cornea.
Don't use saliva or tap water to wet your contact lenses. These fluids may contaminate your contacts, exposing you to eye infections.
Colored Contact Lenses FAQS
Are colored contact lenses safe?
Colored contact lenses are safe, but you need a valid prescription to buy them. If you buy them without a prescription, you could harm your eyes. If a provider doesn't require a prescription, it's a sign of an illegitimate operation.
What is the best place to get colored contacts?
Buy your contact lenses from an eye doctor or authorized retailer. Do not buy contacts from street vendors, beach shops, or flea markets. If the seller does not require a valid prescription, they are a fraudulent seller and should be avoided.
References
Are Costume Contact Lenses Safe? (September 2020). American Academy of Ophthalmology (AAO).

'Colored' and Decorative Contact Lenses: A Prescription Is a Must. Food and Drug Administration (FDA).

Contact Lenses. (July 2019). National Eye Institute (NEI).

Contact Lens Risks. U.S. Food and Drug Association (FDA).

Eye Infections from Contact Lenses. (April 2021). American Academy of Ophthalmology (AAO).

Decorative Contact Lenses. (October 2019). Centers for Disease Control and Prevention.

Protect Your Eyes. (August 2021). Centers for Disease Control and Prevention.
Last Updated January 10, 2023
Note: This page should not serve as a substitute for professional medical advice from a doctor or specialist. Please review our about page for more information.