How to Choose the Best Glasses for Your Face Shape
What should you consider when picking out new glasses? Start with your face shape.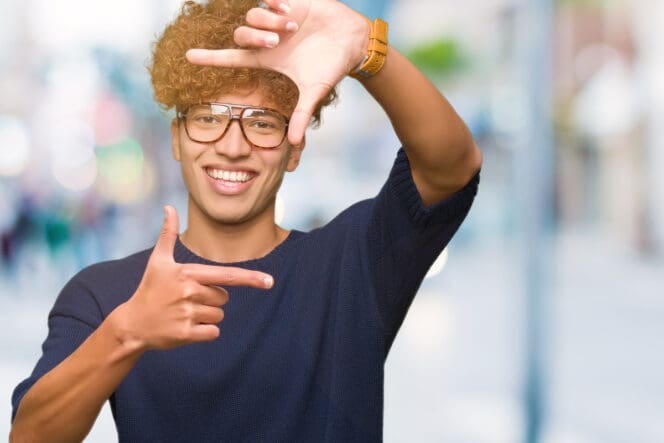 Research shows facial geometry generally factors into the way we perceive beauty. While a cultural component matters, it is broadly true that certain shapes appeal to the eye. By extension, how we accentuate our faces, such as with glasses, also depends on our facial geometry.
Once you identify your face shape, you can more easily choose glasses that look best on your face.
How to Determine Face Shape 
Fashion experts recommend finding your face shape by looking in the mirror and pulling your hair back. Performing this check with wet hair can make it easier, as the water helps pull your hair down, so you can focus solely on your face.
Six common face shapes exist:
Square
Round
Heart
Triangle
Oval
Diamond
Notably, many people have faces that do not fall perfectly into a particular face shape category. For example, a round face might have wide cheekbones and a rounded jaw. However, an oval face has many of those same traits. Even the "perfect" example of a round face is not literally a circle.
The face shape groupings exist as a helpful shorthand, guiding fashion choices to those that fit an individual's body. If you believe your jaw puts your face somewhere between a heart shape and an oval shape, experiment with suggestions for both shapes and see which suits you best.
Glasses Just Right for Each Face Shape 
The right glasses for your face will make you feel confident and help you see clearly. These suggestions can help to narrow down your choices as you shop: 
Glasses for Square Faces
Square faces are as wide at the forehead as they are at the jaw. Sharp angles across the jaw, perhaps accentuated by a firm hairline, complete the look. It's a symmetrical face shape that you could describe as both strong and angular.
Soften a square face with round lenses. They can highlight the angularity of your jaw and forehead without adding to the squareness.
Don't use lenses that are too small in your face, or they'll seem out of place. Ensure that the edges of your frames go all the way to the edge of your face.
Glasses for Round Faces
Round faces are roughly symmetrical. They're typically no wider than they are long, and they don't have rough edges or strong features. Cheeks are typically full and blend right into the jaw.
People with round faces generally benefit from glasses with angles. Let the hard edges of the glasses give your face some sharpness and definition.
Choose from frames that are modern, angular, and bold. If your cheeks are particularly full, try smaller lenses, so the frames won't rest on your cheeks.
Glasses for Heart-Shaped Faces
A heart-shaped face has a pointed, tiny chin. Cheekbones are wider than the jaw, and the forehead is wide. Some people with heart-shaped faces have a prominent widow's peak, completing the look.
Heart-shaped faces are relatively versatile, but the goal is to reduce the impact of the large forehead. Steer clear of cat-eye frames with a lot of heaviness up top. Choose frames that are the same color all around.
Any shape of frame might work, as long as it's slightly rounded on the bottom. A squared edge might look a little odd.
Glasses for Triangle-Shaped Faces
People with triangle shapes have wide jawlines and tiny foreheads. It's a similar look as those with square faces, but the forehead is just a little smaller.
Look for glasses with plenty of detailing at the top. A traditional cat-eye frame might be a good fit. You could also consider frames with a color shift between the top and the bottom.
Frames should be a little wider than your jawline. Keep the lens small, so it doesn't rest on your cheeks.
Glasses for Oval-Shaped Faces
An oval-shaped face is not as wide as it is long. The jawbone comes to a rounded chin, and the forehead is wide and tapered. Your cheekbones are typically tucked, so they don't break the line from your ears to the jaws.
Oval faces are naturally symmetrical, making them one of the most classically attractive options. Almost any frame shape will work for you, and any lens shape could work too.
Consider square or geometrical shapes rather than round. You'll add a little interest to your look.
Glasses for Diamond-Shaped Faces
A diamond-shaped face has a narrow forehead, sharp cheekbones, and a small chin. You'll be wider across the cheeks than at any other point of the face.
Balance your features by choosing glasses with a strong top design element. A classic cat-eye frame, combined with wire bottoms, looks fantastic on this face shape. If you're hoping for a more subtle look, oval shapes are attractive too.
What About Sunglasses?
Sunglasses can help you experiment with fashion choices and your ultimate look. While much of the above advice remains relevant, people notice sunglasses more. 
Get a little bold with your choices. Subtle designs, such as smaller frames or those without rims, can still work well, though they will stand out more than traditional glasses simply because of their darker lenses. The opposite is also true. Sunglasses can make very loud designs louder, which is sometimes desirable.
Where to Buy Glasses
You could buy glasses from your doctor. Many offices are filled with walls of sample frames, along with professionals who can help you choose the versions that are just right for your face. 
There is no shortage of glasses retailers online. Here are some of the top retailers:
You can find a range of frame shapes and styles at these online shops. Many sites offer tools to help you choose frames that work well with your face shape.
Additionally, many big-box retailers, such as Costco and Walmart, offer a variety of glasses and sunglasses at affordable prices. With so many companies offering a wide range of choices online, it's worth shopping around a bit.
Online vs. In-Store Shopping
You can buy fashionable frames both online and in brick-and-mortar stores. In the past, many people preferred to shop in person, as it helped them see how frames looked on their faces. 
However, online retailers have evolved in many ways. Most major eyewear retailers have websites with a long catalog of frame options that many physical locations lack the space to showcase. These sites also may have options that allow visitors to upload photos of themselves and see how the frames look on their faces.
Many online retailers also have generous return policies, meaning you can return a pair of glasses that doesn't work for you with little or no penalty. This gives you the freedom to shop online as easily as you would in person and opens up a much wider range of choices for you.
References
Adding Up Attractiveness. (September 2008). University of Nebraska Medical Center.

Pick the Perfect Glasses for Your Face: Shape, Skin Tone and More. (August 2023). CNET.

O's Eyeglass Intervention. Oprah.com.
Last Updated October 6, 2023
Note: This page should not serve as a substitute for professional medical advice from a doctor or specialist. Please review our about page for more information.