Blepharoplasty (Eyelid Surgery): The Procedure, Costs, Outcomes & More
Eyelid surgery or blepharoplasty is a surgical procedure to improve the aesthetic appearance of lower, upper, or both eyelids.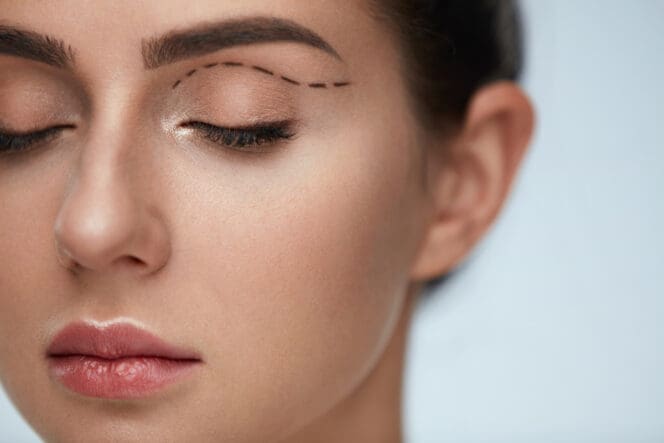 It is often used to reduce lower eyelid bags as well as remove excess skin from the upper eyelids.
Why Is Blepharoplasty Performed?
This surgery improves the appearance of the eyelids and removes bagginess under the eyes. It can improve sagging skin and droopy eyelids that may impair vision.
Many people seek blepharoplasty to regain a youthful face and rejuvenate the eye area, but it may also be necessary to improve vision.
Blepharoplasty can treat the following:
Bags under one or both eyes
Droopy lower eyelids that show white under the iris
Excess skin on upper or lower eyelids
Sagging eyebrows
Fine wrinkles on lower eyelids
Puffiness and fatty deposits
When the skin area around the eyes is sagging, it can reduce peripheral vision. In addition to vision problems, it can create an aged appearance.
Eyelid surgery may be performed on younger individuals who are born without upper eyelid creases. According to University of Irvine surgeons, this procedure makes it easier for these patients to apply makeup.
Some people choose to have eyelid surgery as part of another procedure, such as a facelift or brow lift. Facial rejuvenation may be sought for a variety of personal and professional reasons.
Who Is a Candidate?
For eyelid surgery, candidates must fit the following criteria:
Healthy with no medical conditions
Nonsmokers
Free of serious eye conditions
According to the American Society of Plastic Surgeons (ASPS), a good candidate for eyelid surgery is an individual who has realistic goals and a positive outlook.
It is important to evaluate facial anatomy. Drooping or sagging eyelids may be caused by various conditions. For instance, stretching of the upper eyelid is called eyelid ptosis, and this condition requires a different procedure.
Choosing an Eyelid Surgeon
If you're considering plastic surgery, ask yourself some questions to evaluate your priorities. Explore your reasons for wanting the surgery and what you hope to achieve. By identifying your expectations, you'll be in a better position to evaluate if this surgery will help you achieve your goals. 
Do your research and learn about surgeons in your area. Set up a consultation with a few surgeons.
Be sure to inform the doctor of all medications and supplements you take, including prescriptions, vitamins, and herbal remedies. Include information on alcohol consumption, tobacco use, or drug use, so your surgeon is fully aware of your health and lifestyle practices. 
At the initial consultation, expect your surgeon to evaluate your health and candidacy for the treatment. Plastic surgeons will generally conduct a physical exam, a vision exam, and photograph your eyes. Expect your doctor to discuss all surgical and nonsurgical options and recommend a course of treatment that is best for you.
Many people find that having a set of written questions to ask their plastic surgeon relieves stress and helps to get all their questions answered.
How to Prepare for Blepharoplasty
Follow these steps before your surgery:
Get plenty of sleep in the days leading up to the surgery.
Eat a nutritious meal the night before.
Stop taking aspirin or any other medications or supplements that could thin your blood and increase your risk of bleeding and bruising.
If you smoke, stop smoking weeks before the procedure.
Stay out of the sun in the weeks leading up to the surgery to avoid sun damage in the area.
Take all prescribed medications.
Do not eat or drink anything after midnight the day of the procedure.
Arrange to have someone drive you home and stay with you for 24 hours following surgery.
The Procedure
Most commonly, blepharoplasty is performed in a clinic or outpatient facility. The procedure is pain-free, as the eyelid area is numbed. Your surgeon may give you medication to aid relaxation.
If you are having surgery on both the upper and lower eyelids, the upper eyelids are typically done first. Your surgeon makes an incision along the fold of the eyelid to remove excess fat, skin, or muscle before closing the incision.
For the lower lid, the surgeon uses the eye's natural crease, making an incision just below the lashes. Excess fat, skin, or muscle is removed before closing. The incision and sutures are designed to not leave a visible scar.
Sometimes eyelid surgery is done on its own. Other times, it can be performed with other procedures such as a facelift, brow lift, or skin resurfacing.
Normally, the entire blepharoplasty surgery takes one to two hours.
Recovery From Blepharoplasty
Expect to spend some time after surgery in a recovery area so your care team can monitor your condition. Generally, you will leave on the same day and continue healing at home.
During recuperation after surgery, you may experience some discomfort, swelling, and bruising. Your eyes may water and be sensitive to light.
Vision may be temporarily blurry from the ointment applied during or after surgery. Some patients experience double vision.

Call 911 immediately if you experience severe eye pain, vision problems, bleeding, shortness of breath, or chest pain.
Expect to have the swelling and bruising subside in 10 to 14 days. According to UCI surgeons, the entire recovery process lasts about one to two weeks. After this time, you can begin wearing makeup and engaging in an active lifestyle again.
It may take a few months for the scars to fade.
Risks of Eyelid Surgery
There are risks associated with eyelid surgery, so it is important to fully understand the potential complications.
You may experience temporary vision changes. Persistent and noticeable scarring is possible. Surgical risks include complications from anesthesia, excessive bleeding from the incision, and infection.
Though rare, there are also more serious risks, including the following:
Ectropion, a condition in which the lower eyelid droops and turns outward
Eyelid retraction, in which the lower eyelid pulls down
Vision impairment and blindness (very rare)
To set expectations, discuss potential complications and risks with your surgeon.
Blepharoplasty Outcomes
Most people are delighted with the results of this surgery and enjoy a youthful appearance for years to come. Benefits include reduced under-eye bags, dark circles, and eyelid hollowing. Patients often experience increased self-confidence following surgery.
This procedure is used to correct facial flaws and signs of premature aging. For many patients, this improvement lasts a lifetime.
Eyelid Surgery Costs
According to ASPS, in 2020, eyelid surgery cost an average of $4,120 in the United States. This cost is a national average and does not include all expenses, such as anesthesia, surgical room costs, or other fees.

Fees vary depending on the surgeon's experience, geographic area, and the extent of surgery required. Medical tests, prescriptions, facility fees, and anesthesia fees can also affect the final cost of blepharoplasty.
Most often, blepharoplasty is not covered by insurance since it is usually considered a cosmetic procedure. If the upper eyelid is drooping so much that it obstructs vision, it may be covered by insurance because the surgery is deemed medically necessary. Confirm whether this is possible with both your surgeon and your insurance provider.

If you are paying for eyelid surgery out of pocket, talk to your surgeon's office about payment options, such as financing.
Blepharoplasty FAQs
What is the average cost of blepharoplasty?
The average cost in the United States is $4,120. This fee may not include additional fees for surgical facilities, anesthesia, and medications.
What is a good age for a blepharoplasty?
The best candidates for eyelid surgery are at least 30 years old.
How long does eyelid surgery last?
Experts agree that the results of blepharoplasty last a long time. Lower eyelid surgery is rarely redone. Upper eyelid surgery can last five to seven years or for the rest of one's life, depending on facial structure and the specifics of the surgery performed.
If the upper lids begin to droop again, a brow lift may be a better solution rather than having another blepharoplasty.
Is blepharoplasty covered by insurance?
If the surgery is deemed medically necessary because vision is obstructed, it may be covered by insurance. In most cases, eyelid surgery is considered cosmetic and not covered by insurance.
References
Last Updated May 4, 2022
Note: This page should not serve as a substitute for professional medical advice from a doctor or specialist. Please review our about page for more information.