How Much Does LASIK Cost? Doctor, Location & Other Factors
LASIK eye surgery is a common procedure that costs between $1,000 and $4,000 per eye. In 2020, the average cost per eye for LASIK surgery in the United States was $2,632.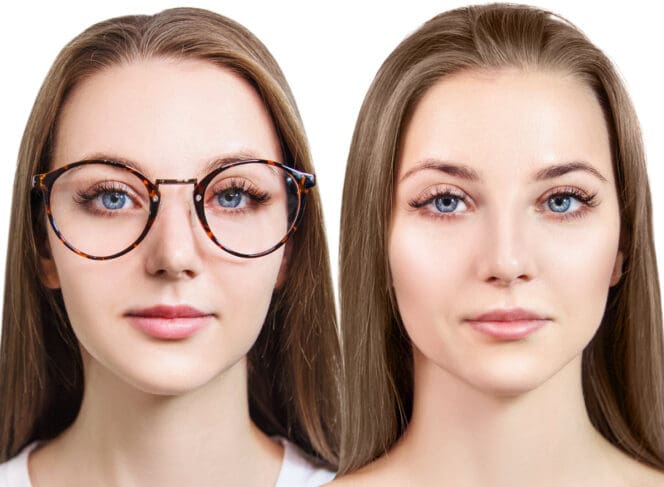 LASIK eye surgery can vary in cost, depending on where the procedure is done, the doctor performing the surgery, the type of equipment used, and the intricacies of the surgery based on eye health and the degree of correction needed.
Since LASIK is considered a cosmetic procedure that is performed to improve vision, it is generally not covered by health or vision insurance. However, there are a variety of ways to offset the cost of LASIK eye surgery, including financing, payment plans, and discount offers.
It is important to do your research, so you aren't fooled by subpar doctors offering cheap or free LASIK. Oftentimes, these options can be dangerous.
LASIK surgery is a safe and effective procedure that can seem expensive up front. But it can save you money in the long run on the cost of ongoing prescription eyewear, such as contact lenses or eyeglasses.
What Does LASIK Cost?
LASIK is a laser eye surgery that is priced per eye. Typically, one eye is done at a time and the cost is per eye. The cost is often a set fee that includes the following:
Initial examination and consultation
Tests and measurements required
Preoperative requirements
Topical anesthesia and medications needed during surgery
Laser calibration and eye surgery
Surgeon's time and experience
Facility fees
Postoperative eye drops
Follow-up visits and exams for up to a year
LASIK procedures typically include these services all in one cost, but some centers price more things out individually. This is something to note. Make sure there will not be additional unexpected expenses.
LASIK surgery can vary widely on cost, with some centers advertising costs as low as a few hundred dollars. But there are often a lot of hidden fees and additional costs associated with these kinds of discount offerings. Generally, LASIK eye surgery is going to cost an average of $2,000 to $4,000 per eye.
Factors That Impact the Price
LASIK surgery costs can differ based on several factors.
Geographical location: LASIK can cost more in some markets than others, especially those with a higher cost of living.
Surgeon's experience and name recognition: Ophthalmologists or centers that are in high demand or well-known are often more expensive.
Center or clinic: A location's overhead can influence costs in either direction.
Type of laser or equipment used: Custom wavefront lasers and the type of excimer laser used can impact the overall cost.
Degree of correction needed: The type of correction needed (whether for myopia, hyperopia, or astigmatism) as well as the level of refractive error being corrected (based on your prescription) are often considered in pricing
Is LASIK Covered by Insurance?
In short, no. LASIK is not covered by vision or health insurance.
LASIK is an elective, cosmetic procedure designed to enhance eyesight, but it is not considered to be medically necessary. This is often what determines insurance coverage.
LASIK may be discounted under some vision care discount plans.
Ways to Pay for LASIK
LASIK can seem like a large upfront cost; however, it can result in cost savings in additional eye care and prescription eyewear requirements over time. LASIK can often improve vision to a point where you will no longer need prescription eyeglasses or contact lenses.
There are several ways to help pay for the cost of LASIK.
Most clinics or eye surgery centers will offer financing or payment plans. You can pay a portion up front, or even zero down, and then make affordable monthly payments (often with no interest) over a set period of time. Financial institutions may also offer financing options for LASIK.
You can use funds from a health savings account (HSA) or flexible spending account (FSA) to pay for LASIK. An HSA is a specialized payroll savings account where you can put up to $3,650 for an individual and $7,300 for a family aside before taxes to use for out-of-pocket health care expenses. A percentage can be set aside from each paycheck to be used each year.
With an FSA, you can put aside up to $2,750 per year, and you can access all of the funds before you have actually made the contributions. The full contribution must typically be used within the 12-month period, as it does not usually carry over.
Both an FSA and an HSA can be great methods to help finance the cost of LASIK.
Is Free or Cheap LASIK Worth It?
When looking into LASIK, it is important to consider all your options. Do your research, and do not base your entire decision on price or cost alone, the FDA warns.
LASIK is a permanent procedure that changes the shape of your cornea. It can be dangerous to choose a doctor without the proper training, equipment, or experience.
There are many centers and clinics that offer cheap or even free LASIK procedures; however, these are often not what they seem to be. Most offers contain a lot of underlying fees and expenses that are not advertised up front. The doctors may not have the necessary abilities to perform the surgery correctly.
When done by a trained professional eye surgeon in a specialized eye surgery clinic or center, LASIK eye surgery is considered a safe and effective procedure with a very low complication rate. The majority of people are satisfied with the results of the surgery.
When it is done right, LASIK is worth the high cost, helping to enhance vision and quality of life.
References
The 25th Anniversary of Laser Vision Correction in the United States. (March 2021). Clinical Ophthalmology.

How Much Does LASIK Cost? (October 2021). Forbes.

What are the Risks and How Can I Find the Right Doctor for Me? (August 2018). U.S. Food and Drink Administration (FDA).

What Is LASIK Eye Surgery? (August 2020). JAMA Network.
Last Updated February 26, 2022
Note: This page should not serve as a substitute for professional medical advice from a doctor or specialist. Please review our about page for more information.