More than two out of five Americans have trouble seeing far away. Bad vision is an increasing problem for people in the U.S. and around the world, and it's causing more than just a dent in people's wallets. Bad vision is impacting their social life, work life, and for some, their love life!
A new survey of more than 1,000 Americans with bad or corrected vision examines the everyday struggles people with poor eyesight face. Many take their eye health seriously but are fed up with the hurdles caused by their vision.
Everyday Eyesight Struggles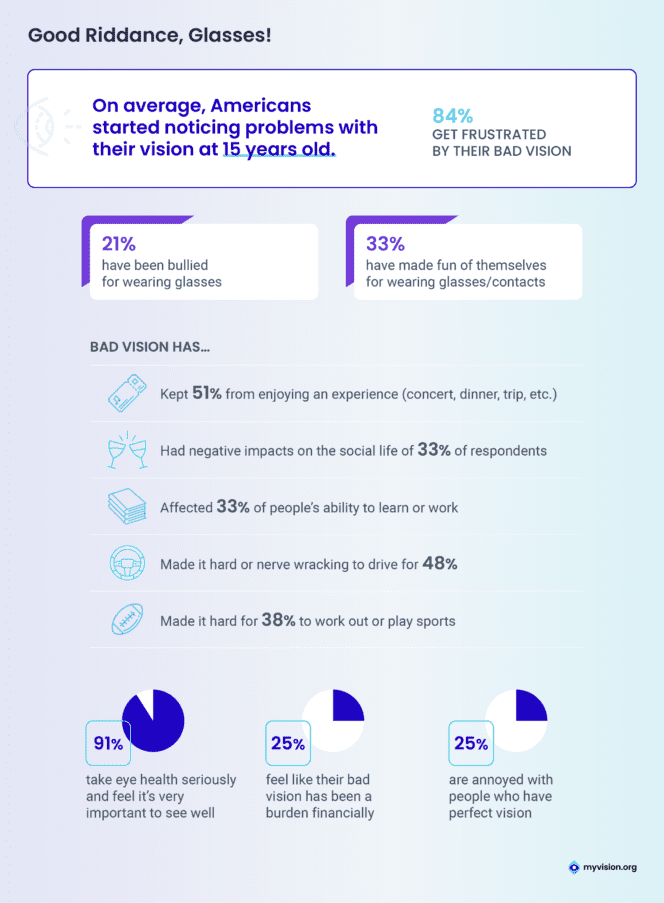 On average, most Americans started noticing they had trouble seeing when they were around 15 years old, and for most, their vision only gets worse with age. More than four out of five (84%) admit they're frustrated by their bad vision.
We found poor eyesight has negatively impacted everything from social life (33%) to work (33%) and even driving (38%). More than half (51%) said their bad vision has kept them from enjoying an experience like a concert, trip, or dinner. Nearly two out of five (38%) say their poor eyesight has also caused issues while working out or playing sports.
Regarding cost, one out of four (25%) feels their bad vision has been a financial burden. It makes sense, seeing as how most people are spending an average of $500 a year on eye exams, glasses and/or contacts, and eye products.
The Desire for Perfect Vision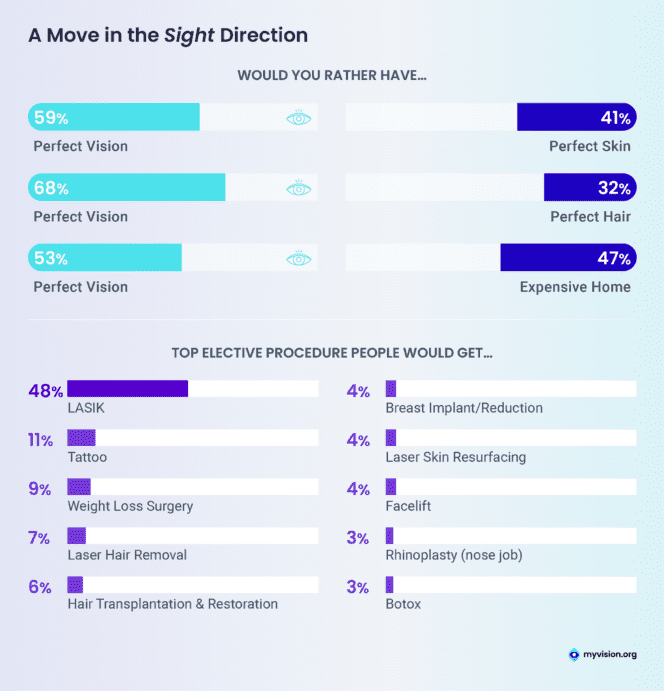 Americans would be willing to give up a lot for perfect vision. When asked if they'd rather have perfect skin, hair, homes, or vision, the majority chose perfect vision every single time.
People made the same choice when given the option of choosing an elective procedure. Nearly half (48%) would undergo LASIK before getting surgeries or procedures like laser hair removal or botox. Only one in 10 (11%) opted for tattoos, and 9% said they'd rather have weight loss surgery.
Learning about LASIK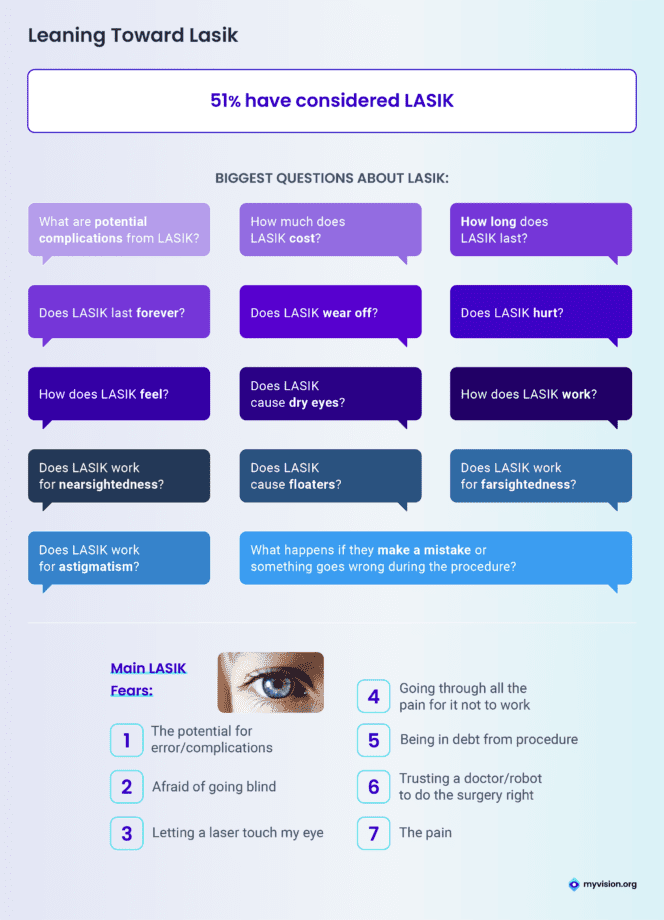 More than half (51%) of Americans surveyed have considered LASIK, but people have a lot of unanswered questions before they're ready to go through with the surgery. The number one question is about potential complications. There are common short-term side effects from LASIK, but long-term side effects are incredibly rare.
The second biggest question is about cost. People also want to know how long LASIK lasts, if it hurts, and if it works for nearsightedness, farsightedness, and astigmatisms.
Fear is also a common reason Americans give for holding off on the surgery. The biggest concern? That there could be an error or complication that would affect their eyesight. Others just can't stomach the thought of a laser touching their eye or going through all the pain for it not to work. The good news? 90% of people who get LASIK report their vision has returned to 20/20.
Deciding on LASIK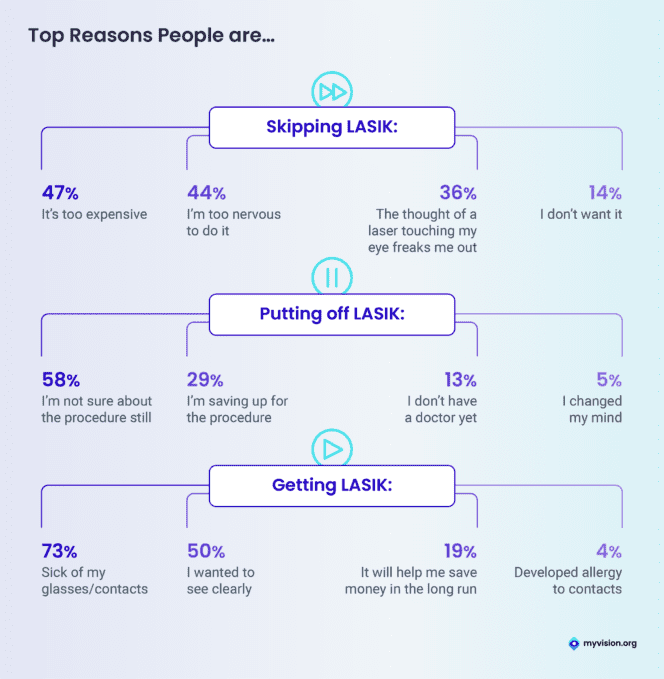 When it comes down to it, LASIK is a choice, and a lot of people just aren't ready for it. Nearly half (47%) skip LASIK because of the cost and 44% admit they're just too nervous to do it. As for those who are putting off LASIK, 58% shared they are just not sure about the surgery still. About one in three (29%) are working on saving up for the procedure.
Americans who are getting LASIK are just plain sick of their glasses and/or contacts. More than 70% said that's the top reason they're getting it done, and half just want to see clearly.
Methodology
In July 2022, we surveyed 1,048 people with bad or corrected vision. Survey respondents ranged in age from 18 to 80 with an average age of 40. 49% were female, 49% male, 1% nonbinary, and 1% transgender.
For media inquiries, please contact media@digitalthirdcoast.net.
Fair Use
When using this data and research, please attribute it by linking to this study and citing myvision.org.
Last Updated July 29, 2022
Note: This page should not serve as a substitute for professional medical advice from a doctor or specialist. Please review our about page for more information.