ICL Surgery: Procedure, Side Effects, Recovery and More
Eye doctors use ICL surgeries to correct three primary eyesight issues nearsightedness, farsightedness and astigmatism. The procedure is safe, effective and almost always pain-free. It is also reversable.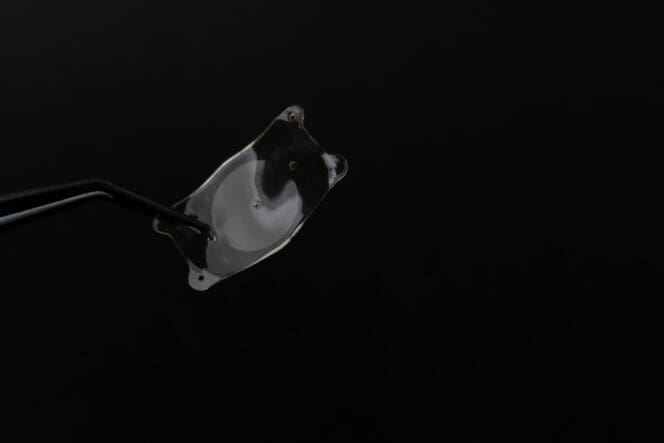 What Is ICL Surgery?
ICL surgery is a vision correction procedure that treats myopia (nearsightedness), hyperopia (farsightedness) and astigmatism (an irregularly shaped cornea or lens). An implantable collamer lens (ICL) refers to an artificial lens that an eye surgeon implants permanently in the eye.
ICL surgery is an alternative to laser-based corneal refractive surgeries such as LASIK and PRK.
How Does an ICL Work?
An ICL is a type of phakic intraocular lens. Phakic means your eye's natural lens is not taken out. An ICL is constructed out of plastic and collagen known as collamer.
Its function is similar to that of traditional contact lenses. An ICL works with your existing lens to focus light properly on your retina and thus correct refractive errors.
Who Is a Candidate for ICL Surgery?
Individuals with strong eyeglass or contact lens prescriptions are among the best candidates for ICL surgery. You are also a good candidate for ICLs if you are unable to undergo corneal refractive surgery because of various contraindications.
ICL surgery patients should also be relatively young. The U.S. Food and Drug Administration (FDA) approved ICLs for patients between 21 and 45 years of age. A complete ophthalmologic examination that involves various eye tests is necessary before ICL surgery is recommended.
Benefits
One of the main benefits of ICLs is that they safely and effectively correct a considerably larger range of hyperopic and myopic refractive errors compared to corneal refractive surgery. Every type of refractive surgery exhibits an upper limit to the amount of correction possible. The upper limits of ICLs are quite high, making it a good alternative if you are unsuitable for laser-based refractive surgery.
There is no minimum requirement for corneal thickness with ICL surgery. This is in contrast to LASIK and PRK surgeries, where a thin cornea is a limiting factor for getting the procedures.
Recovery following ICL surgery is also much faster compared to laser-based eye surgeries.
Another notable benefit of ICL surgery is that it is reversible because the artificial lens is removable. While most people will not need their lens to be removed, the availability of the option is comforting. An ICL may also provide ultraviolet (UV) light protection to your inner eye.
The Procedure
A week prior to ICL surgery, an ophthalmologist will make tiny holes between your anterior chamber (front of your eye) and the natural lens. This is done to prevent fluid buildup and pressure in your eye after the surgery.
During the procedure, a mild local or topical anesthetic is administered to numb your eye. A mild sedative may be administered to help you relax. The eye surgeon then uses a lid speculum to hold your eyelids open.
The next step involves making a small incision in your cornea. The surgeon then inserts the ICL through this incision and places it between your natural lens and your iris. Small stitches may be used to close the opening, depending on the size of the incision.
After the procedure, the eye surgeon places ointment or eye drops in your eye and covers it using an eye patch. ICL surgery takes approximately 20 to 30 minutes.
Recovery
The ophthalmologist will monitor your eyes closely for a few hours in the recovery room following ICL surgery to ensure the artificial lens is sitting correctly. Your eye doctor will prescribe antibiotic eye drops for about a week and topical steroid eye drops for two to four weeks.
ICL surgery is an outpatient procedure, and you can leave the surgery center on the same day. A follow-up appointment is required the next day, where the eye surgeon will conduct an examination to check on the progress. There are other follow-up visits one month and six months following ICL surgery.
Risks
ICL surgery is a safe refractive error correction procedure, but it does carry some risks. Individuals with higher degrees of myopia have an increased risk of developing rare complications, including:
Eye infection
Cataract formation
Retinal detachment
Increased intraocular pressure (IOP)
Pupillary block
Blurry vision
Cloudy cornea
Need for additional surgery
Costs
The cost of ICL surgery depends on the location where you undergo the surgery, the required vision correction, and the type of artificial lens selected. Typically, the cost of an ICL surgical procedure ranges between $1,500 and $5,000 for each eye, depending on the variables.
In most cases, the cost, including ICL costs, facility fees, surgeon fees, and post-operative appointments, will be around $3,500.
ICLs vs. LASIK
ICL surgery and LASIK are both used to correct refractive errors, including myopia, hyperopia and astigmatism. With LASIK, instead of implanting an artificial lens, an eye surgeon utilizes a laser to correct refractive errors.
During LASIK, an eye surgeon uses cutting and programmed lasers to reshape your cornea. This enables light to refract on your retina, thus improving your vision.
ICL surgery may be recommended if you are not suitable for LASIK. Contraindications to LASIK surgery include a thin cornea, irregular cornea, dry eyes and radial keratotomy.
Even though ICL surgery is more invasive, recovery following the procedure is much quicker compared to LASIK. On the other hand, ICL surgery carries more intraocular risk compared to LASIK.
Success Rates
The success rates for ICLs are high. A three-year follow-up study by the FDA showed vision improvement in patients with different degrees of refractive errors.
Also, research indicates that ICL surgery is more effective in treating individuals with higher degrees of myopia. ICLs are considered a viable alternative for patients seeking to correct refractive errors but are not suitable candidates for laser-based procedures.
FAQs
How much does ICL surgery cost?
The cost of the ICL procedure ranges between $1,500 and $5,000 per eye. The cost depends on several variables, including location, refractive correction required, and type of lens used.
How long does ICL last?
ICL surgery procedure takes approximately 15 minutes.
How painful is ICL surgery?
Since local anesthesia and a mild sedative are administered before ICL surgery, you will experience no pain and minimal discomfort during the procedure.
References
Implantable Collamer Lens. (October 2021). American Academy of Ophthalmology.

Phakic Intraocular Lens Implantation for the Correction of Myopia: A Report by the American Academy of Ophthalmology. (November 2009). Ophthalmology.

Phakic Intraocular Lenses (IOLs) or Implantable Contact Lenses (ICLs). Kellogg Eye Center University of Michigan Health.

Excimer laser refractive surgery versus phakic intraocular lenses for the correction of moderate to high myopia. (June 2014). Cochrane Database of Systematic Reviews.

United States Food and Drug Administration clinical trial of the Implantable Collamer lens (ICL) for moderate to high myopia: three-year follow-up. (September 2004). National Center for Biotechnology Information.

Visual performance after implantable collamer lens implantation and wavefront-guided laser in situ keratomileuses for high myopia. (July 2009). National Center for Biotechnology Information.

LASIK: A Primer for Family Physicians. (January 2010). American Academy of Family Physicians.

ICLs Cost and Financing. (September 2017). DOC SHOP.
Last Updated May 16, 2022
Note: This page should not serve as a substitute for professional medical advice from a doctor or specialist. Please review our about page for more information.