The Vivity IOL is an implant that eye doctors surgically insert to replace and mimic the function of a natural lens. Created by Alcon, the IOL incorporates game-changing optics to provide a broader vision range.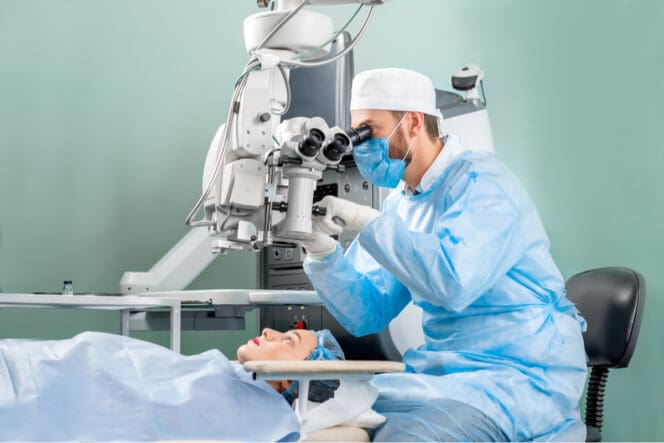 Many patients that have had a Vivity IOL implant after cataract surgery report significant improvements in distance, near and intermediate vision.
How Do Vivity Lenses Work?
Having a Vivity lens inserted in your eye after cataract surgery eliminates blurry vision. Like other IOLs, the Vivity lens focuses light (images) on your retina at the back of your eye.
When you look at an object, the IOL stretches the light that enters your eye. It bends the light to form a clear, focused image on your retina.
By changing the shape of the light entering your eye, the implant extends your range of vision. This way, you can achieve quality vision at intermediate distances and long distances.
The Vivity IOL works best for distance vision, despite its broader scope of focus. According to clinical trials at six months after cataract removal, 95 percent of patients achieve 20-25 distance vision.
Results for vision acuity at near distances declines, and 56 percent of patients achieve 20/40 acuity for near vision. Near vision and intermediate vision are the ranges range where the Vivity IOL outperforms most monofocal lenses.
When Do Doctors Use Vivity IOLs?
Alcon makes two main versions of the Vivity lens—an extended vision IOL and a toric extended vision IOL. The U.S. Food & Drug Administration approved both lenses for use in 22-year-old or older cataract surgery patients.
Vivity Extended Vision IOL
This IOL can help you see things more clearly from a distance, such as when typing on a computer. It is also ideal for close-up activities like reading or intermediate vision for things like shaving.
Vivity Toric Extended Vision IOL
The FDA approved the Vivity toric lens for treating corneal astigmatism after cataract surgery. This condition occurs when the cornea has mismatched curves, causing blurry vision.
The toric lens can improve distance vision and near-vision in patients with age-related presbyopia.
Who Is a Candidate for Vivity IOL Implants?
Eligibility for Vivity IOL implants mainly depends on the health of your eyes and on your expectations. The lenses are ideal for patients seeking better distance, intermediate and near vision. They provide greater freedom from glasses compared to traditional monofocal lenses.
However, Vivity lenses do not guarantee absolute liberty from prescription eyewear. You may still need glasses for better eyesight during everyday activities like driving, reading, or playing video games.
According to some surgeons (ophthalmologists), these IOLs are appropriate for patients with mild eye conditions.
Nonetheless, you may not get optimal vision acuity with Vivity IOLs if you have certain pre-existing eye disorders, such as:
Damaged retina
Severe abnormalities in the shape of your cornea
Any severe eye disease
What Makes Vivity Different from Other IOL Lenses?
Vivity IOLs differ in key ways from other types of lenses, specifically monofocal IOLs, multifocal IOLs and accommodating IOLs.
Monofocal IOLs
A monofocal lens has only one focal length. If you have one inserted in your eye after cataract surgery, you will get distance vision.
You would depend more on reading glasses even with monofocal lenses since these are not set primarily for near vision. With Vivity IOLs, you see clear images from a distance and may enjoy an appreciable degree of near and medium-range eyesight.
Multifocal IOLs
Like Vivity IOLs, multifocal lenses can boost your distance, intermediate, and near vision. Each such lens has multiple focal points to provide the broader vision range.
For the IOL to work, it splits light as it enters your eye. The splitting can compromise image quality.
Alcon addressed this problem by developing Vivity IOLs with a single point of focus. Their wavefront-shaping lens allows light into the eye through this focal point.
It focuses the light on the back of the eye more accurately, creating sharper images across multiple focusing distances.
Accommodating IOLs 
An accommodating IOL is a type of multifocal lens that is option for cataract surgery patients. Unlike a Vivity IOL, the implant interacts with eye muscles to provide dynamic vision through movement or changing shape.
Are Vivity IOLs Safe?
The FDA approved Vivity IOLs after successful safety and efficacy tests. As with any recent eyecare technology, it is not yet clear how the light-stretching therapy may impact vision or the eye in patients with certain eye diseases.
Discuss IOL options with your doctor if you have glaucoma or diabetes-related damage to the retina. Generally, artificial lens implants come with risks such as:
Dislocation of the IOL in the eye, requiring a second surgery
Poor visibility in low-contrast lighting
Eye infection, swelling, or bleeding
Retinal detachment
Eye pain
Do Vivity IOLs Correct Astigmatism?
Vivity IOLs include multiple toric models for correcting astigmatism of the cornea. The right model for you depends on the status of your cornea.
Costs
The price of Vivity IOLs may range between $1,500 and $3,000 per eye. For astigmatism or presbyopia lenses with cataract surgery, there may be an extra cost ranging between $2,000 and $3,000 per eye.
Does Insurance Cover the Vivity IOL Lens?
Private insurance and Medicare plans generally cover cataract surgery with standard IOLs. Your out-of-pocket costs may increase if you choose specialized or premium lenses like Vivity IOLs.
Most insurers do not cover vision solutions that are not medically necessary.
References
Alcon Vivity EDOF Lens Starts Its Rollout in the United States. (February 2021). Review of Ophthalmology.

AcrySof IQ Vivity Extended Vision IOL Models DFT015, DAT015. Alcon Laboratories.

AcrySof™ IQ Vivity™ Extended Vision Intraocular Lens (IOL) (Model DFT015), AcrySof™ IQ Vivity™ Toric Extended Vision IOLs (DFT315, DFT415, DFT515), AcrySof™ IQ Vivity™ Extended Vision UV Absorbing IOL (DAT015), and AcrySof™ IQ Vivity™ Toric Extended Vision UV Absorbing IOLs (DAT315, DAT415, DAT515) – P930014/S126. (March 2020). U.S. Food & Drug Administration.

IOL Review: 2021 Newcomers. (April 2021). Review of Ophthalmology.

Back to the Future: Will Accommodating IOLs Have a Comeback? Cataract & Refractive Surgery Today.

How Much Does Cataract Surgery Cost? (April 2021). VeryWell Health.

Does Medicare Cover Cataract Surgery? (September 2021). MarketWatch.
Last Updated February 28, 2022
Note: This page should not serve as a substitute for professional medical advice from a doctor or specialist. Please review our about page for more information.