Target Optical Review: Eye Exams, Contacts, Glasses & More
Target Optical is an eyewear company owned by Luxottica, an Italian company that is the world's largest eyewear company. Its stores are located exclusively in Target retail stores. Started in 1995 as Cole National Corp., it has more than 500 retail shops throughout the country, making it one of the largest U.S. eyeglasses companies. Most Target Optical offer eye exams as well as a large variety of frames and lenses for eyeglasses. It accepts dozens of vision insurance plans.
What Target Offers
Target Optical offers both products and services. The main services are eye examinations and fitting of contact lenses. On the other hand, products include sunglasses, eyeglasses and contact lenses.
Glasses are available in different frame styles and colors. Customers with eye problems can get these products based on a prescription by an optometrist. And those without a prescription can choose the glasses that fit their various needs.
Some popular brands you can find in Target include Ray-Ban, Ralph Lauren, Oakley, Coach, Armani Exchange, Vogue, and many others. The company also designs its own glasses, including Cat & Jack (for kids), A New Day (for women) and Goodfellow & Co. (for men).
Stores also sell various types of contact lenses. These include soft, rigid, astigmatism lenses, daily disposable, colored and more.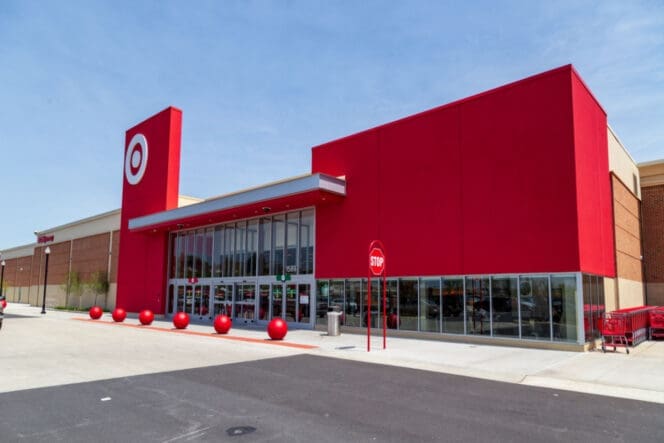 How They Work
If you want to book an appointment with Target Optical, find a store closest to you using the stores' location page on the company's website. Once you find a store, you can book an appointment. If you already have a prescription, you can buy the glasses online.
If you need a prescription, you must visit the store in person.
Target Optical employs optometrists in its stores. In some cases, the company works with independent doctors who lease space at the store. These doctors conduct eye examinations and give you a printout of the prescription. After the eye examination, you can choose to buy eyeglasses from the store or elsewhere.
Once you order glasses, delivery for prescription eyeglasses can take up to 14 days. Non-prescription sunglasses take nine days, while contact lenses take seven delivery days. After delivery, the company gives you 90 days of unconditional guarantee. You can return the glasses or get free repairs and adjustments within these 90 days.
In-Store vs. Online
If you need an eye exam, you must visit the store in-person. But ensure you start with an online booking. Also, a visit to the store may be necessary if you intend to use RedCard or pay using insurance. Some insurance plans will only be effective if you go to the store personally.
For people who only need to buy glasses or lenses, the online store has hundreds of them. You can find frames suitable for men, women, and children. That means store visits may not be necessary unless you need personal services. Warranties and shipping durations remain the same whether you buy online or from the store.
Customer Reviews
Target Optical doesn't have accreditation from Better Business Bureau (BBB). Accreditation shows that a company resolves disputes with customers fairly.
The company doesn't have many reviews on platforms like Google reviews and Trust Pilot. But on BestCompany platform, it has an average rating of 3.1 out of 5 based on 45 reviews. What customers say they like and dislike:
Pros
Huge selection of colors and frame style
Competitive prices and discounts
A wide variety of eyeglasses for all genders and age
Ability to shop online
Cons
Some stores have limited glass choices
Quality of service may differ depending on location and doctor
Other retailers may offer lower prices
Cost of Services and Products
After you book an appointment with Target Optical, you'll pay around $88 for an eye examination. This price may differ depending on your location. However, if you have a RedCard, you can get a 5-percent discount for the products you buy but not for the services.
The prices of eyeglasses differ depending on the frame material. Likewise, the cost of contact lenses depends on the brand and starts from $28.45.
Eyeglasses frames start from $50 and go as higher than $218, depending on the style and brand. Many cost less than $100.
The cost of lenses varies depending on the features. Generally, single vision lenses are cheaper than no-line bifocal lenses. The prices:
Single Vision Lenses
Clear lenses: $75-$150
Sun lenses: $100-$250
Ray-Ban lenses: $210
No-Line Bifocal Lenses
Clear lenses: $200-$275
Sun lenses: $225-$375
Ray-Ban lenses: $310
Target Optical accepts insurance plans from 50 companies. You can check whether your insurance provider is one of them by visiting the company's website.
Overall, Target Optical offers affordable services that are easily accessible through online and geographically distributed stores. But because of the high number of stores and reliance on independent optometrists, the quality of service varies from place to place.
References
550 Target Optical Locations. Target Optical.

RedCard. Target.

Target Optical. BestCompany.

Get More From Any Vision Insurance. Target Optical.
Last Updated June 8, 2022
Note: This page should not serve as a substitute for professional medical advice from a doctor or specialist. Please review our about page for more information.