Lumify Eye Drops: How They Work & Who is a Candidate 
Lumify eye drops are FDA approved to treat eye redness that result from minor irritations. They can be used in combination with other eyedrops, even those that are medicated, provided you wait at least five minutes between applications.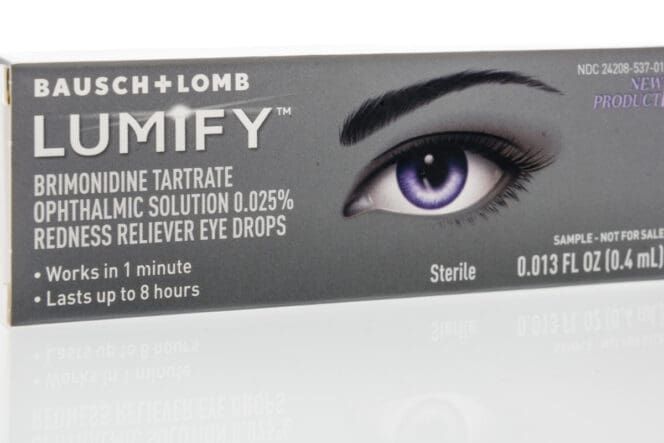 Lumify's formula is different than that of most anti-redness drops. Its active ingredient is brimonidine tartrate. The active ingredients for most other eyedrops are tetrahydrozoline and naphazoline hydrochloride.
Lumify works for up to eight hours at a time.
What Are Lumify Eye Drops?
Lumify eye drops are an eye solution that relieves the redness in eyes by making them whiter and brighter. While doctors recommend eye drops to reduce redness from minor irritations, they do not recommend using them to treat a serious irritation or condition.
The U.S. Food and Drugs Administration (FDA) approved Lumify after clinical trials proved that the product was safe and effective in treating redness. Its active ingredient, brimonidine tartrate (0.025 percent), reduces the risks associated with other eye drops.
As a product under the leading global organization in eyesight restoration, Bausch + Lomb, Lumify is arguably the safest to use. You can buy Lumify over the counter and use it as directed to alleviate eye redness.
You can mix Lumify with other eye drops as long as you wait at least five minutes between administering each product.
How Lumify Works
Red eyes result from swollen or inflamed blood vessels in your eyes. The brimonidine tartrate in Lumify eye solution selectively constricts swollen veins in your eyes. (It does not constrict arteries.)
The selective constriction reduces side effects associated with other anti-redness eye drops. When selectively constricting venules, blood pressure in the eyes reduces while allowing oxygen to flow freely in the veins. As a result, Lumify eye drops leave your eyes looking whiter and brighter.
Lumify does not use bleach or dye in its formula. That makes the eye drops more effective as it lowers the risk of rebound redness.
Anyone above the age of 5 who is experiencing redness caused by minor eye irritations is permitted to use Lumify.
Causes of Red Eyes
When the blood vessels underneath your eyes enlarge, your cornea turns red. Swelling or inflammation of the blood vessels may result from minor eye irritation or severe eye conditions.
Minor eye irritations that cause red eyes include:
Allergies from irritants such as dust, pollen, and contact lens solution
Rubbing of the eyes
Heavy sleep
Staying awake longer
Excessive alcohol and smoking
Staring at screens for long
Wearing contact lenses longer
Other causes of red eye include conjunctivitis, iritis, blepharitis, and acute glaucoma.
Simple eye drops correct eye redness caused by normal reactions. However, if a headache accompanies the redness, an eye examination is required.
What Makes Them Different
Most anti-redness eye drops have active ingredients that pose health risks to users. Unlike most eye drops whose active ingredients are tetrahydrozoline and naphazoline hydrochloride, Lumify's active ingredient is brimonidine tartrate.
Before administering eye drops containing naphazoline and tetrahydrozoline, consult your doctor if you have:
High blood pressure
Overactive thyroid
Diabetes
An eye injury, infection, or disease
Heart disease
Naphazoline and tetrahydrozoline may trigger these conditions and may make these conditions worse. Other side effects include chest pains, eye irritation, headaches, palpitations, and blurred vision.
On the contrary, low-dose brimonidine (0.025 percent) lowers the risk of certain side effects common when using anti-redness eye drops. That makes Lumify eye drops safer to use, as directed, to relieve eye redness.
Most eye drops utilize bleaching components to make your eyes brighter, increasing the risk of rebound redness and loss of efficacy. Lumify drops do not contain bleaching agents or dyes; hence are highly recommended.
How Long Do Results Last?
If you administer Lumify eye drops into your eyes as directed, it will significantly reduce the redness of the eyes for up to eight hours.
Side Effects
The use of Lumify eye drops is associated with certain risks. Hence, if you are pregnant or lactating, you should seek your doctor's consent before using.
The side effects of the active ingredient, brimonidine tartrate, found in Lumify eye drops include:
Some people are allergic to brimonidine.
It may irritate the eyes due to its stingy nature, worsening the redness.
In children, Lumify eye drops cause sleepiness and lethargy.
You may feel tired, dizzy, or drowsy.
It may cause blurred vision due to the tearing effect.
Eyes will become more painful if you rub your eyes to relieve the irritation.
The selective constriction may lead to bradycardia and hypotension.
In rare cases, Lumify eye drops cause dry mouth.
If used as directed, the risk of experiencing some of the side effects is low. However, patients receiving monoamine oxidase (MAO) inhibitor therapy or those on antidepressants such as tricyclic and mianserin should take caution.
Where to Buy
If you have red eyes caused by minor eye irritants, you can buy Lumify eye drops over the counter. Lumify is available in online stores such as Amazon and most other major retailers. Luckily, you can use an FSA, HAS, or HRA to purchase Lumify.
FAQs
Can LUMIFY damage your eyes?
Lumify can damage your eyes if you are allergic to brimonidine or fail to use it as directed. For persistent, painful, red eyes accompanied by headaches, seek your doctor's advice before buying Lumify eye drops.
See your ophthalmologist if your eyes sting, remain red, or vision worsens for more than 72 hours after using Lumify.
Is it OK to use Lumify every day?
You can use Lumify eye drops as directed if you do not experience persistent side effects for over 72 hours.
Does Lumify make your eyes brighter?
Yes, Lumify eye drops make your eyes whiter and brighter as it aims to relieve eye redness.
References
Drug Approval Package: Lumify (brimonidine tartrate). (March 2018). FDA.

Red Eye. (January 2018). Cleveland Clinic.

Red Eye. (Retrieved March 2022). NIDirect Government Services.

Tetrahydrozoline Ophthalmic. (August 2017). MedlinePlus.

Naphazoline. (Ophthalmic Route). (February 2022). Mayo Clinic.

Delayed Hypersensitivity to Brimonidine Tartrate 0.2% Associated with High Intraocular Pressure. (March 2002). National Library of Medicine.

Side-effect Profile of Brimonidine Tartrate in Children. (December 2005). American Academy of Ophthalmology.

Brimonidine Tartrate 0.2% w/v Eye Drops. (December 2020). Medicines.

Can you pay for Lumify with an HSA? (Retrieved March 2022). HSAList.org.
Last Updated April 20, 2022
Note: This page should not serve as a substitute for professional medical advice from a doctor or specialist. Please review our about page for more information.