As we get older, things change. Our eyes age and we slow down, but one thing many people continue to feel is a deep desire to keep exploring the world. But where do you start?
Our new report of more than 900 Americans unveils the top bucket list items, including where people most want to travel and what activities they want to do at least once. More than 1 in 6 Americans are hoping to cross off at least one bucket list item in 2023!
Having Bucket Lists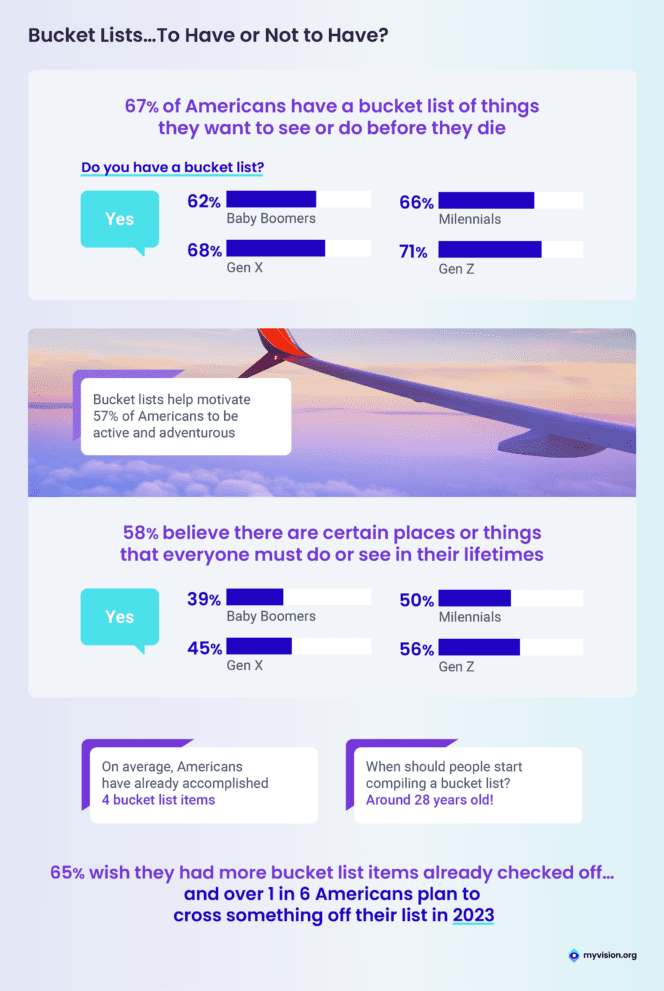 Nearly 7 in 10 (67%) Americans admit they have a bucket list. Surprisingly, younger generations were more likely to have bucket lists than older generations.
71% of Gen Zers have a bucket list compared to 66% of Millennials, 68% of Gen X, and just 62% of Baby Boomers. But there's a shared sentiment, more than half (58%) believe there are certain places or things that everyone must see or do in their lifetime. Nearly 3 in 5 (57%) feel bucket lists help motivate them to be active and adventurous.
On average, most Americans have already finished four bucket list items! But that's not enough for some, 65% wish they had more bucket list items already checked off.
Crossing Off Bucket List Items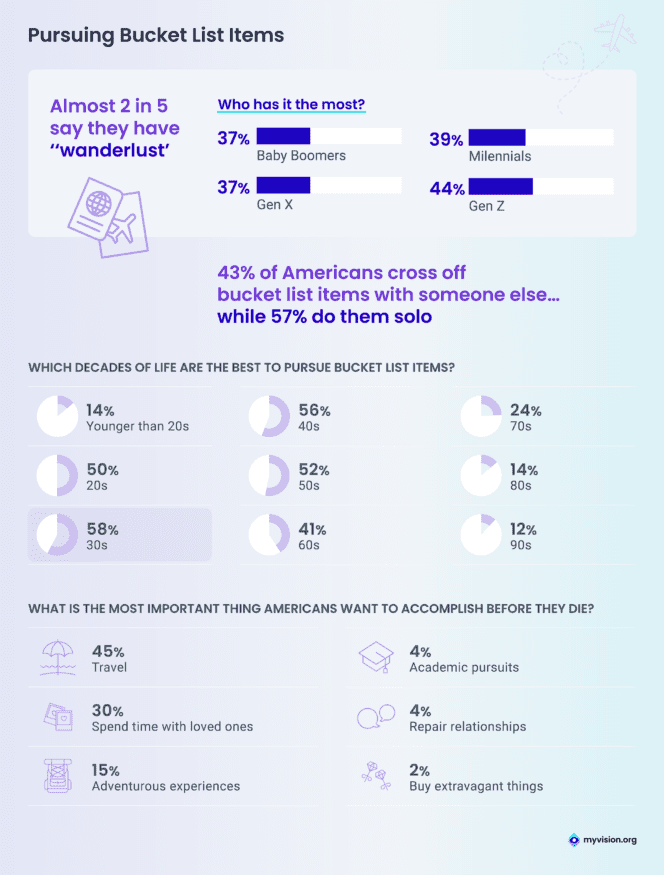 Many bucket list items are personal, and 57% of Americans have pursued checking off bucket list items alone. Most Americans feel the best time to work on your bucket list is between your 20s and 50s, with your 30s being the best time!
Nearly half (45%) of Americans want to get out from behind TV and computer screens and feel traveling is the most important thing they'd like to accomplish before dying. Nearly 1 in 6 (15%) want adventurous experiences. Almost 2 in 5 admit they have wanderlust. Gen Z has the most wanderlust (44%) compared to Millennials (39%), Baby Boomers (37%), and Gen X (37%).
Meanwhile, almost 1 in 3 (30%) feel the most important thing they'd like to do is spend time with a loved one, whether traveling or at home.
"Must See" Locations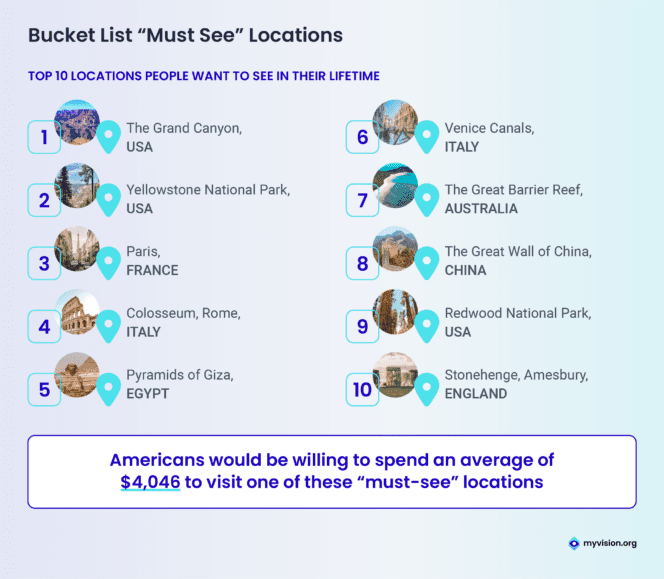 In the entire world, the number one must-see place for Americans is right here in the U.S.! People dream of seeing the Grand Canyon and Yellowstone National Park. The only other U.S. location is ranked ninth; Redwood National Park. That's the park with all the giant trees, including one big enough to drive through!
Internationally, Americans would love to see the Eiffel Tower sparkle in Paris (3rd), sit in the stands of the Colosseum in Rome (4th), and grapple with how the Egyptians built the Pyramids of Giza (5th).
Other top international spots to see include Venice (6th), the Great Barrier Reef (7th), the Great Wall of China (8th), and Stonehenge (10th).
Adventurous Activities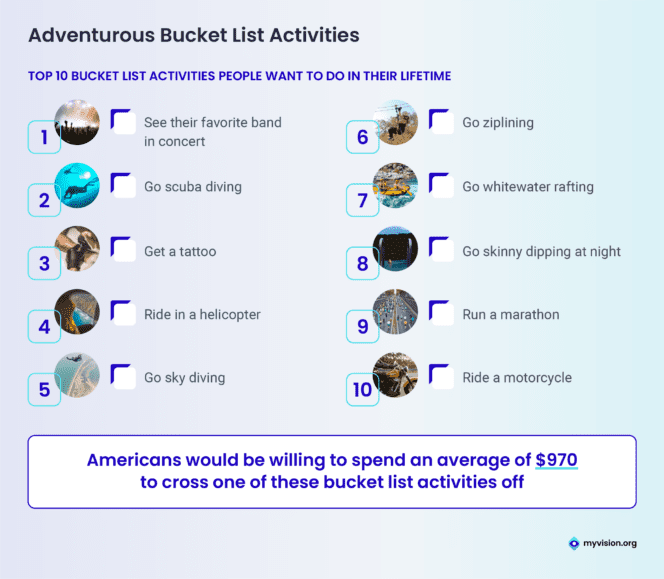 While exploring the world, people want to do more than just see it, they also want to experience it! The top activity people want to do in their lifetime is go see their favorite band in concert.
More adventurous Americans want to scuba dive (2nd), get a tattoo (3rd), ride in a helicopter (4th), or even go skydiving (5th)! Number eight on the list is rather bold. People think it would be fun to go skinny dipping at night. Some overachievers would also like to try running a marathon (9th)!
Travel-Related Activities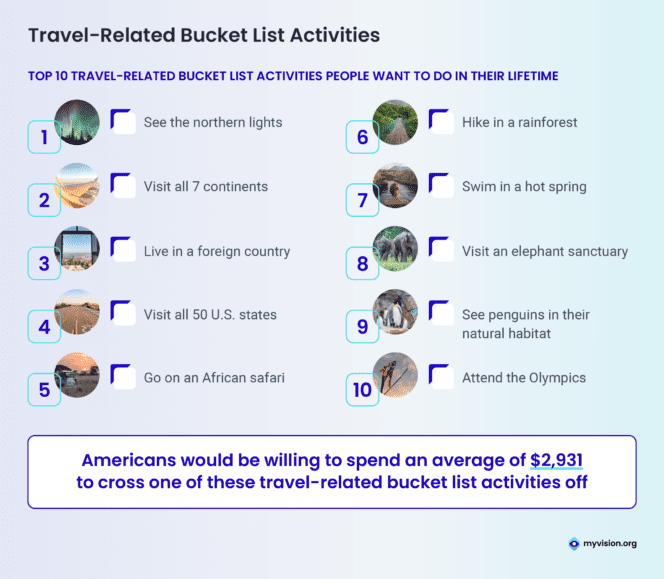 There are certain travel-related bucket list activities Americans want to add to their trip itinerary. The number one addition: see the northern lights.
Other bucket list items may not be realistic to accomplish all in one trip… like visiting all seven continents (2nd) or all 50 U.S. states (4th).
Many bucket list items revolve around animals! Americans dream of going on an African safari (5th), visiting an elephant sanctuary (8th), and even seeing penguins in their natural habitat (9th).
Location-Related Activities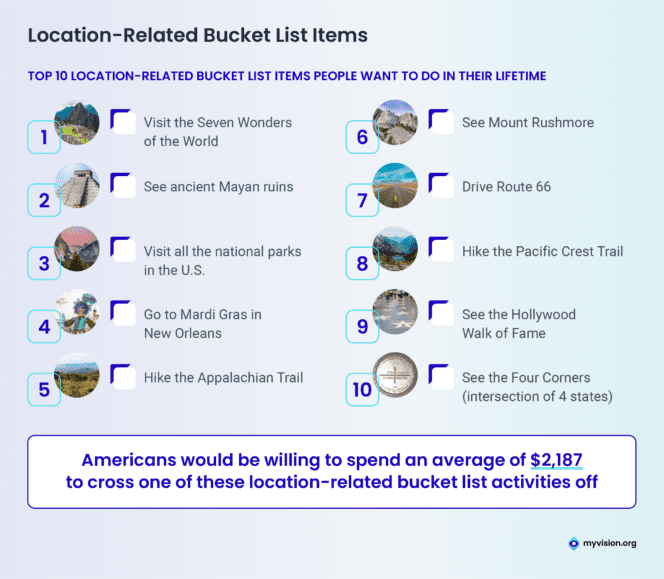 If people could, they would visit the Seven Wonders of the World. Others would love to see ancient Mayan ruins (2nd) or visit all the national parks in the U.S. (3rd).
Some partiers would prefer to celebrate life during Mardi Gras in New Orleans (4th) while others would like to see the Hollywood Walk of Fame (and maybe even a celebrity)!
The world is your oyster. There are so many incredible things to see and do, it may be impossible to do it all, but it doesn't hurt to try, right? Good luck turning your bucket list into reality.
Methodology
In October 2022, we surveyed 905 Americans to get their feedback on their bucket lists and must-see trips and experiences. Respondents were 49% female, 47% male, 2% nonbinary, and 1% transgender with an age range of 18 to 80 and an average age of 39 years old.
For media inquiries, contact media@digitalthirdcoast.net
Fair Use
When using this data and research, please attribute by linking to this study and citing myvision.org
Last Updated October 28, 2022
Note: This page should not serve as a substitute for professional medical advice from a doctor or specialist. Please review our about page for more information.