When was the last time you went to the doctor for a checkup? Or how about the optometrist to get your eyes looked at? Don't forget the dentist, too! There are certain doctors you should be seeing on a regular or annual basis, but many Americans are putting off some of these important appointments.
In a new survey of more than 1,050 people, we asked Americans to share when they last went to the doctor and what's keeping them from going (if they're avoiding certain ones)! Surprisingly, many people want to be seen by a medical professional but are having trouble getting appointments.
Favorite (and Least Favorite) Doctors Ranked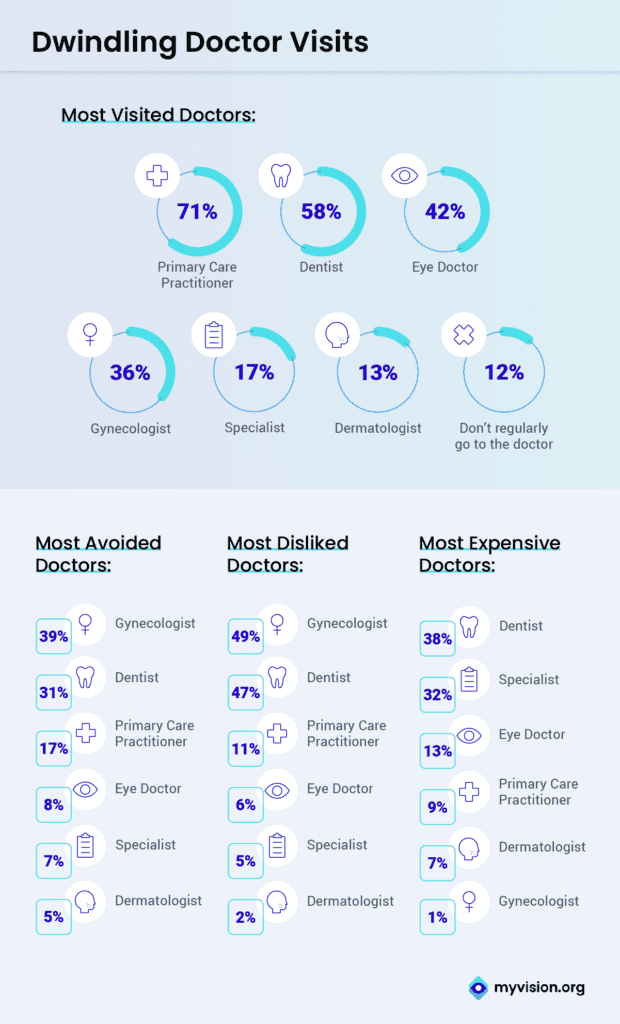 The type of doctors Americans visit the most are primary care practitioners. More than 7 out of 10 (71%) go to a general practitioner. After primary care, 58% say they go to the dentist regularly, and 42% get consistent eye exams at the optometrist.
Only 13% say they visit a dermatologist regularly, and 12% admit to not visiting any doctors or medical professionals. A little more than 1 out of 3 women (36%) say they routinely go to the gynecologist.
There are those appointments that people actively avoid, and those appointments tend to be the most disliked type of doctor appointment. Nearly half (49%) of women surveyed said they don't like the gynecologist, and 39% actively avoid those appointments. That was closely followed by the dentist.
As for the most expensive doctors, Americans listed dentists, specialists, and eye doctors.
Reasons for Skipping Appointments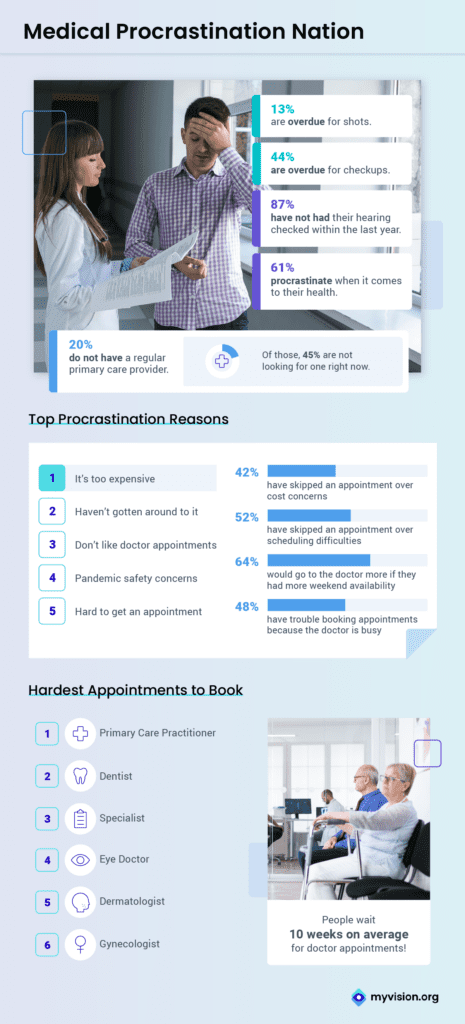 More than 3 out of 5 (61%) Americans admit to procrastinating when it comes to their health, and 1 out of 5 don't even have a primary care practitioner. Of those, 45% revealed they are not looking for one right now.
Nearly half (44%) of people surveyed are overdue for checkups, and 13% are overdue for recommended shots.
The top reason people put off doctor appointments is that it's too expensive. More than 2 out of 5 (42%) have skipped an appointment over cost concerns.
However, the patients aren't always to blame for these delayed or avoided visits. One of the other main reasons for putting off visits is because it's hard to get an appointment! More than half (52%) have skipped appointments because of scheduling difficulties, and 48% said they've had trouble booking appointments due to doctors' busy schedules.
On average, people are waiting as long as 10 weeks for doctor appointments! The hardest doctors people are struggling to book appointments with are primary care practitioners, dentists, and specialists.
If doctors had more available office hours, Americans said they would be more likely to schedule appointments. More than 3 out of 5 (64%) would go to the doctor more if the office had increased weekend availability.
Doctor Delays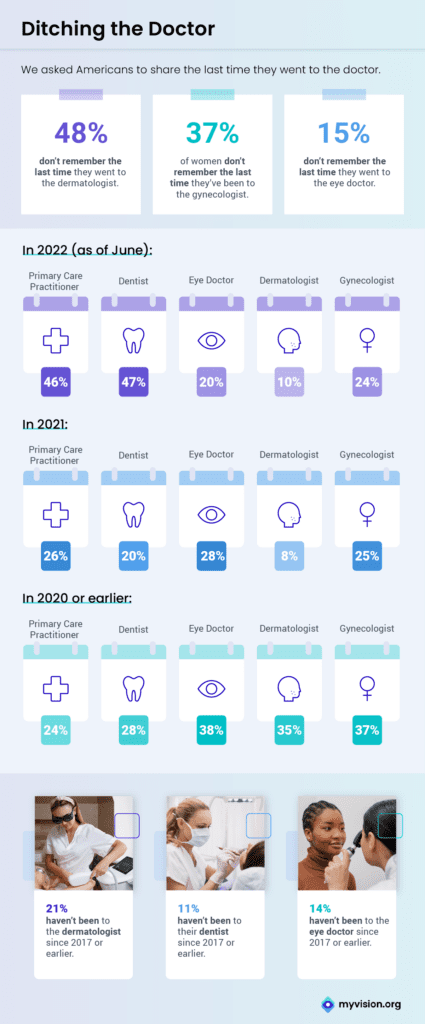 Americans have been putting off the doctor, so much so that some don't even remember the last time they went! Nearly half (48%) can't recall when they last saw a dermatologist, 37% of women have no idea when they last went to the gynecologist, and 15% of respondents couldn't pinpoint their last eye doctor appointment.
This year, so far, 46% say they've made it to their primary care practitioner, and 47% have seen the dentist. Only 1 in 10 have been to a dermatologist, while 1 in 5 have had their eyes checked. About 1 in 4 (24%) women say they've seen a gynecologist.
But many people admit to not seeing any medical professionals since the onset of the pandemic in 2020. Nearly 2 out of 5 (38%) haven't had their eyes checked by eye care professionals since 2020 or earlier, and more than 1 out of 10 (14%) haven't been since 2017 or earlier!
Around 1 in 4 haven't been to their primary care practitioner or dentist since 2020 or earlier. In fact, 11% of those haven't been seen by a dentist since 2017 or earlier.
Telehealth Help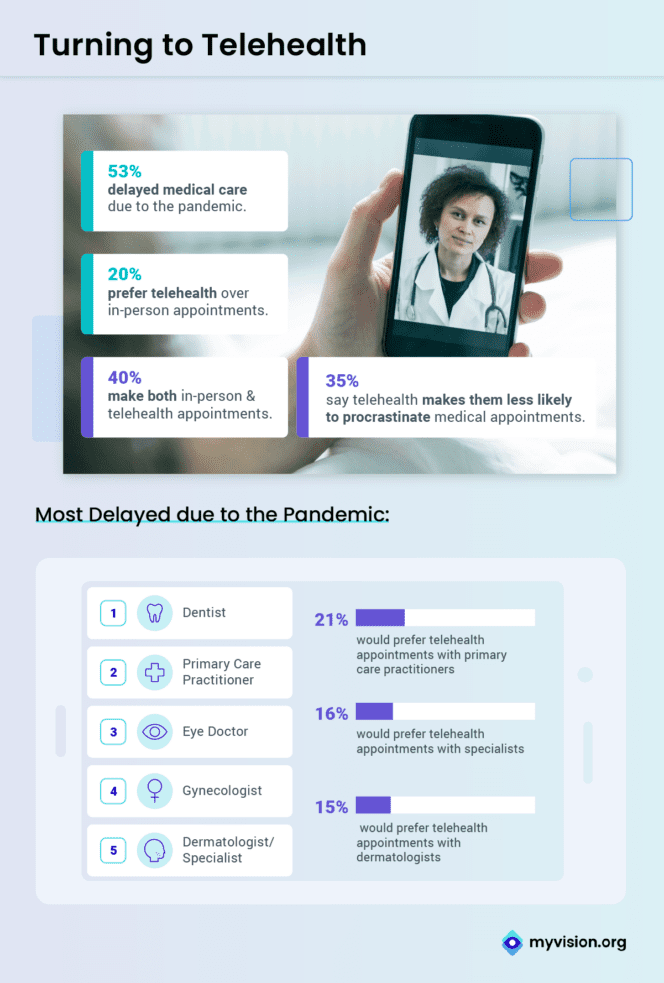 The pandemic disrupted many things, but the health provider that was impacted the most was the dentist. It was the most delayed appointment, followed by primary care practitioners and eye doctors.
More than half (53%) of Americans delayed medical care due to the pandemic, but now technology is helping to fight that. More than 1 out of 3 (35%) say telehealth makes them less likely to procrastinate medical appointments, and 40% make both in-person and telehealth appointments. In fact, 1 in 5 prefers telehealth over in-person appointments!
If Americans had to choose between in-person and telehealth, 21% would prefer telehealth for primary care appointments. More than 1 out 10 would also be interested in seeing their specialists virtually and dermatologists via video.
There are so many hurdles Americans face while trying to be healthy. Don't forget the importance of being seen and checked by a trained health professional. With the improvement of telehealth, it's easier to be seen now than even a decade ago. Regular appointments could help prevent bigger health issues in the long run.
Methodology
In June 2022, we surveyed 1,057 Americans about their experiences with doctors that are recommended on an annual or regular basis. Respondents ranged in age from 18 to 79 with an average age of 38 years old. 50% were female, 48% male, 1% nonbinary, and 1% transgender.
For media inquiries, please contact media@digitalthirdcoast.net.
Fair Use
When using this data and research, please attribute by linking to this study and citing https://myvision.org/
Last Updated July 23, 2022
Note: This page should not serve as a substitute for professional medical advice from a doctor or specialist. Please review our about page for more information.