About 12 million people ages 40 and older in the United States have vision issues. Some (about 1 million) are blind. Others (about 3 million) have vision issues that persist after correction.
Your vision doesn't determine your intelligence, skill level, or willingness to work. Many people with low or no vision hold down successful and lucrative jobs. But far too many professionals opt out of work due to vision issues.
Just 44 percent of people who are blind or visually impaired are employed compared to 79 percent of people without those disabilities. Joblessness is closely tied to disability severity, as the worse your condition is, the less likely you are to find and keep a job.
Whether you're searching for a job now or hoping to make the position you have stick, know that you have rights. And know that a few adjustments to your workplace setup could make your daily routine a little easier.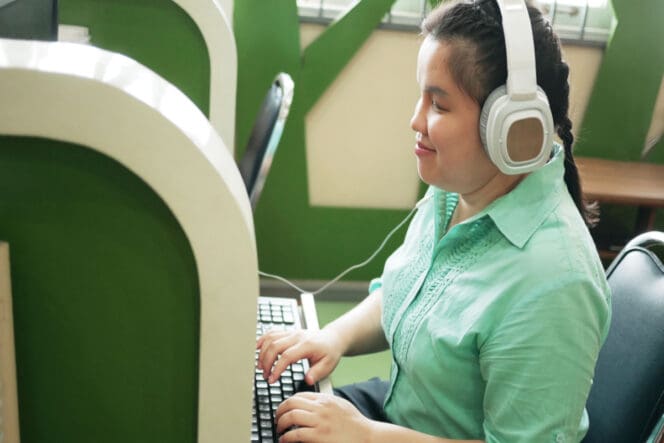 What Does Visual Impairment Mean?
Visual disabilities exist on a spectrum from mild to severe. Understanding where you fit is critical as you consider your rights and choices.
Low Vision 
The term low vision refers to people with a documented form of vision loss that impacts their daily quality of life. Four main types exist:
Central vision loss, in which your side vision is clear, but you can't see things right in front of your eyes
Peripheral vision loss, in which you can see things in the center of your vision but not at the sides
Night blindness, in which you can see clearly in bright light but not in low light
Blurred vision, in which your sight doesn't clear in any condition
Legal Blindness
People with central vision of 20/200 or less in the better eye with correction have visual blindness. This technical term doesn't describe your functional vision.
You can have legal blindness that only your doctor knows about. As long as you wear your glasses or contacts, no one can spot your vision loss.
But you can have legal blindness that doesn't get better with glasses or contacts.
Functional Blindness
Do you use alternative techniques (like Braille or screen readers) to handle daily tasks? You could qualify for functional blindness. Your adaptive technology helps you to live fully, but without these devices, you'd struggle.
This term also doesn't describe your functional vision. Many people with low vision corrected by glasses prefer to use screen readers or large-font text to ease eye strain.
But the use of functional devices sets this category apart from legal blindness.
Total Blindness
Of all people with eye disorders, only 15 percent are totally blind. Most people have some degree of light or form perception. If you don't, you have total blindness.
Even people with total blindness can handle everyday activities with adaptive technology. Braille or screen readers could help you do many things fully sighted people can.
But if your doctor can't measure any light response in your eyes, a total blindness diagnosis is appropriate.
10 Jobs to Consider if You Are Blind or Visually Impaired
No national-level employment programs are made just for people with vision loss. One potential reason is that people who can't see can tackle almost any job a sighted person can. You may need a few workplace adjustments, but there's no reason your lack of crisp vision should keep you out of the job market.
These are a few jobs people with low or no vision can consider.
1. Chiropractor 
Examine patients with pain and offer adjustments to realign sore bones and muscles. You'll need a doctor of chiropractic degree and a state license to get started.

Visiting a local professional before enrolling in school could help you determine if this is the right career.
Typical annual salary: $75,000.
2. Counselor 
Work with individuals and couples in "talking cure" sessions. Conduct them in person or via telemedicine, and work in a clinic or from your own home.

You'll need at least a bachelor's degree to get started, and some positions require more education.
Typical annual salary: $48,000.
3. Customer Service Representative 
Nearly every industry with customers needs someone to take calls, answer questions, or process orders. As a customer service representative, you'll talk with the public on the phone or in person.
Typically, you need just a high school diploma to get started, but people skills are a core requirement.
Typical annual salary: $37,000.
4. Engineer
Build mechanical, plumbing, or electrical systems for modern buildings. Design with a computer, and visit the job site to see your creations in real time.

You'll need a bachelor's degree to enter the engineering field, and you'll need a license within your state.
Typical annual salary (for mechanical engineers): $95,000.
5. Financial Advisor
Teach your customers about wise money management. Manage estates, set up savings accounts, and otherwise help people make the most of their assets. Work in a bank, or work as a private consultant.

You'll typically need a bachelor's degree to get started as a financial advisor.
Typical annual salary: $94,000.
6. Journalist 
Keep your community informed through your words. Conduct interviews with the movers and shakers, and digest that information for your audience. Work as a writer or step in front of the camera.
You'll need a bachelor's degree, and some positions require a completed internship.
Typical annual salary: $48,000.
7. Motivational Speaker
Share words of wisdom with the world. Travel frequently and tell people your story, or set up a podcast or social media presence. You'll need grit and hustle to get started, as no company hires for a position like this. But you'll have the freedom to make your own job, set your goals, and define success.
No typical salary exists, as everyone makes different amounts based on talent, luck, and opportunity.
8. Software Developer 
Write code for video games, machinery, private companies, and more. Spend all day in front of a computer, and know that your creations will be put to good use. Focus on software that helps other visually impaired people, or work on projects that support your other passions.
You'll need a bachelor's degree (at least).
Typical annual salary: $110,000.
9. Speech/Language Pathologist 
Help your clients improve their speaking and/or swallowing skills. Conduct in-person screenings and design therapy programs. Know that your work will directly help your patients to live better lives.
You'll need a master's degree for this job, and you'll likely need a state license.
Typical annual salary: $79,000.
10. Teacher
Shape young minds every day with your work. Focus on very young students in elementary school, or spend your days on a college campus with older students. Some people choose to work in schools for the blind, but you might be just as successful at the school down the road from your home.
You'll need at least a bachelor's degree, and some states require advanced degrees. You'll also need a license.
Typical annual salary (for a high school teacher): $61,000.
On-the-Job Accommodations 
You've found the perfect job, but you'll need a little help to handle all of the tasks. Adjustments or modifications allow people like you to take jobs and get the help you need to succeed.
Employers are required to provide these adjustments, as long as they don't cause significant difficulty or expense. Common accommodations requested by people with vision issues include assistive devices for the following:
Reading printed materials: Optical scanners, Braille embossers or displays, large-print documents, or in-person readers could be helpful.
Handling electronic materials: Computer screen magnifiers, screen reading software, and accessible websites could make interacting with the digital world easier.
Movement: Employer policy modifications to allow guide dogs or drivers to guide or transport the person off site could be helpful.
You may also request changes in your workspace. Brighter lights could help you see some parts of your work easier, and if you're using screen readers, you may need headphones or other devices to let you hear clearly.
Transportation Concerns: How Will You Get to Work?
Many of the jobs we've discussed allow for work-from-home (WFH) setups. A job like this doesn't involve regular commutes. You'll log in from home and complete your tasks in familiar surroundings.
But many WFH positions require regular in-person meetings. And some jobs don't allow their workers to log into the work network from home.
Public transportation is a critical resource for people who are blind or visually impaired. Grow accustomed to your route, and you can get there and back easily. And you may qualify for door-to-door programs that take you where you need to go with few detours.
But if the job you're considering isn't near a major transportation hub, think hard about how you'll get there and home. Can you lean on rideshare programs like Uber or Lyft? Or is it best to keep searching?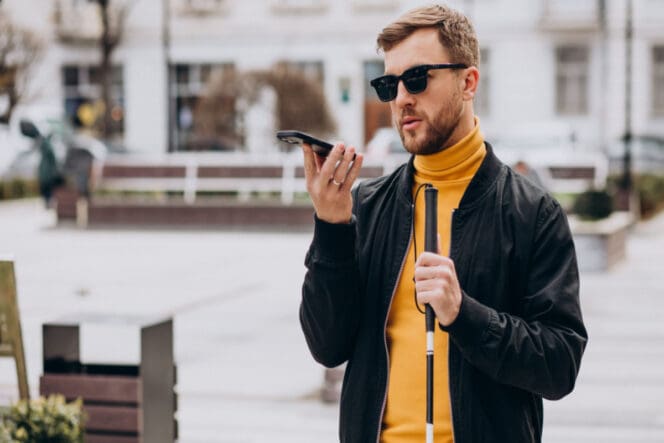 Understand Your Rights
The federal Americans with Disabilities Act (ADA) offers several protections for employees and job seekers. You're protected from discrimination under this act, and if your employer steps out of line, you could be entitled to financial compensation.
Per the ADA, you're not required to disclose your disability during a job interview unless you need a reasonable accommodation to apply (like an application in a larger font). You're also entitled to ask your employer for reasonable accommodations (like screen readers) to do your job once you're hired.
These protections can help you get and keep a job, but you must be alert and aware of discrimination. For example, researchers say people who are blind tend to make $13,000 less than their non-disabled peers.
Ensure that your good work is recognized. Don't be afraid to speak to the company's human resources department if you think you're not receiving fair treatment.
3 Job Search Tips for Visually Impaired Individuals
Visually impaired job seekers should follow the same job hunt best practice tips as their sighted peers. Keep your resume up to date, apply often, be courteous, and don't give up. This advice works for anyone looking for a job, no matter the market.
But visually impaired people should take a few extra steps to ensure they get noticed.
1. Connect With Your Peers 
Negative assumptions about blindness can keep you away from the job you want. Connect with other disabled peers and find out how they handle discrimination.
You could learn about companies that are fair to everyone regardless of disabilities, and your connections could give you the inside track on the job you've always wanted.
Seek out professional organizations per your chosen career. Better yet, find a group that is made for visually impaired people in your career. (See our resource below.)
2. Choose When to Share
Some people opt to share their visual impairment early. Your conversation can help the employer understand the accommodations you need, and you could help dispel some myths that keep others like you from landing the job.
But you may feel uncomfortable discussing your visual disability at a delicate point in the negotiation. Remember that you're not required to tell your potential employer anything. This is your decision; you can make it however you'd like.
3. Use Social Media 
Join LinkedIn, and find out about the company you'd like to join long before you apply. How many employees do they have? How many of those employees have disabilities like yours?
A quick research session could tell you if this company seems like a good fit for someone like you.
Resources for Visually Impaired Job Seekers
State Vocational Rehabilitation Agencies: Connect with experts in your state who can help you find a great job or keep the one you have. Discuss assistive technologies and learn more about local resources that could help.
National Industries for the Blind: Tap into resources made just for blind people. Search for career opportunities, or sign up for training programs to help you prepare for the perfect job.
American Council for the Blind: Find a professional association in your industry, and connect with other visually impaired people doing the work you want to do. Check this resource often, as new industries are added regularly.
References
Last Updated June 28, 2022
Note: This page should not serve as a substitute for professional medical advice from a doctor or specialist. Please review our about page for more information.