Books have the ability to transport people anywhere at any time. One story can lead you to the magical halls of Hogwarts while a different book can teach you about the Revolutionary War. Others tell the story of a heartbreaking loss in iambic pentameter, and some just help exhausted parents figure out how best to raise a toddler. There are books out there for any topic you want to read!
While people are passionate about stories, they're also passionate about how they read them. Our new survey of over 900 Americans uncovers their preferences between paper books and eBooks as well as which novels Americans are planning to add to their physical (or virtual) bookshelf!
America's Reading Habits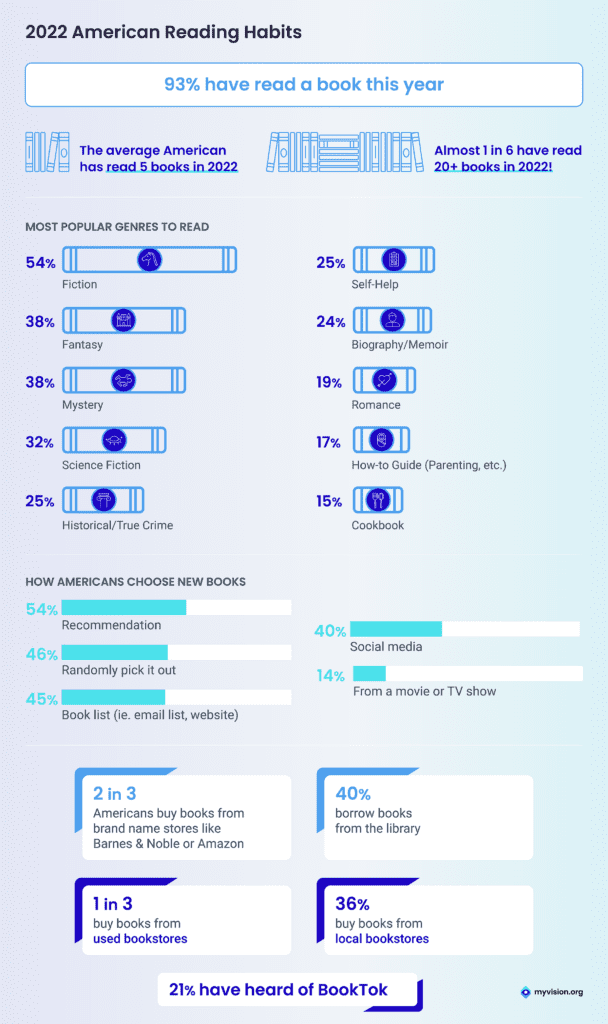 93% of Americans have read at least one book so far in 2022. On average, Americans have read five books this year. Almost 1 in 6 have gone above and beyond and have read more than 20 books!
The most popular genre people are drawn to is fiction. More than half have read a fiction book this year, while nearly 2 in 5 have gone for fantasy and mystery stories. About 1 in 3 have read a science fiction book, and 1 in 4 have gravitated toward nonfiction books about history, true crime, or self-help.
More than half of readers choose which books to read based on a recommendation from someone like a family member, friend, or even teacher, but sometimes people like to leave their next read to chance. 46% admit they randomly pick out books to read at a library or bookstore. Others turn to a book list or social media to figure out their next literary adventure.
One space in particular where younger generations are learning about books is TikTok! It's better known as BookTok, the part of TikTok where people plug new or interesting reads. Only 1 in 5 (21%) Americans know about it, and they typically skew younger. The average age of people who have heard of BookTok is 29… while 41 is the average age of people who do not know about it.
Others are inspired to pick up a book after first watching it portrayed as a TV show or a movie, recent examples include "Where the Crawdads Sing" or "Bridgerton." Nearly 1 in 6 said movies or TV shows influence what they read.
While 36% of Americans buy books from local bookstores, the majority (65%) have bought books from brand-name stores like Barnes & Noble and Amazon. About 1 in 3 Americans have shopped for books at a reused bookstore, and 40% mainly borrow books from the library free of charge!
Paper Books v.s. eBooks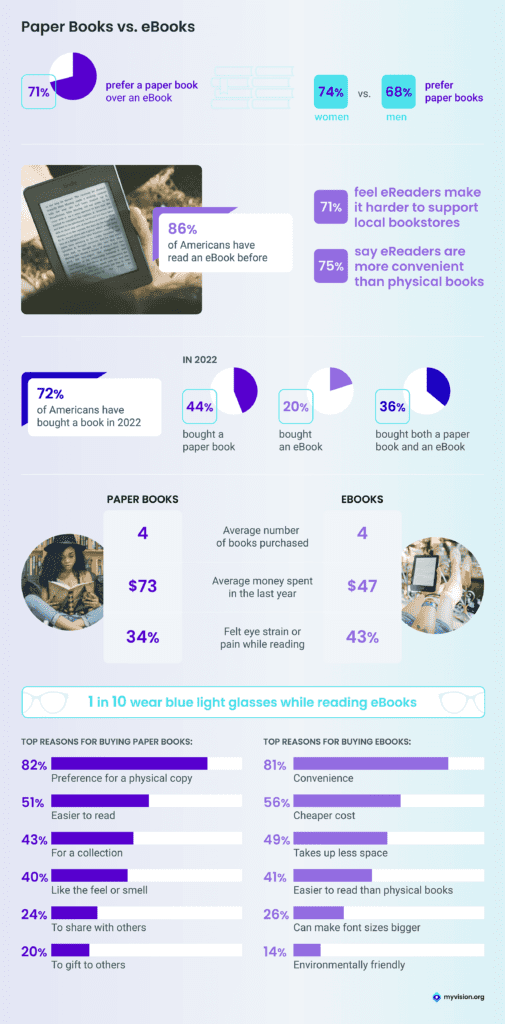 In this era where electronics are king, many Americans turn to virtual books over paper copies. Nearly 9 in 10 (86%) Americans have read an eBook. However, that doesn't mean physical books are gone for good. More than 7 in 10 Americans prefer a paper copy over an eBook. That varies slightly by gender, 74% of women prefer paper books compared to just 68% of men.
So far in 2022, 72% of Americans have bought a book. 44% bought only paper copies, 20% bought only eBooks, and 36% purchased both.
On average, Americans have bought about four physical books, spending an average of $73. People who purchased eBooks have also bought an average of four books, but it has cost them a lot less. People spent an average of $47 on eBooks.
One of the main reasons people buy eBooks is because of the cost! 56% of Americans listed the cheaper price as a top reason for buying eBooks, but another big motivator is convenience. While 71% of Americans acknowledged that eReaders made it harder to support local bookstores, 75% add that eReaders are more convenient than physical books.
1 in 4 (26%) eBook readers like that font sizes can be increased making it easier on the eyes. It's especially nice for those who need glasses to see small text (30% of Americans said they wear reading glasses).
However, 43% of Americans who have read eBooks admitted to feeling eye pain or strain while reading. This is in comparison to the 34% of people who have read paper books and have dealt with eye strain or pain. To circumvent that, more than 1 in 10 (13%) wear blue light glasses while reading eBooks.
As for those who bought paper books this year, the majority (82%) said they buy physical books because they prefer them over eBooks. More than 2 in 5 also said they buy paper books to help grow a collection. Meanwhile, 24% like to share the book with others after reading it, and 20% give books as gifts.
Top Books in 2022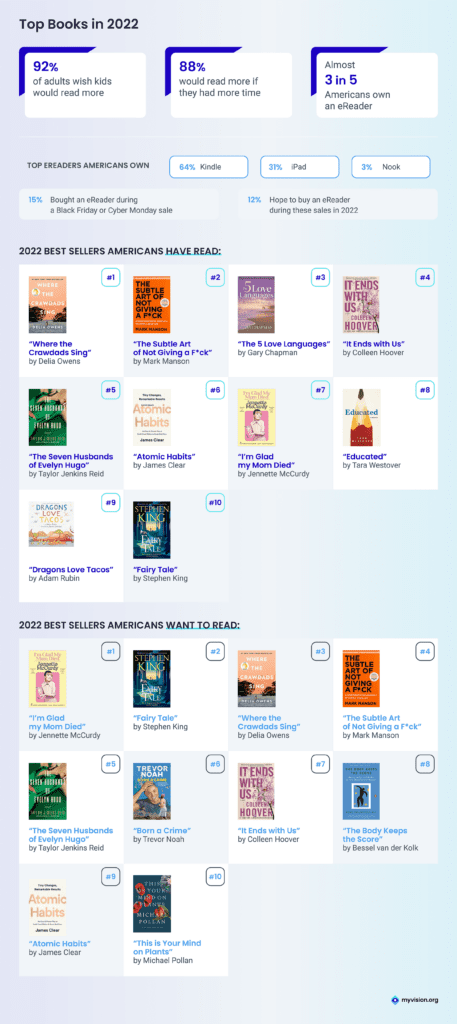 Almost 3 in 5 Americans own an eReader, and the top ones they use are Kindles (64%) and iPads (31%). Nearly 1 in 6 (15%) bought their eReader during a Black Friday or Cyber Monday sale, and others are hoping to buy one during the 2022 holiday sales!
There are certain best-selling books Americans would like on their 2022 Christmas list. The top ones they'd like to find in their stocking are "I'm Glad my Mom Died" by Jennette McCurdy, "Fairy Tale " by Stephen King, and "Where the Crawdads Sing" by Delia Owens.
According to our survey, "Where the Crawdads Sing " is also the most-read 2022 best seller. Another popular book many Americans have already read is Mark Manson's "The Subtle Art of Not Giving a F*ck," "The 5 Love Languages" by Gary Chapman, and "It Ends with Us" by Colleen Hoover.
Nearly 9 in 10 Americans would read more if they had the time, and 92% of adults wish kids would read more too. Sometimes it's hard to slow down in this fast-paced world, but we encourage you to give it a try and prioritize reading. Maybe set it as a 2023 New Year's resolution!
Methodology
In October 2022, we surveyed 923 Americans to get their feedback about reading and book preferences. Respondents ranged in age from 18 to 84 with an average age of 39. 48% were male, 49% female, 2% nonbinary, and 1% transgender.
To determine the 2022 Best Sellers Americans have and want to read, we asked survey respondents which New York Times Best Selling books they've read or want to read based on books topping the list in August 2022 and September 2022.
For media inquiries, please contact media@digitalthirdcoast.net.
Fair Use
When using this data and research, please attribute by linking to this study and citing myvision.org.
Last Updated October 12, 2022
Note: This page should not serve as a substitute for professional medical advice from a doctor or specialist. Please review our about page for more information.