Cheap and Free Eye Exams and Where to Get Them
As a culture, Americans are accustomed to paying for all kinds of healthcare, including eyecare. But some care came come free – or at least inexpensively.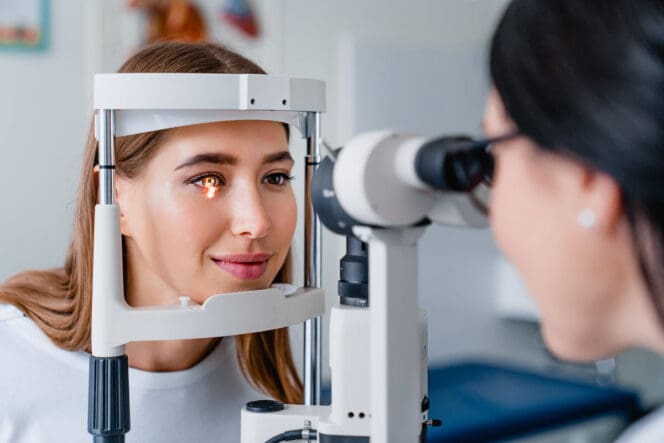 Many organizations offer free eye exams and eyeglasses to ensure children, seniors and low-income adults have access the care they need. Some retailers also offer inexpensive eye exams that may be easier to fit into your budget.
Getting regular eye exams is important to maintain good eye health. People experiencing problems with their vision need an eye exam to uncover the source of their sight issues.
In addition, anyone who wears glasses or contact lenses should have an annual eye exam to ensure that their lens prescription is still correct.
And children and seniors need regular eye exams even if they do not have any symptoms of vision problems. This is especially true for kids. Children rarely know how to tell if they are seeing, and parents can miss signs that there are issues.
Free Eye Exams for Adults
American adults can obtain free eye exams through private and public programs provided they meet certain criteria.
Who Is Eligible?
Eligibility varies by program and organization. Among the groups to consider for free help are:
EyeCare America
Eyes of Hope
State health programs
Lions Club
Medicaid
EyeCare America
EyeCare America offers free eye exams for seniors (ages 65 and up) to help identify developing medical eye issues like cataracts or macular degeneration. They also offer free eye exams for people who are uninsured and at a high risk of developing glaucoma. Neither of these services includes prescriptions for eyeglasses.
Eyes of Hope
Eyes of Hope is a program run by Vision Service Plan that provides gift certificates to cover the cost of adult eye exams for people with low incomes. To be eligible, you must be over 19 years of age, have an income of less than double the federal poverty line, and have no vision insurance coverage through any public or private programs.
State Health Programs
Many states have public health programs to offer free eye exams to people in need, such as VISION NC. These programs typically work with social services and non-profit organizations to deliver their services. You can ask case worker or other representative if there are any programs like this for adults in your state.
Lions Club
The Lions Club provides funding for free eye exams for adults in need. Contact your local branch to ask them if they might be willing to fund your eye exam.
Medicaid
Medicaid covers the cost of eye exams for adults in some states, but not all. Contact your State Medicaid Agency for more information on what is covered where you live.
Medicare
Medicare covers the full cost adult eye examinations for:
People with diabetes
People who are at high risk of developing glaucoma
Doctors use the exams identify specific eye problems, such as diabetic retinopathy. They do not include vision assessments or eyeglasses prescriptions. They are available on an annual basis or as recommended by your doctor.
Free Eye Exams for Children
Many programs offer free eye exams to American children. Among them:
InfantSEE
Sight for Students
Eyes for Hope
Vision to Learn
Medicaid and CHIP
InfantSEE
Children young than 12 months old can receive a single free eye exam through InfantSEE, a public health program run by the American Optometric Association (AOA).
The goal of this program is to identify any major vision issues that might have an impact on your child's development. Your child's eye doctor will examine their eye health, visual acuity, refraction, and more.
You can get an InfantSEE exam for your child at any AOA optometrist's office. There are no income limits for this program, and participating optometrists are not allowed to bill InfantSEE exams to any insurance company.
Sight for Students and Eyes of Hope
Sight for Students is another Vision Service Plan Program aimed at children. Applicants must be 19 years old or younger, have no private or public vision coverage, and have a family income no greater than double the federal poverty line. Your child can apply for the program through their school's nurse.
Eyes of Hope
VSP's Eyes of Hope program also provides coverage for eye exams and eyeglasses for children. The same income and coverage requirements apply.
Vision to Learn
Vision to Learn is a non-profit organization that offers free eye exams and eyeglasses for children in low-income communities in 14 states. They deliver services through the school system, so their free exams are only accessible to children who attend school in low-income neighborhoods.
Free Eye Exams Covered by Medicaid or CHIP
Medicaid covers eye exams for children in all states.
The Children's Health Insurance Program (CHIP) offers free eye exams for children in most states. You can enroll your child in CHIP if you are low income but make too much money to qualify for Medicaid.
Free Eyeglasses
Once you have had your current eyeglasses prescription measured, you may be able to get free eyeglasses from any of the following sources:
Eyes of Hope and Sight for Students both offer gift certificates for free eyeglasses to eligible applicants. Eyes of Hope is open to applicants of all ages, but only children can receive free eyeglasses through Sight for Students.
Vision to Learn also offers free eyeglasses for children.
OneSIght offers vouchers for free eyeglasses to people in need. To qualify, you must apply through a local non-profit organization, such as a school, church, or local charity.
Medicaid is required to cover the cost of eyeglasses for children in all states. Some states also provide this coverage for adults.
New Eyes for the Needy offers free eyeglasses for people who cannot afford to buy their own, including adults. Applications are usually processed through a social services caseworker, but individuals outside the social services system can apply individually as well.
Many chapters of The Lions Club also provides free eyeglasses to people in need. Contact your local chapter for more information.
Cheap Eye Exams for Adults
If you are not eligible for free eye exams, there are several ways to get low-cost eye exams for adults.
What Will It Cost?
Cheap eye exams for adults usually cost around $50. Some are available for as little as $15.
Who Is Eligible?
Most cheap eye exams are available to everyone regardless of insurance status or income.
Where to Get Them
You can get cheap eye exams at major retailers such as:
Online Retailers
Several online Eyeglasses retailers also offer cheap eye exams. These exams are self-directed and use your computer or phone to assess your eyesight. Results are reviewed by a licensed ophthalmologist within 24 hours.
Cheap Eye Exams for Children
Children can get inexpensive, in-person eye exams at all the same places that adults can. See the list above for more details.
However, online eye exams can only legally be offered to people aged 18 and up. Children cannot receive or renew glasses prescriptions this way.
Are Free Eye Exams Worth It?
There is no difference between eye exams you pay for and ones that are free. The standards for tests are the same, and either one should yield the same results.
Organizations and optometrists who participate in programs that offer free eye exams do so to ensure that everyone has access to basic and important eye care. Their goal is to give you the best possible care regardless of someone's ability to pay.
If you or your children are eligible for free eye exams through any of these programs, doctors recommend you take advantage of them.
References
Get Help Paying For Eye Care. (May 2021). National Eye Institute.

EyeCare America. (2022). American Academy of Ophthalmology.

The Children's Health Insurance Program. (2021). Healthcare.gov.

About Us. (2022). InfantSEE.

EPSDT – A Guide for States: Coverage in the Medicaid Benefit for Children and Adolescents. (June 2014). US Department of Health and Human Services.

InfantSEE. (2022). Optometry Cares – The AOA Foundation.

Eye Exam. (April 2021). Mayo Clinic.
Last Updated March 2, 2022
Note: This page should not serve as a substitute for professional medical advice from a doctor or specialist. Please review our about page for more information.