Red Eyes: Causes, Complications, and How to Treat
Red eyes indicate irritation or inflammation to the white part of the eye (sclera) or to the edges of eyelids.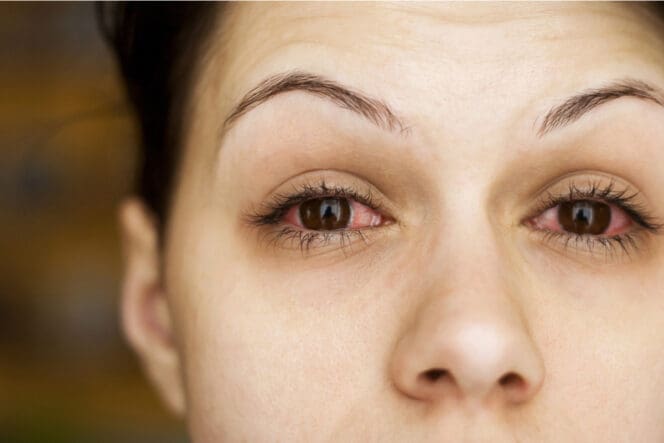 Most cases of red eye are common and temporary, lasting only a couple of hours. Beyond redness, symptoms are itchiness, burning, stinging and wateriness.
If the condition persists more than a few hours it could be a sign of a more serious issue, potentially the onset of the flu or strep throat.
What Are Red Eyes?
The term "red eyes" is somewhat deceptive in that when someone gets them, their actual eye color does not change to red. Instead, redness refers to bloodshot eyes or redness around the rims of the eye, discoloring the white part of the eye (the sclera).
It can also refer to styes or chalazion, bumps that form around corners of the eyelid.
Although they can be uncomfortable, most cases of eye redness are harmless and do not indicate any serious vision conditions.
But there are times when red eyes dictate visit to the ophthalmologist or an urgent care physician. For example, eye redness is a symptom of the flu or strep throat.
Causes
There are many causes of eye redness. Some causes are:
Swimming: Symptoms are red and dry eyes. Rinse/flush with water for an easy treatment.
Allergies: Symptoms are itchy, red and watery eyes. Over-the-counter allergy medications work well to combat this.
Exposure to eye irritants: Symptoms are dry, red and itchy eyes. Similar to swimming, flush your eyes with cool water to remove dust, pollen and other tiny foreign bodies from your eyes.
Contact lenses: Hallmarks of this cause are dry, sore and red eyes. The fix is to remove your contacts and use your glasses (or not) for several hours (and to clean or change your contacts).
Infections: Symptoms are redness, eye grittiness and a burning sensation. You can find relief from medicated eye drops.
When to See a Doctor
Most cases of eye redness go away in a short period of time without treatment or intervention. If redness persists for longer than a few hours, you should visit your eye doctor.
If symptoms worsen — if burning or stinging eyes turns into real pain — it may be an indication that something serious is afoot. What seems to be a mild case of red eyes may be something that needs a doctor's opinion.
Do not take chances with your eyesight. If you do not know the cause of your problem, make sure to get it checked out.
Pink eye
Pink eye, or conjunctivitis, can be the result of a serious infection. If you believe you have pink eye, do not wait to see a doctor.
A bad case of pink eye can mean a more serious health condition is not far behind. Visit your eye doctor as soon as possible so that you can receive the treatment you need.
Complications of Red Eyes
Red eyes can signal the start of a more severe problem. Styes that form on your eyelid, for example, may be a precursor to a more severe infection.
If your eye feels as if something is in it, it could mean that debris in your eye may cause cornea damage. It's a good idea to visit your eye doctor once a year to make sure your eyes are in good shape.
How to Get Rid of Red Eyes
There are several treatments to help relieve your red eyes. Remember that if your home remedies don't work, schedule an appointment with your eye doctor.
Cool compresses: A compress will soothe the irritation and help to make the redness go away.
Allergy medications: Allergy medications alleviate symptoms associated with allergies and conjunctivitis, including burning and itchiness, watery eyes and redness.
Eye drops: Even if they are not medicated or prescription-based, drops can soothe dry, irritated eyes.
Antibiotics: These are prescribed to fight bacteria-based infections.
Flushing with cool water: Water is a friend for all eyes. Flushing them with cool water relieves eyes that were irritated by swimming pool chemicals and other contaminants.
Eye Drops and Red Eyes
Eye drops help soothe red, irritated eyes. If this is associated with dry eyes or another ongoing eye condition, prescription eye drops may be needed.
Suffering from dry eyes on a regular basis may be treated with over-the-counter eye drops that are formulated to soothe and lubricate. If you wear contacts, never put eye drops in your eyes while you have your contacts in.
FAQs
Does COVID start with red eyes?
Red eyes are a symptom of COVID, but that doesn't necessarily mean that having red eyes is the start of a COVID infection. Having red eyes can be a sign of infection, either in the eyes or another part of the body. If they appear along with other COVID symptoms, it's important to notify your doctor immediately. A thorough eye exam will be performed to ensure that nothing is wrong with your eyes.
What causes redness of eyes?
Red eyes can have many causes. Swimming is often a cause of eye redness. Pool chemicals can irritate your eyes. Eye conditions like glaucoma may cause redness, but it is not always a symptom. Your eyes can become irritated from lack of sleep, overwork, exposure to bacteria, or an eye injury. Wearing your contacts while you sleep is another irritant that can scratch your corneas and cause irreparable damage.
How do you cure red eyes?
Mild cases of red eyes will take care of themselves. Never rub or touch your eyes. Even if you wash your hands first, bacteria and debris can make their way into your eyes. This can lead to abrasions and infection.
To treat red eyes, you will need to visit your eye doctor to find out what treatment plan is recommended.
For eye infections, you may need to use medicated eye drops and take oral antibiotics until the infection is under control. If you have an eye injury, following the same treatment plan for eye infections is often recommended.
Lubricating eye drops are recommended when you begin to experience the symptoms of dry eyes.
References
Red Eyes. (March 2022). NHS.uk.

Eye Redness. Mount Sinai.

Red Eye. (January 2018). Cleveland Clinic.
Last Updated April 27, 2022
Note: This page should not serve as a substitute for professional medical advice from a doctor or specialist. Please review our about page for more information.