Mascaras are the icing on the cake on any facial look, whether you take the full makeup approach or a natural no-makeup look. The challenge, however, is finding the right product since they all differ in their formulation, performance and intended result, among others.
The Right Mascara
Finding the right product is about looking for a safe and effective mascara that matches your purpose and offers you excellent value for your money. There are different mascara categories in the market depending on their function and formulation.
Several products can apply across various categories, and they offer more value for money. This article is a resource on some of the top products in different categories to make your decision-making easier.
Lengthening
When picking top mascaras for lengthening, you want a formulation that is not so thick it clumps and becomes harder to spread across the lashes evenly. You want formulas that have nourishing oils, waxes and tiny fibers. These grip perfectly on the lashes without being too stiff.
The wand is also an important consideration. Find one with sparsely spaced bristles as in silicone brushes. Such a wand allows you to define and separate your lashes and evenly spread the mascara on them.
The best mascara for lengthening your lashes is the KUSH High Volumizing Mascara from Milk Makeup. It has an excellent formulation that includes cannabis seed oil from hemp to nourish your lashes.
It is also vegan, gluten-free and paraben-free. It also uses hollow heart-shaped fibers that cling to your lashes, giving them a longer and fuller look. You can purchase this mascara at Sephora.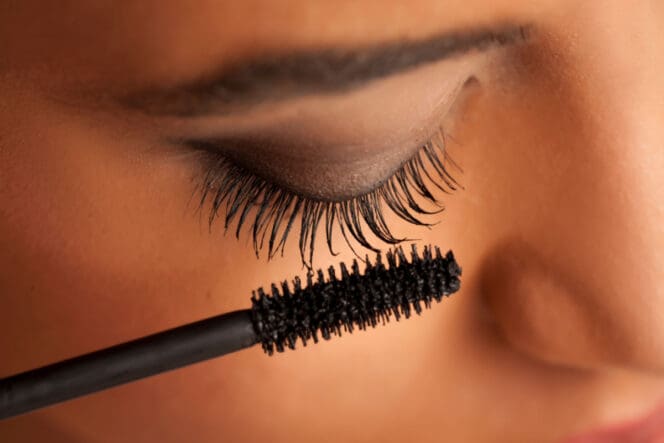 False Lash Look
For a false lash look, you want high volumes of lashes that will provide that extra bit that makes people think you are wearing false lashes or extensions. You also want a brush that will get to every eyelash to apply the formulation for an even look and an effective luscious look. In this regard, the Scandaleyes Reloaded Mascara by Rimmel is your best bet.
It delivers a long-lasting result of large and voluminous lashes accentuating any look with dramatic effect. Better yet, its formula renders the lashes clump-free, and the formulation is toxic-free. The best part is that you only need warm water to wash it off. You can shop for this mascara on Amazon.
Sensitive and Allergies
Sensitive eyes present a challenge for application mascaras. The wrong product will irritate your eyes, leaving them inflamed and watery. Eye sensitivities vary across people, but you should use hypoallergenic products and be ophthalmologist tested.
Hypoallergenic means the product has omitted most of the potential allergens, though it does not guarantee the product is 100 percent allergy-proof. An ophthalmologist-tested product shows an eye doctor oversaw the testing. On top of that, look for products that are free of any fragrances and have no dyes. Stick to basic black.
Experts like Clinique's High Impact Mascara as the best mascara for sensitive eyes and for those who have allergic reactions. It is gentle on your eyes and delivers on the performance front, giving you a lush and plush look. You can buy Clinique High Impact Mascara from the store's online site.
Volume
Mascaras for volume are plenty as the demand for this quality has become the focus for manufacturers. Volumizing formulas make your eyes stand out with little effort. You can get the dramatic look you want that makes it look like you are wearing falsies. You could also use this type of mascara to enhance a natural smokey eye look.
They are also excellent for everyone, even women with sparse lashes because the formulation will stick to the little ones that are there, creating a huge illusion of dense, luscious lashes usually achieved by falsies. The best mascara for volumizing will still work whether you want to forego using the eyeliner or make a foundation for false lashes.
Research shows that the L'Oréal Paris Voluminous Lash Paradise Mascara is the best. It is a classic product that has maintained its quality over the years, and there has been sufficient time to test and prove its claim of delivering five times the volumizing effect.
It also serves as a lengthening option giving you more value for your money. It has a smooth texture and is also excellent for people with sensitive eyes. You can buy L'Oréal's Paris Voluminous Lash Paradise Mascara on Amazon.
Natural Look
At times you want to achieve a no-makeup makeup look. That requires you to use items with a natural finish, and mascaras are no different. With the trend now being less is more, a minimalist approach gives you the best chance where the focus is on enhancing your natural look. The best natural look mascara achieves this by providing more definition to your eyelashes.
One of the best products in this category is Glossier Lash Stick Mascara by Glossier. It achieves the natural look through tiny fibers that coat your eyelashes, giving them a look of more rather than thick eyelashes. It is lightweight and perfect for daytime though you can achieve a more natural look by adding more layers of the mascara.
Glossier's Lash stick provides more definition and lengthens your curls sculpting them to enhance their natural appeal. It is also water-resistant and cruelty-free. You can buy this popular product at Glossier.
Luxury
Shopping for luxury mascaras means you are looking beyond regular performance. You want a product with added benefits that offers more value for your money. The best product should serve as both a makeup and hair care solution to nurture your lashes. By Terry Terrybly Growth Booster Mascara is the top choice in this category.
It offers the usual rich color and lush lashes and is smudge and clump resistant. On top of that, it has the unique Lumicoat care technology in its formulation, which stimulates lash growth, strengthens the lashes' roots and prevents lash loss. Purchase By Terry Terrybly Growth Booster Mascara from Amazon.
Waterproof mascara
Waterproof is a quality most would want in their mascara, but few products are fully waterproof many stopping at water resistance. The challenge has a waterproof product that is easier to apply and remove while holding firm in the sunniest summer weather and even in water.
After several scientific and consumer tests, the Good Housekeeping lab established that the Diorshow Iconic Overcurl Waterproof Mascara by Dior is the best overall waterproof mascara. It rates highly in achieving the desired look while being 100 percent smudge-resistant. Thanks to its curved wand, it also ranks highly on the curling effect and delivers a voluminous and thick lashes effect.
Budget
Mascara prices have been on the rise in recent times. Some of the leading brands could shock you. Luckily, you do not have to break the bank to find excellent quality. There are several top performers in the under $10 bracket. Among these options is CoverGirl Lash Blast Volume Mascara which is both waterproof and does not have smearing or smudging.
It also has a creamy texture that allows you to both volume and length with just one coat and is easy to layer up should you want a dramatic look. The silicone brush is also perfect, making application even on short lashes a breeze as it grabs them from the root.
The mascara also dries up fast, holding the curl of your lashes and not feeling heavy. You can purchase CoverGirl® LashBlast Volume Blasting Mascara at Bed Bath & Beyond.
Exercise
The best mascara for exercise is waterproof to withstand sweat and humid environments, whether swimming or running in the rain. To avoid the smudging effect, you get a waterproof mascara that is easy to put on and delivers on the performance. Fortunately, you do not need to buy another product for your exercise.
You can go either with the waterproof choice, the Diorshow Iconic Overcurl Waterproof Mascara or the CoverGirl Lash Blast Volume Mascara, as both provide the desired performance while being waterproof. You have no reason to go to the gym or that run looking bland.
Vegan
Not all mascaras are vegan. For anything to be vegan, it must be free of animal or animal-derived ingredients. However, several mascaras have animal ingredients. Some common animal ingredients in mascaras include:
Beeswax
Animal collagen
Guanine
Lanolin
Shellac and panthenol
For the best vegan mascara, few come close to TARTE Lights, Camera, Lashes 4-in-1 Mascara. As its name implies, it serves four functions at once: curling, volumizing, lengthening and conditioning.
You get nourishment for your lashes, and it has 24-hour waterproofing. It has natural botanicals, including Vitamins B5 and C, which protect your lashes from radical damage.
It is also ophthalmologist tested, making it ideal for those with sensitive eyes and allergies. It also has a rich color to give you an excellent look. You can also trust the over 4000 users who have given it 5-star reviews. This mascara is available for purchase at Sephora.
References
11 Best Waterproof Mascaras That Won't Run, Smudge or Smear. (April 2022). Good Housekeeping.

Best Vegan Mascara Brands: Waterproof, Drugstore, Volumizing & Beyond. (2022). World of Vegan.

The 26 Very Best Mascaras. (April 2022). New York Times Magazine.

The 17 Best Lengthening Mascaras for Every Lash Type. (November 2021). Cosmopolitan.

The 15 Best Volumizing Mascaras for Phenomenal Lashes. (November 2021) Marie Claire.

The 13 Best Mascaras for Sensitive Eyes. (January 2021). Glamour.

Best High-end Mascaras. (July 2019). Byrdie.

The Effect of Thickeners and Performance-Enhancing Powders on the Application Characteristics of Mascara School of Management and Science. (2009). London College of Fashion, University of the Arts, London, UK.
Last Updated July 1, 2022
Note: This page should not serve as a substitute for professional medical advice from a doctor or specialist. Please review our about page for more information.