Laser-assisted cataract surgery is a much more accurate procedure than traditional cataract surgery, but not every cataract case is ideally positioned to have it.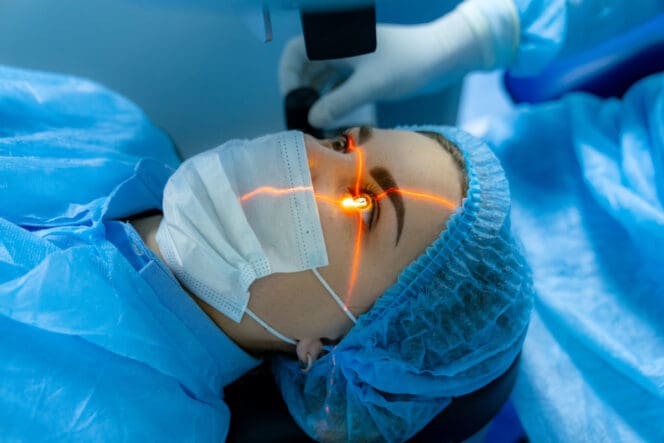 Laser cataract surgery is much more expensive than traditional surgery, and its benefits do not always make it cost-effective.
Traditional Cataract Surgery Procedure
Traditional cataract surgery is known as phacoemulsification. The procedure starts with numbing your eye with an injection around the eye or using topical anesthetic eye drops. Then, the optical surgeon makes an incision at the margin of your cornea to facilitate the insertion of instruments.
The surgeon then uses forceps or a needle to create a circular hole in the capsule where your lens sits. The next step is the actual phacoemulsification. The surgeon uses a handheld ultrasonic probe to break up and emulsify your cataract lens into liquid form during this step.
The energy of ultrasound waves causes the emulsion, which gets sucked out through the incision. The final step involves lens insertion. The eye surgeon inserts an artificial intraocular lens (IOL) into the capsular bag that contains your natural lens.
Laser Cataract Surgery Procedure
Laser cataract surgery is formally known as femtosecond laser-assisted cataract surgery. Once you are in the surgical suite, nurses will administer local anesthesia. An eye surgeon moves the camera of the laser-assisted cataract system into place above your eyes.
The system feeds high-resolution video and images of your lens to a specialized computer. Then, the computer maps your eye surfaces to enable the eye surgeon to determine the ideal location for an incision. This is followed by cataract lens removal.
The surgeon uses the femtosecond laser to make a small incision on your eye surface. Then, a tiny probe that utilizes ultrasonic energy to break the cataract lens into small pieces gets inserted.
A second probe is inserted into the incision to suck out the pieces of your cataract-damaged lens. After this, your lens is replaced.
The eye surgeon preloads an IOL implant onto another probe. Once the probe passes through the incision, the eye surgeon unrolls the IOL and positions it in your lens capsule for optimal vision.
The incision in laser cataract surgery does not require stitching since it is tiny.
Pros
Pros of Traditional Cataract Surgery
One of the main benefits of traditional cataract surgery is that it is less time-consuming and less complicated than laser cataract surgery. This saves time in the operating room because it does not require the movement of patients between beds.
Also, surgeons make incisions during phacoemulsification that minor and do not require sutures or stitches.
Traditional cataract surgery is also significantly cheaper than laser surgery because of the time saved in the operating room and because doctors have no need to use (and charge for) an expensive laser system. Less time spent in the hospital also shrinks the cost.
Pros of Laser Cataract Surgery
Laser cataract surgery enables the delivery of precise dimensions and 3D imaging or a map of the eye surface, allowing for more accurate location and depth for better incision placement. It also enables better IOL positioning and more precise vision correction after healing.
The laser option requires less ultrasonic energy to break up cataracts. Reduction in ultrasound exposure reduces the risk of endothelial cell loss, cystoid macular edema, and postoperative inflammation.
In addition, laser cataract surgery can correct two eye problems at once. During the procedure, eye surgeons remove the cataract-damaged lens and may also correct the shape of your cornea to treat astigmatism.
Cons
Cons of Traditional Cataract Surgery
Traditional cataract surgery carries a higher risk of surgical complications, such as corneal damage. This is especially true if the surgeon is inexperienced.
It also requires patient cooperation during the procedure. For example, doctors require patients not to move their head, a protocol some patients find burdensome.
Cons of Laser Cataract Surgery
One of the primary disadvantages of laser cataract surgery is the high cost of the laser systems and surgery disposables. Both items make the procedure significantly more expensive than traditional cataract surgery.
The procedure also risks laser surgery-specific complications such as posterior capsular tears and high prostaglandin concentrations.
Candidates for Laser Cataract Surgery
Laser cataract surgery does suit some groups of patients. They include people planning to get multifocal IOLs for astigmatism, patients with low baseline endothelial cell count and pediatric patients.
Recovery Time
Traditional Cataract Surgery
Most patients experience immediate vision improvement following traditional cataract surgery. During the procedure, the incision made in your cornea heals entirely within a few days, and any discomfort or soreness disappears within this period.
A full recovery can take up to three months.
Laser Cataract Surgery
Recovery time for laser cataract surgery is similar to that of the traditional procedure. Most patients exhibit immediate vision improvements. For other patients, vision clears up within a week or two.
Like traditional surgery, complete recovery from laser cataract surgery can take three months.
Complications
Complications of Traditional Cataract Surgery
The possible complications from phacoemulsification cataract surgery include:
Anterior capsule tear
Retinal detachment
Cystoid macular edema
Endophthalmitis
Lens dislocation
Posterior capsular opacification
Vitreous hemorrhage
Complications of Laser Cataract Surgery
The possible complications of femtosecond laser-assisted cataract surgery include:
Posterior capsule tear
Conjunctival hemorrhage
Capsule tags and bridges
Miosis (excessive pupil constriction)
Endothelial damage
Suction break
Costs
Cost of Traditional Cataract Surgery
Without Medicare or insurance, the out-of-pocket cost of traditional cataract surgery can range between $3,000 and $5,000 per eye. The cost may vary depending on the surgical center, surgeon specialization, and the type of lens. Medicare and insurance cover cataract surgery, but you may incur some expenses, including deductibles, copayments, and medication.
Costs of Laser Cataract Surgery
Without Insurance or Medicare, the out-of-pocket cost of laser-assisted cataract surgery ranges between $4,000 and $6,000. The cost can vary depending on your surgeon, the type of lens implant, and underlying eye issues like astigmatism.
Medicare and private insurance do not fully cover laser cataract surgery. The costs include the surgical procedure, consumable surgery equipment, and technical surgery center fees.
How To Determine Which Cataracts Surgery Is Right for Me
Many factors determine whether traditional or laser-assisted cataract surgery is right for you. A consultation with an ophthalmologist or eye surgeon will help you determine which of the two cataract surgery options is the most suitable.
Both options are safe and have a high success rate. The laser option provides some advantages in some specific situations, like if you want to correct astigmatism. Laser surgery is also suitable for a premium lens like a multifocal or toric IOL.
Cost is an essential determining factor because Laser cataract surgery is considerably more expensive than traditional surgery. Unfortunately, Private insurance and Medicare do not fully cover laser cataract surgery.
FAQs
Which is better for cataract surgery, laser or traditional?
There is no conclusive evidence pointing towards laser cataract surgery being better than traditional cataract surgery. Both methods are very safe, produce nearly similar visual outcomes, and the complications are similar and rare.
Is laser cataract surgery worth the extra money?
Laser cataract surgery has some notable advantages, such as more precise incisions and less ultrasound usage. However, research indicates no significant difference in the efficacy, safety, and visual outcomes compared to traditional surgery to warrant the increased costs.
References
Last Updated April 27, 2022
Note: This page should not serve as a substitute for professional medical advice from a doctor or specialist. Please review our about page for more information.